Data Analytics Strategy
Does your data strategically advance your decision-making, or does it create confusion without providing value or insight?
How We Help
A solid data strategy clears the path for your organization to make real impact.
Data has no value until it serves your organization. Messy datasets and murky data strategies provide no useful insight for decision-making, leading to missed opportunities and unsatisfying customer experiences.
Outdated systems and strategies make data inaccessible, leaving you behind your competitors and unable to measure your own progress. Complex questions find answers and business goals become reachable when our specialists assess your current data reality and align it to your goals. Whether in business, health care, insurance, private equity, higher education, or government, a strong data analytics strategy is key to your organization saving time and money while enhancing customer experience. Is your data strategy taking you where you need to go?
Clients We Serve





We're proud to help organizations thrive, and we'd love to tell you more.
Our team of data analytics experts meets you where you are to help propel your organization forward.
By taking the time to understand the details, we develop a holistic picture of where you are today— and, more importantly, where you could be tomorrow.
Prioritized Business Requirements

We align your data strategy to your business goals, then prioritize actions to achieve those outcomes.

Maturity Assessment

We map your current data and analytics capabilities against your business strategy and goals to outline your data maturity level. Get a data maturity assessment.

Future State Roadmap

We detail a prioritized plan for implementing the capabilities that will best support your critical business objectives.
When our subject matter experts bring their industry-specific experience to your data, it reveals even more.
We collaborate with hundreds of clients across these and other industries toward better data and better outcomes.
Health Care
Improve patient outreach with meticulous data strategy. Outcomes include one source of truth for patient histories for a better customer experience, better preventative care through monitoring community trends, and more effective staff and resource allocation to better serve patients.
Private Equity
Make the most of your data with a strategy that manages and organizes ever-growing datasets to help your portfolio companies increase value. Strategic insights can also guide future acquisitions and identify cross-selling opportunities across your portfolio.
Insurance
A solid data strategy facilitates exceptional customer service by predicting claims trends so you can optimally position staff and resources in advance of needs. It ensures each customer's profile is updated and accessible from all departments and provides overall cleaner and better-organized datasets. That's a formula for better-informed agents and a smoother overall customer experience. 
State Government
Solid data strategy creates one source of truth for all citizen information, paving the way for a seamless citizen experience across agencies. It also addresses missing information and inefficiencies while keeping private information secure, building citizens' trust.
Higher Education
Well-rounded data strategy can improve everything from retention rates to student performance to ROI for students and stakeholders—all while protecting student data from first admissions outreach through alumni status. You'll also get a 360-degree view of each student and a clear picture of where you stand in this highly competitive market.
Mid-Market Consumer Goods
A proactive data and analytics strategy will identify gaps in your supply chain and opportunities to optimize while providing one point of reference for all consumer data. A strong benchmark can illustrate how you measure up to competitors so you can improve your outcomes by making products easier to purchase—and to deliver on time.
Logistics
From improving routes and getting products where they need to go to having one source of truth for all customer information, a data and analytics strategy will propel your business forward.
Capabilities
When it comes to data strategy and development, we meet you where you are to help you find and maximize data insights with these and other capabilities.
Data Maturity Assessment

Discover gaps in how data is collected and how it supports or fails your desired outcomes. Through an objective process of discovery, analysis, and planning, a data maturity assessment shows how data can do more for your organization.

Business Intelligence

Data gets unruly fast and can make finding the answers that support your business strategy feel overwhelming. We help you achieve the outcomes you want through effective data collection, integration, and analysis tools that access reliable data quickly and present it effectively through an intuitive dashboard.

Data Architecture 

Strong data architecture ensures you see all sides of your data and can answer the most complex questions to meet your organization's challenges. Our data architecture designs align with your needs and goals—solutions which grow along with you. 

Data Engineering

Gain a system that utilizes data as your biggest asset. Our data engineers deliver reliable pipelines and infrastructure to prepare your data for analysis so you can make better decisions for your customers, your organization, and your future. 

Data Governance

Data holds no value until it's securely accessible, accurate, and consistent. Data governance enables you to understand, manage, and leverage the power of your data to solve problems. We partner with our clients to design and execute a sustainable data governance strategy to break down data silos and turn data into actionable insights that support your goals.

Data Infrastructure

With smart data infrastructure your organization becomes more efficient, collaboration improves, and productivity booms. Our team works with you to implement data infrastructure that reduces your operational costs and serves as a strong foundation for your data environment.

Data Security

The data that propels your organization can become extraordinarily costly if it hasn't been secured against unauthorized access and corruption. We help you determine which security solutions ensure your data is protected throughout its lifecycle.

Data Storage and Operations

Your particular needs determine how your data can most effectively be stored, shared, and kept secure. Smart solutions ensure your data is accessible—and recoverable after a crash. Our team helps tailor the scalable solution that meets your needs cost-effectively.
Our data and information structure is immensely more sophisticated now than it was four or five years ago. Now that the structure is in place, we are able to spend our time solving problems.
Mayor Scott Fadness
City of Fishers
Meet your Data Strategy team.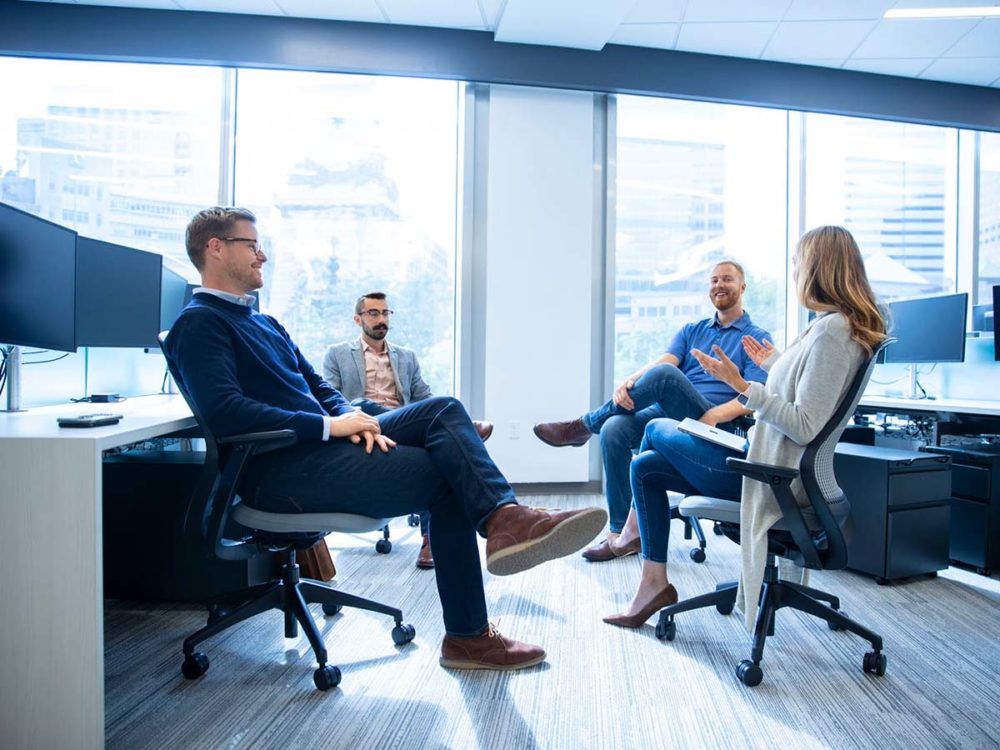 Connect
Start making more data-informed decisions. Our actionable assessment will paint a strategic picture of your people, processes, and data systems.
Make sure your data serves your mission with thoughtful data analytics strategy.
Does your organization have data just sitting around, serving about as much purpose as a screen door on a submarine?
Data has no value until it serves your organization. An ad-hoc data strategy demands inordinate time and attention, and it does little to meaningfully inform decisions. Outdated systems make data inaccessible, leaving you vulnerable to missed opportunities and ill-informed action.
Our first step is understanding your current assets, frustrations, challenges, and processes through a discovery process that brings context to problems you've identified and uncovers potential issues lurking within your current approach to data and data strategy. When we know who and where you are—and which questions you need to answer to grow your business—we can help you optimize performance by drawing the most from your data.
Insights delivered to your inbox