Data Analytics Solutions
Quickly capture your greatest opportunities with modern data and analytics solutions that are ready to deploy and can be tailored to fit your business goals.
How We Help
Accomplish more by keeping your data solutions up to date and on target.
Data is becoming increasingly complex and unpredictable, which means your current data tools may no longer accomplish what you need them to. Data governance, data security, advanced analytics, and other solutions revolutionize how you manage your data by eliminating information gaps and unnecessary complexities surrounding your systems, enabling you to make better business decisions—while saving time and money.
Resultant's Data Analytics Solutions services leverage our proprietary accelerators to drive your modern data solutions. Partner with us to get industry-specific solutions, achieve a unified data platform, implement analytics applications to uncover crucial insights, and actualize any number of other solutions that work in harmony to help your organization thrive.
We're proud to help organizations thrive, and we'd love to tell you more.
Your business deserves fine-tuned data solutions that align with your goals.
No matter where your data stands now, our data and analytics experts help you achieve the solutions that suit your industry, your unique organization, and your business strategy.
Development Sprints

We execute and manage your data analytics projects, leveraging accelerators to fast-track speed to value.

Unified Data Platform

We build the comprehensive, integrated data analytics experience that accelerates insights, boosts user experience, and maximizes return on investment.

Analytics and Insights

We help you discover and apply insights from your data to reach the desired outcomes and goals laid out in your Future State Roadmap.
We collaborate with hundreds of clients across these and other industries toward better data and better outcomes.
Our industry-specific accelerators create upfront value more quickly, continuously add value, and can be adapted to fit your unique needs.
Health Care
The CDC has spotlighted healthcare data modernization for its potential to enable better health decisions and improve patient experiences. Our proprietary data and analytics solutions create and maintain one source of truth for patient medical histories, provide a lens into community health trends to facilitate preventative care, and make staff and resource allocation more effective. Eliminate data surprises and complexity with predictive analytics and infrastructure that's scalable, accessible, and aligns with industry regulations to ensure compliance to HIPAA and CMS standards.
Private Equity
Private equity data modernization gives you the speed and accuracy you need to gain data analytics insights to create and increase value in your portfolio companies. Data solutions help reliably qualify target companies for purchase and quickly analyze data to find cross-selling opportunities among your portfolio companies. Our proprietary accelerators enable you to perform due diligence with centralized data repositories and real-time insights before making investment decisions.
Insurance
Say goodbye to the wait-and-see approach of your current data systems. Powerful data and analytics solutions integrate disparate datasets so you can more easily predict claims trends, keep agents optimally informed with updated and accessible customer profiles, and reduce errors in your data. Your organization becomes more secure and accurate when you can more efficiently aggregate, clean, and format data from multiple sources.
State Government
When state governments make citizen interactions easier and more secure, they build trust while more efficiently and effectively delivering essential services. A seamless citizen experience across agencies starts when you create one source of truth for all citizen information, enhance data security, and address missing information and inefficiencies by benchmarking data maturity. Our data and analytics solutions provide optimized platforms and interactive analytics tools to deliver more to your citizens and help your state thrive.
Higher Education
Forward-thinking institutions need modernized data analytics to enhance the student experience. Maintaining one source of truth for student information supports a better student experience across departments and paves the way to greater data security. When you can harness data to improve retention rates and student performance, you're primed to grow in the competitive higher ed market. From online instruction to the health and safety of students, data insights enable your institution to reach better decisions for a brighter tomorrow.
Consumer Packaged Goods
Where efficiency and accuracy are paramount, data and analytics solutions provide key insights. Our team helps yours find gaps and opportunities to optimize supply chains so you can be sure products are available, easy for customers to purchase, and delivered on time. We also help you determine your data maturity priorities to position your company ahead of the competition. With one source of truth for consumer information, the customer experience across departments improves—encouraging trust and repeat purchases.
Logistics
The dynamic nature of supply chain management requires distilled, accurate data to derive actionable insights for better business outcomes. Our team works with you to benchmark your organization's data maturity, identifying gaps and opportunities to improve supply chains through route and distribution optimization. Our experts also help you find the data and analytics solutions to maintain one source of truth for consumers to deliver an unmatched customer experience.
We're not going to have to wait on data. We're not going to have to make decisions based on stale or old information. We've now been able to make decisions in real time.
Chris Atkins
Former Chief Financial Officer , State of Indiana
Meet your Data Solutions team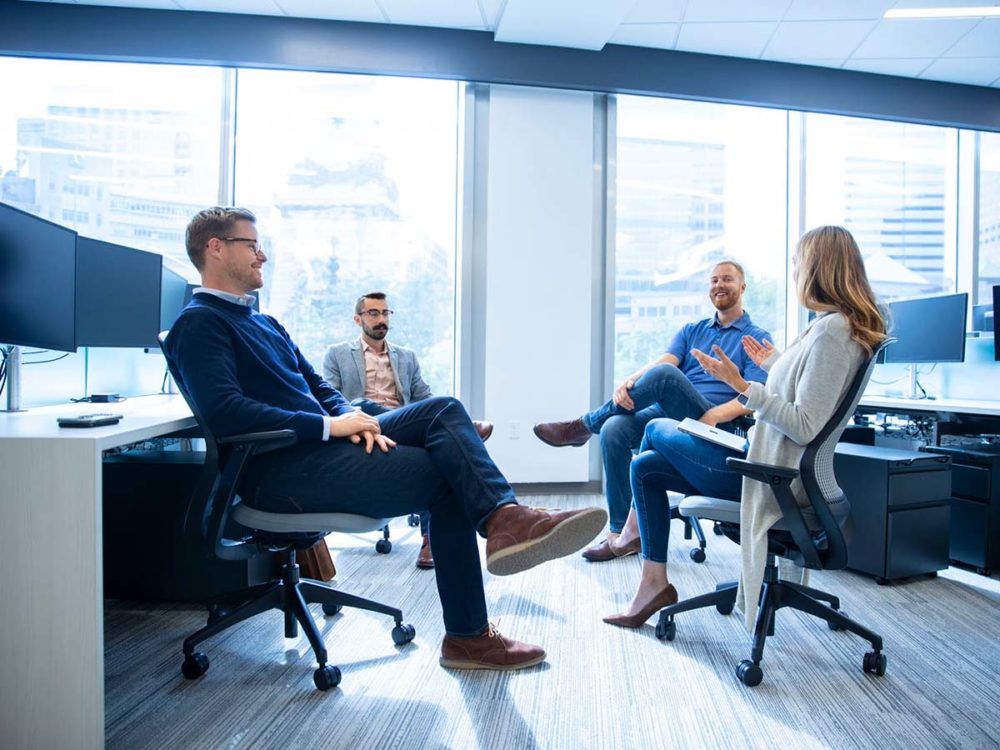 Connect
Contact us for your actionable assessment or to talk about a rapid prototype.
Data Analytics Solutions: How organizations solve their most complex problems.
Competitive advantage is based on an organization's ability to make data-driven decisions. We're here to accelerate your success in the age of digital transformation with modern data solutions and analytics. Maybe you don't think you're there yet. Maybe you've been burned by previous data projects. Maybe you're dealing with regulatory and compliance issues that make data endeavors especially complex. We get it. And we meet you wherever you are today.
Our data solutions capabilities modernize your data landscape and provide real-time insight. From data architecture and engineering to advanced and predictive analytics, we meticulously build an environment that suits your unique data needs. Our team of data experts develops a platform to streamline data sharing, optimize data access, and deliver state-of-the-art analytics tools—all of which dramatically reduce the amount of time needed to make data-driven decisions.
Our expertise in modern, cloud-based solutions like AWS, Azure, Snowflake, and more means you get exactly the right solution for your current ecosystem—and your long-term strategy. The world has changed; let us help you change the way you think about your data.
Insights delivered to your inbox