Data Managed Services
Turn data into action with a vigilant team of experts who provide ongoing support for your data governance, platform optimization, and analytics.
How We Help
Find ongoing data maturity support with a partner focused on your goals.
Fulfilling your data strategy and continuously getting the insight you need from your data solutions requires an active approach. Data managed services help you reach and maintain the data maturity level where your organization thrives—even as you grow. With expert management from a dedicated team, you develop the data-driven culture to stay ahead of the competition and fuel decision-making. Our team provides vigilant oversight for your solutions and analytics through data as a service (DaaS) models and other tools.
Work with a partner who's as invested as you are in your organization's goals and priorities. We establish the data architecture, policies, and procedures that ensure quality, security, and compliance so you always get reliable insight from your data. Our DaaS model provides tailored, detail-oriented attention to your data maturity and keeps you moving forward no matter what challenges arise. 
With data and analytics managed services, your data quality and usability are never a problem, and you always have access to an expert team who understands your business and answers your questions to help you reach the next level—and the one after that.
We're proud to help organizations thrive, and we'd love to tell you more.
Do these common data challenges sound all too familiar?
We collaborate with clients to solve their toughest problems.
Data managed services deliver immediate, ongoing results that help our clients grow their data maturity.
Data Quality and Usability

With data architecture that suits your needs and policies and procedures to ensure data quality, you can extract reliable insights at every stage of your growth.

Access to Experts

Our highly skilled data professionals share their industry-specific experience and the next-level knowledge that builds your competitive advantage.

Speed to Benefits

With prioritized goals established, we help you achieve quick wins as we work toward your more complex data challenges so you see immediate benefit.
Based on insights revealed from the data, we are improving operations and impacting policy in the State of Indiana. We're truly moving the needle with respect to key indicators in Indiana.
David Matusoff
Former Executive Director , Management Performance Hub, The State of Indiana
Meet your Data Analytics experts
Not sure where to start? We outlined everything you need to consider before you dig into your data strategy.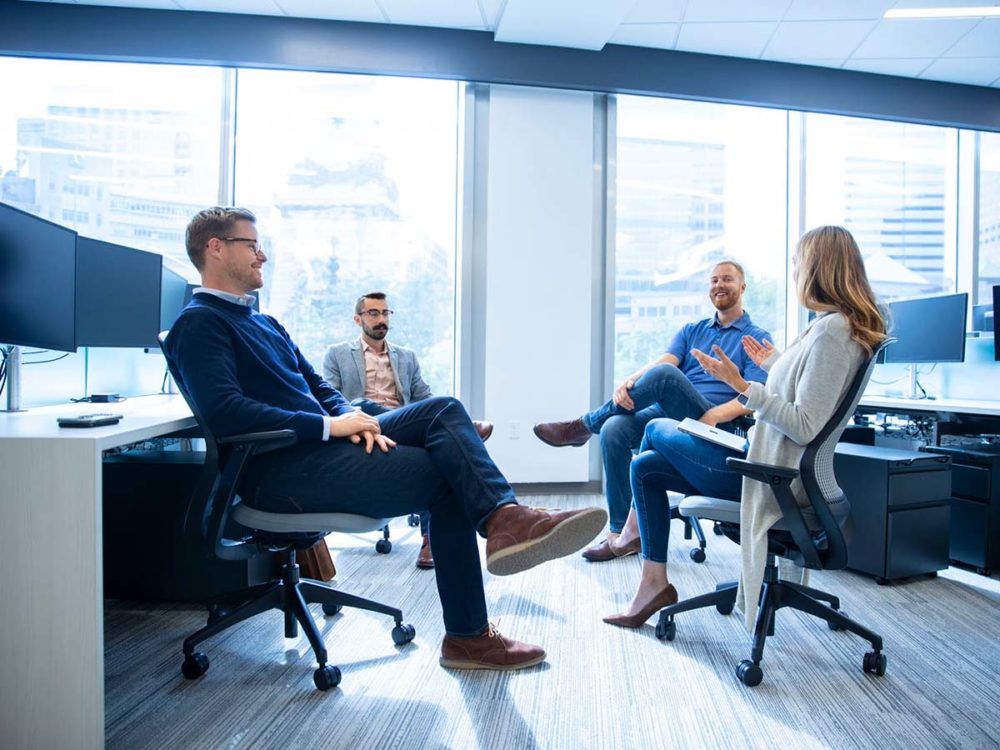 Connect
Ensure your data and analytics solutions do everything they can for you—now and as you grow—with vigilant oversight from our experts.
Data and analytics managed services: constant attention to the solutions that help you thrive.
Data is like the mail: It never stops. Throw in legislative, economic, social and global challenges—in addition to your own complex organizational challenges—and you have more than ample reason to ensure your data is always doing all it can for you. A healthy data program that keeps your organization moving toward your data strategy is your best tool for achieving your goals, and it requires constant vigilance.
With data and analytics managed services, your expert team never stops, either. They work to keep you ahead of the curve, with steady attention to your data governance, data architecture, data engineering, business intelligence, application development, API, data security, and all the other elements you need to achieve insight through information. Our experts are constantly developing business accelerators and DaaS tools that power leaps forward for clients. Where data maturity lags, they provide the steady guidance to fill those gaps and surpass competitors.
Expertise in AWS, Google Cloud, and Azure solutions sets our team apart and makes them the only team you need to tailor your data program to your exact needs, ensuring data security and fueling your data-driven culture.
Insights delivered to your inbox