Data Security
The data that propels your organization can become costly if it hasn't been secured against unauthorized access and corruption.
How We Help
High-performance infrastructure for an unshakable data foundation accelerates success.
Used optimally, data becomes one of the most important differentiators between you and your competitors. It improves customer experience dramatically and supports your mission. When data is breached, problems skyrocket, and your strategy stagnates.
The cost of a data breach is staggering, from compliance with data breach notification laws and implementing new solutions to protect customer information on through settlements, fines, and rebuilding a damaged reputation. Just because breaches are common doesn't mean you're doomed to endure one.
Data breach security requires vigilance. It isn't something you implement once and forget about, nor is it a one-size-fits-all solution. A proactive partner who meticulously guards against evolving data security threats cuts your risk.
Our experts work with you to build your just-right defense solutions through data resiliency, oversight, endpoint security, masking, penetration testing, encryption, and erasure, along with services uniquely suited to your needs such as threat assessment and active file monitoring.
We're proud to help organizations thrive, and we'd love to tell you more.
The Power of Data Security
Protect one of your greatest assets and fuel your mission with the right data security solution.
Safeguard Consumer Data, Build Trust
Employees, customers, and constituents alike depend on you to keep their information safe. Keeping that promise strengthens their trust in your organization and directly impacts your ability to meet your business goals. Impeccable data security gets you there.
Maintain Expert Security
Outdated and suboptimal security systems put your organization at increased risk of legal and ethical breaches—and the fines, lawsuits, and bad press that inevitably follow. A proactive, up-to-date data security management strategy puts you in the best position possible to keep pursuing your mission and maintain HIPAA, GLBA, GDPR, PCI DSS, and FTC compliance.
Protect the Present to Secure Your Future
Data security isn't something you do once and forget about; threats evolve, and your security should, too. Protecting your proprietary information and technology with an expertly designed and maintained data security system can make the difference between a thriving competitive edge and system debilitation.
And if the worst should happen, immediate incident response with data breach response best practices will minimize damage and get you back in business fast.
Are you openly helping the criminals?
Malicious attackers target companies in specific ways to ensure multiple levels of extortion opportunities with ransomware. Red flags signify criminal activity before damage occurs, and there are ways to protect sensitive data and intellectual property before they are stolen.
Paola Saibene, principal consultant with Resultant, and Shawn Tuma, cybersecurity and data privacy attorney with Spencer Fein, discuss cybersecurity and ransomware and the ways companies can proactively manage risks and prevent hardship and disruption.
Related Services
Is your data working for you, or is it the other way around? We help organizations get better outcomes from data with these and other services.
Related Capabilities
We help clients use data to inform better decision-making and help them solve their most complex challenges so their organizations thrive.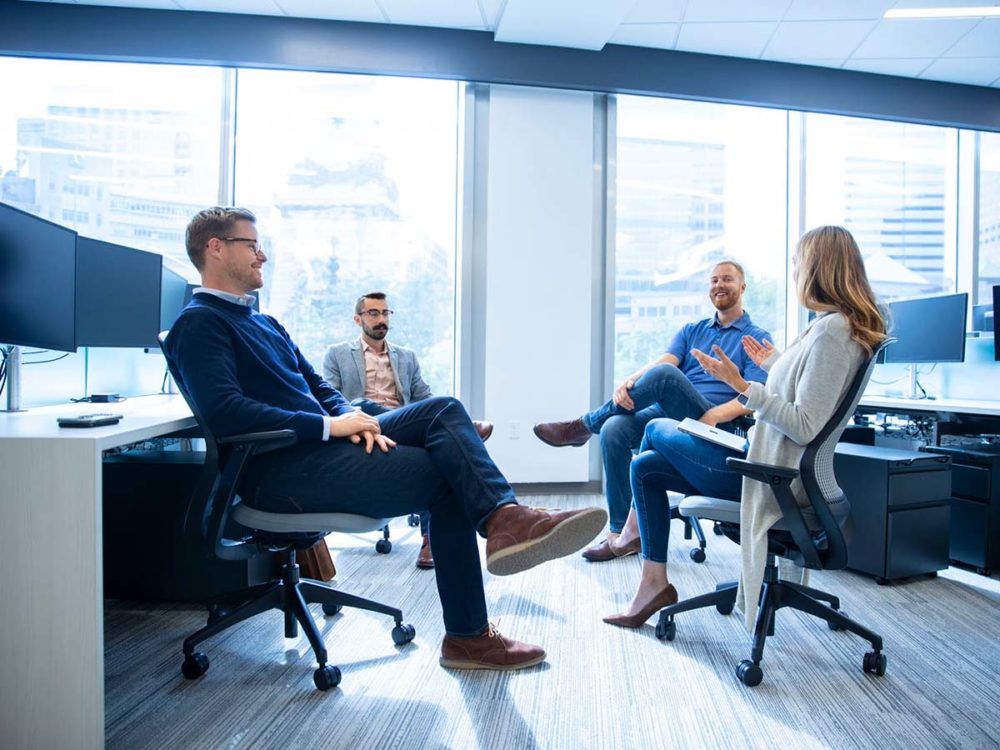 Connect
Stop wondering whether your data security is robust enough to meet evolving threats. Talk to one of our experts today.
Are data security concerns keeping you up at night?
If not, should they be? If you already have a trusted, proactive data security partner looking out for your best interests, move along to another page. But we suspect you wouldn't still be hanging about here if that were the case.
If you're asking "what's the likelihood of a cyberattack on my company?" in the dark at 3am, read on.
Implementing a powerful data security strategy might be the single biggest thing you can do to protect this priceless asset. When your data is protected and accessible, great insights are possible. But when you second-guess the quality of your data due to poor data governance or—worse—security breaches, or when the right people can't access what they need to move your mission forward because data is siloed just to keep it safe, better data security solutions are in order.
Here are the hazards you're up against: smart hackers, members of organized crime, and even political activists globally work round the clock designing and automating new ways to expose vulnerabilities in your systems. They'll launch brute-force attacks with malware, spyware, and ransomware. Companies have a legal and ethical responsibility to protect consumer identifying information, passwords, and health data as well as user accounts with associated credit cards.
Phishing expeditions attack through innocuous-seeming email or text messages to gain access to passwords and private information, enabling criminals to commit identity theft and gain fraudulent access to financial information.
But you don't have to be at the mercy of the criminals.
We're different because we don't just hand you an off-the-shelf solution and send you on your way. Any solution that doesn't start with the people who'll be using it has a slim chance of success. We start by listening: to you, your teams, and the people who will be impacted every day by proposed changes. We consider your whole environment before collaborating with you to come up with a data security solution that works and will be embraced by your organization.
We're passionate about problem solving (and a good night's sleep, free of data security worries). Contact a team member today about data security solutions.
Insights delivered to your inbox