Workforce Development and Unemployment Insurance 
Stay nimble with advanced solutions that stand up to high demand. Uncover fraud, simplify claims processes, and facilitate clear communication with workers.
How We Help
Advanced technical tools make a difference for citizens—and ensure funds reach the right hands.
Matching effective workforce development services to citizens and employers gets more complex as employment, economic, and funding landscapes shift. Many agencies must make do with using legacy systems to address overwhelming demand when data analytics, secure data sharing, and secure collaboration could further their reach and impact while protecting employees from burnout.
Fraudulent unemployment insurance claims steal money and your agents' valuable time. Innovative machine learning and artificial intelligence technologies now detect new fraud techniques and suspicious patterns quickly, freeing up your agents and resources for authentic claims.
We're proud to help organizations thrive, and we'd love to tell you more.
Services
When you're not figuring out workarounds for the limitations of inefficient systems, you can put that energy directly into carrying out your mission.
Expertise
Your project team will include experts with backgrounds in insurance fraud, data science, and workforce and unemployment.
Strategic Alignment and Planning
Strategic alignment is critical for meaningful, impactful solutions. Our teams work hand in hand with you to navigate the legislative and bureaucratic landscape and to uncover program and policy inefficiencies, overlapping agency responsibilities, and data sourcing problems. 
Data Collection and Analysis
We help you integrate both proprietary and open-source datasets, leveraging machine learning and advanced algorithms to extract insights from information. We'll help your teams understand what the data means and how it can be used to effectively target opportunities for workforce, education, and employment services.
Reporting and ROI Transparency—Business Intelligence
Beyond simply launching a system, our teams will help you comprehend the data generated. Easy-to-understand business intelligence dashboards and reporting provide real-time data on program efficiencies and ROI. Data-backed enhancements and program adjustments continue to improve system efficiencies moving forward.
UI Fraud Prevention
Through innovative machine learning and artificial intelligence technologies, agencies can ingest and react to disparate data sources in real time, detecting new fraud techniques and suspicious patterns more quickly. Previously undetectable fraud is caught with systems that constantly learn to identify and categorize it quickly and accurately. Agencies save significant dollars and, by weeding out false claims, devote their precious resources to the authentic claims that need it most.
DATA DRIVEN LEADERSHIP
Navigating the Workforce Ecosystem
When workforce development expert Todd Hurst discovered Indiana's complex, messy workforce resource ecosystem, he set out to create a trusted clearinghouse to help employers and individuals navigate the system. Along the way, he uncovered surprising data solutions and promising practices.
In this episode, you'll hear Todd share the latest on the Talent Resource Navigator and how this platform has transformed the workforce. The Navigator serves as a statewide resource database, indexed by the specific work of individuals and including an "on-demand" element that brings customer support to the talent development space. Listen to learn more about Todd's goal of breaking down some of the existing silos within the workforce and how his dream has become reality.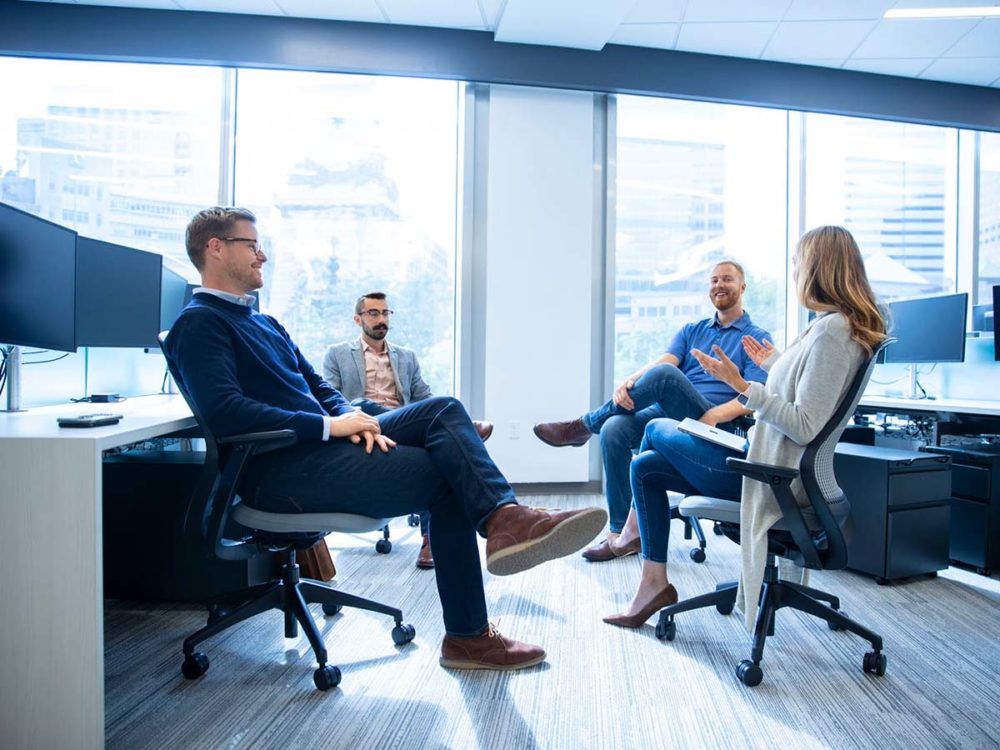 Connect
See how your workforce agency can go further in achieving great outcomes for citizens.
Workforce Development and Unemployment Insurance in the Digital Age.
If your state is like most, its workforce programs and systems were entirely overwhelmed in March 2020. States that had been doing their best to work with legacy systems and underfunded programs could no longer ignore the fact that their foundation was crumbling and needed to change—now. Unemployment insurance fraud further complicated agencies' efforts to reach those in need. Fraud detection is time consuming and continues to skyrocket; a one-dimensional approach just won't cut it in today's rapid-paced environment.
As employment, economic, and funding landscapes shift, matching effective services to citizens and employers can help states thrive. It's not about putting on band-aids or implementing quick fixes that aren't sustainable. Leveraging data and technology helps agencies find new ways to address unmet needs in workforce development and ensures more people get the services they need to excel.
Any project we undertake begins with a detailed discovery phase during which our project team catalogs available datasets, identifies relevant attributes, and develops knowledge of program and policy goals. An intensely collaborative partnership carries this information forward through an Agile, iterative problem-solving and design process. Working with leadership and representative stakeholders, the Resultant team utilizes agency expertise, coordinates with appropriate vendors, and keeps careful project, change, and communication management practices in place to move projects forward to successful completion.
Insights delivered to your inbox