Technology Services
Clear technology strategy includes new, tailor-made solutions—and better utilization of the technology you already own.
How We Help
Support from the right technology ecosystem is support for your mission.
If you're thinking about your technology right now, it's probably not optimal. Is your workflow bottlenecked by clunky processes or outdated legacy systems? We start every solution by getting to know you, your teams, and your business deeply. It's the only way to implement infrastructure, cybersecurity, tech strategy, and applications so seamlessly that you stop thinking about them and focus all your efforts on your mission.
We're proud to help organizations thrive, and we'd love to tell you more.
Services
Align your technology to your business goals and reach your desired outcomes faster and more cost-effectively.
Strategy and Planning

Technology that doesn't align with your organization's goals and with how your teams work inhibits progress and leaves you open to risk. Find your just-right solution—and a prioritized roadmap for achieving it—with a team that delves deeply into your organization to support your strategy.

IT Managed Services

Avoid expensive shutdowns, maintenance problems, security breaches, and daily headaches with proactive attention from a team devoted to big-picture thinking. It's more than just answers to day-to-day technology concerns. It's a proactive management strategy from experts who've been there.

Multisource Service Integration

Managing multiple suppliers uniformly and getting them to work together effectively is a daunting task when you're also running an organization. We seek the best partners in each specialty and provide a single point of contact of control back to you.

Cybersecurity and Disaster Recovery

Security threats constantly grow and evolve—and cost organizations dearly, in terms of financial and reputational damage. Comprehensive cyberthreat mitigation strategies keep breaches from derailing your progress and ensure regulatory compliance.

Cloud Solutions

When your impact is throttled by legacy systems and outmoded processes, our technical experts can help you leverage the cloud with creative solutions that empower your people.

Citizen Contact Center Transformation

Let constituents reach you via any channel they're comfortable with. Contact center transformation improves customer satisfaction, increases efficiency, and cuts response time—making a difference both for agents and the citizens they serve.

Network and Infrastructure

If your foundation isn't rock-solid, you can't set yourself up for success. Optimize what you already have and make it scalable to meet your future needs.

Voice Services

Stay connected and boost collaboration via hosted enterprise or premise-based voice technologies like next generation phone services, video calling, messaging capabilities, and conferencing.
After an IT assessment and implementation project, Healthcare Claims Management enjoys a more productive work environment—and its IT director enjoyed a vacation.
One of the most important things about Resultant is that they're proactive. They're actively managing our IT issues rather than waiting till there's a problem.
Tina Allen
CEO, Eye Surgeons of Indiana
Resultant helped us to create an IT plan that integrated with our business and would allow us to operate better, make us more profitable, deliver more services, and better deliver services to our clients.
Jeremiah Pastrick
Former VP and Corporate Counsel , Healthcare Claims Management
We didn't have the experience to do it alone. Resultant took the time to understand our culture and understand who the City of Fishers was—what we were trying to do and accomplish—and then came right along with us, which is what allowed us to be successful.
Mayor Scott Fadness
City of Fishers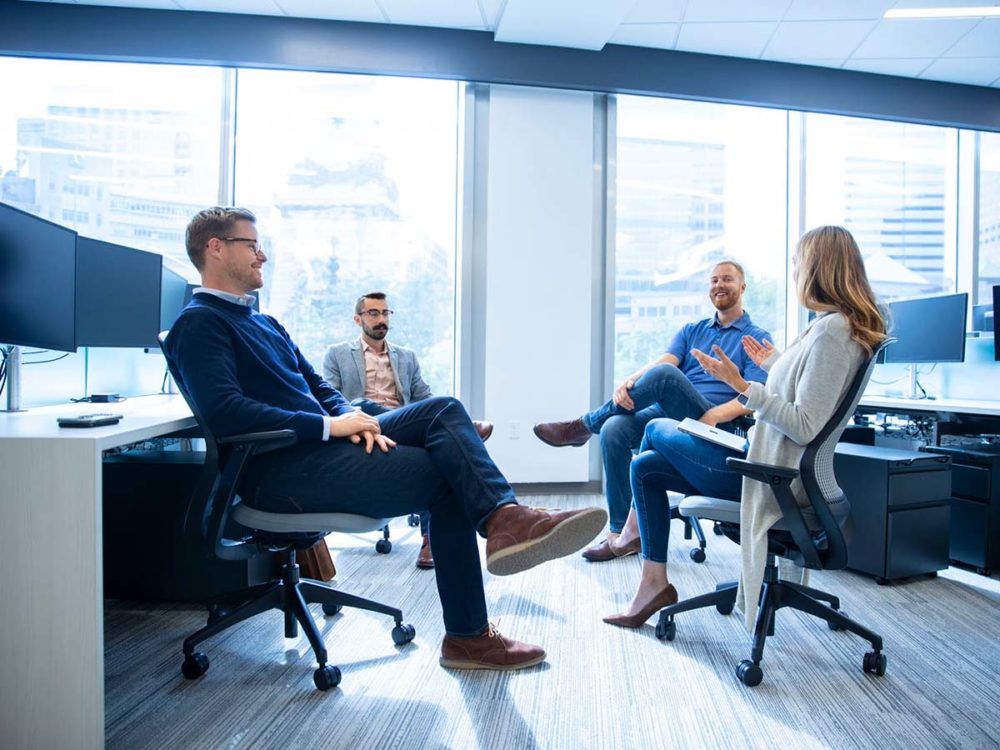 Connect
Find the cybersecurity, infrastructure, applications, and technology strategy solutions that help your organization thrive.
Looking for a career in IT?
We love to help clients transform their organizations with technology and data solutions, and our teams continue to deepen their skills and expertise. That's their passion and why we're so proud to be recognized by IDG News and Computerworld on the 2021 Best Places to Work in IT list.
Interested in joining us? Explore open positions today.
Technology Solutions Shouldn't Hurt.
Technology that functions as it should barely gets noticed. It's when systems crash, data gets lost, or applications frustrate progress that technology draws attention—and annoyance. As appealing as it may seem in the moment to smash suboptimal infrastructure with a hammer, there's a better way. Yes, you may need new solutions, and you also may need a better way to utilize the technology you already have.
We approach collaboration with humility, empathy, and transparency. We would never even consider offering potential technology solutions without first taking the time to deeply understand your organization's mission, the day-to-day operations challenges you experience, and where you want to go. Our process is one of detailed discovery, creative brainstorming, and careful implementation that prepares people to embrace the technology solutions to come—all led through meticulous project management that smooths the way.
Many tech consultancies present their best solution to clients. We work with you to derive your best solution—the one extraordinary, exactly right-sized solution that will help your organization thrive. We believe answers are more impactful and long-lasting when we arrive at them together.
Other consultancies have specialists in specific platforms. We have specialists in all the platforms. We're tech agnostic, meaning we can work with and optimize any platform or brand of system you currently have or want to use. Even if a past relationship has left you with a proprietary system you can't properly administrate alone that also doesn't do what you want, we can work with that and teach you how to do the same (and rest assured, we'll never leave you that way).
Harnessed purposefully, by diligent experts who pay as close attention to the needs of end users as to developments in their field, technology becomes the difference between status quo and success. We're intrepid investigators, skilled technicians, and business consultants who make lives and work better through technology.
Insights delivered to your inbox