Citizen Contact Center Transformation
Watch your efficiency and customer satisfaction skyrocket when you connect with constituents via their favorite platforms.
How We Help
Connect better: A contact center transformation could be your missing link.
Your agency has its hands full with overwhelming demand. Meanwhile, citizens expect every interaction with you to be as simple as contacting their favorite retailer, and they expect to be able to use any channel they choose: phone, website, or even social media. How can you connect more people with services while simplifying agents' workloads?
A contact center transformation gives your agency the freedom to make greater impact.
Contact Center Technology Partners
We're proud to help organizations thrive, and we'd love to tell you more.
What We Do
Comprehensive communications solutions delivered.
We start with an assessment of your current technology tools and data sharing practices, as well as the processes that support how you serve your citizens today. Because our teams use a technology-agnostic approach, your system requirements and must-have legacy tools and data can be integrated into a solution customized for your organization.
A contact center service platform that gives users multichannel access as well as self-service capabilities is critical to success. With contact center expertise across a variety of channels and experience implementing cohesive solutions for government agencies, our teams can help craft dedicated, scalable solutions that just work.
Become omnipresent with an omni-channel strategy.
Improve accessibility, efficiency, and reporting to make better connections for your constituents and your agents.
Multichannel engagement to meet citizens at their preferred point of contact
Standardized service for reliable, consistent end-user experience
Improved customer satisfaction, increased efficiency, and reduced response times
Greater accessibility anywhere, anytime
Collated disparate data sources for accurate, unified comprehensive reporting
Efficient, intuitive, and customizable agent dashboards
Greater reach and improved productivity for agents
Intuitive, useful information to better inform decisions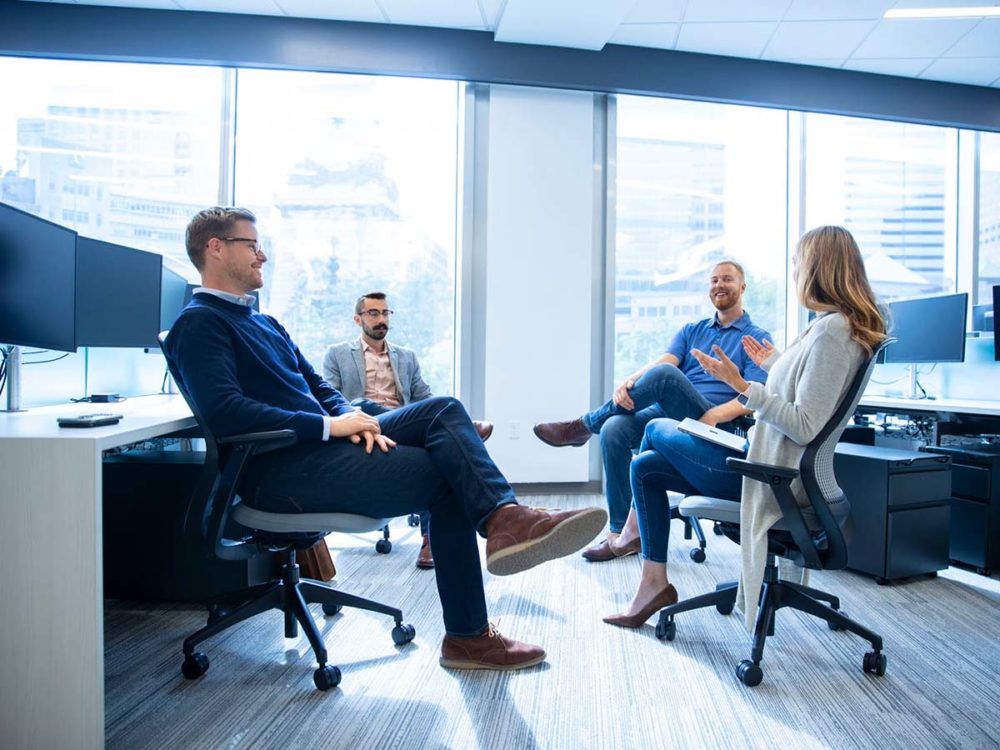 Connect
Discover how a citizen contact center transformation could improve your agency and better serve your citizens.
The right contact center strategy delivers true connection.
Does fighting legacy systems long past their shelf date increase your workload? Are callers frustrated navigating confusing phone trees that can't provide the answers they seek? Are agents limited in connecting people with services because they're dealing with mundane tasks that could be radically simplified?
Making contact is vital. A citizen contact center service platform that gives users multichannel access as well as self-service capabilities is critical to connecting people with services.
Aged infrastructure and limited technology budgets create a gap that keeps many contact centers from taking advantage of improved tools and processes. Meanwhile, constituents expect more and more: They want easy access to resources and services, and they want to make it happen within whatever engagement channel they prefer. Add to that the fact that most government agencies are dealing with an overwhelming increase in need for services, and the problem gets even more complex—and urgent. But not insurmountable.
Tools go underutilized if they're integrated without first having a clear sense of what stakeholders want and how technology fits into the bigger picture of connecting constituents to services. We've helped numerous agencies by implementing class-leading contact center solutions, developing efficient self-service functionality, assisting with helpdesk services, and providing oversight of contact center operations.
Do you have a contact center so functional it dramatically reduces your workload? If not, it's time to see what's possible.
Insights delivered to your inbox