Technology Strategy and Planning
Maximizing technology improves everything else you do.
How We Help
When the future you envision drives technology decisions, so much more becomes possible.
Remove obstacles like ineffective processes and ill-suited applications by aligning technology solutions with your goals. Our team works hard to understand your organization, how your teams work, and your goals to help you build the technology strategy that propels you forward.
We're proud to help organizations thrive, and we'd love to tell you more.
Services
With these and other services, our clients find alignment between technology and business strategy. 
IT Assessment
A technology assessment makes sure your organization, teams, and technology work together to be most effective. Learn where your technology works well and where it falls short so you can move forward swiftly.
Virtual CIO
Add a technology leader to your team as an advisor and strategist—one backed by a team of data scientists, software engineers, data architects, and business consultants—and get the best of CIO, CFO, and CEO.
IT Due Diligence
Risk and challenges arise when you approach a merger or acquisition without an IT integration strategy. Create a smoother transition by identifying and addressing any data and technology issues that could otherwise create roadblocks.
Resultant helped us to create an IT plan that integrated with our business and would allow us to operate better, make us more profitable, deliver more services, and better deliver services to our clients.
Jeremiah Pastrick
Former VP and Corporate Counsel , Healthcare Claims Management
We didn't have the experience to do it alone. Resultant took the time to understand our culture and understand who the City of Fishers was—what we were trying to do and accomplish—and then came right along with us, which is what allowed us to be successful.
Mayor Scott Fadness
City of Fishers
We owe a great deal of thanks to Resultant. The team is knowledgeable, reliable, and very responsive. They have helped our business become more efficient and more technologically advanced in a short amount of time. We are currently split into two temporary offices, and Resultant has been integral to the success of this transition. We look forward to continuing our relationship for many years to come!
Meet your technology strategy and planning team.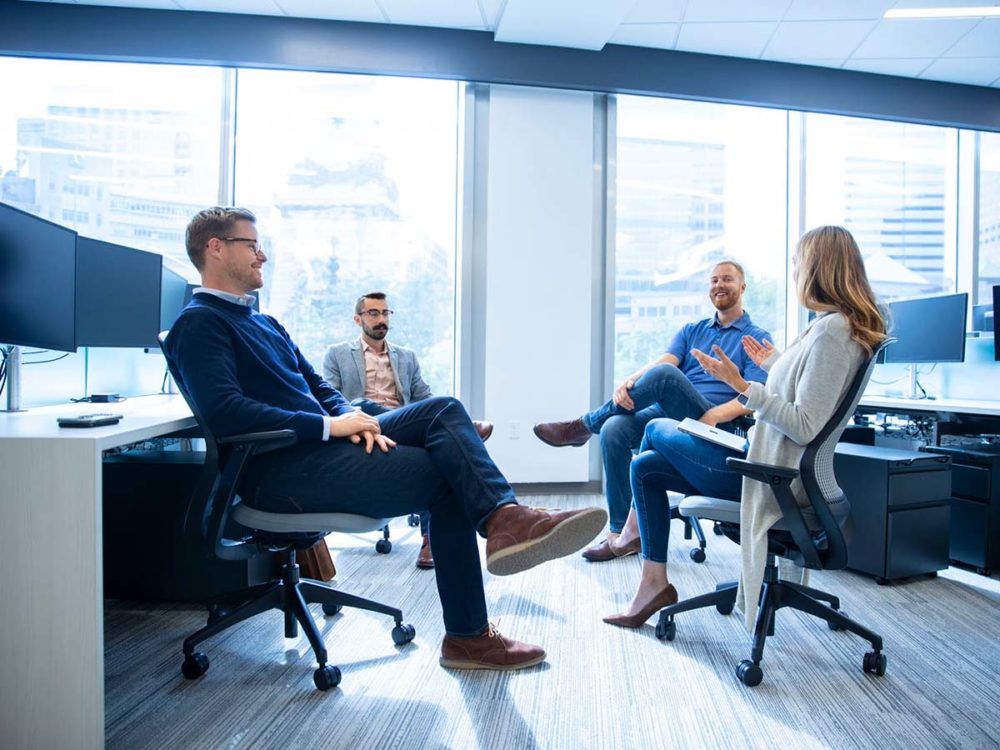 Connect
Thrive with a technology strategy that aligns with your business strategy. Let's talk.
Toward technology and business alignment.
Failing to plan may be planning for technology that fails you. That update to conventional wisdom holds true for a host of businesses who cobble together technology patches as issues arise, and who can blame them? Technology isn't why they got into business, and maybe it's not why you did, either. It's the hardwood on the basketball court: essential, but not what anyone's looking at while the game's being played.
Keeping your technology ecosystem in line with your business and people means progressing toward your goals more smoothly. So it's worth pausing to take stock of what you have on hand, how it's being used, and where you're planning to take your business. Getting all of those elements aligned can bring exponential efficiencies. It starts with a technology assessment that digs through all your technology closets and shines a light in all the dark corners of your processes and data practices. You'll find that document management strategy you thought you'd lost, and you'll also discover where the gaps in your technology lie. Which gives you a clear starting point.
Our experts go a lot further. They ask a lot of questions—to a wide range of humans who support and utilize your services, as well as to your leadership team—to find what's working and what's on everyone's wish list. They dig deeply into your business strategy to discover what you need to reach your goals. And they align all their recommendations with your budgets and timeline so that you have all the tools you need to proceed methodically toward technology greatness—and the business goals that mean everything to you.
Insights delivered to your inbox