Google Solutions
Google-enabled services may be the cloud solution your organization has been looking for.
How We Help
Your organization is unique. Your cloud solution should be, too.
Are you currently frustrated by legacy system limitations? Are communication and document access impeded by on-prem servers? Do you have to get more and more creative each day with your technology workarounds?
Migrating to or optimizing Google Cloud Services can address technology shortcomings you don't even realize you're compensating for and ensure you pay only for what matters. We begin every successful solution with your people and your strategy, and customize it to how you work and where you want to grow. 
A Google Cloud migration enhanced communication and collaboration for the State of Colorado.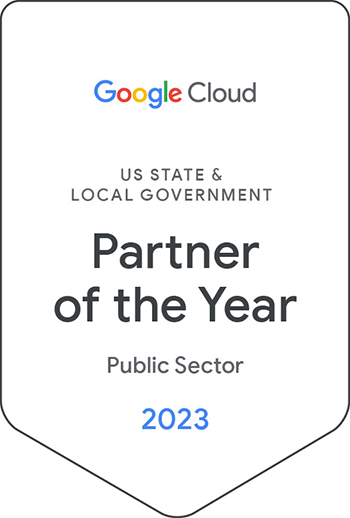 Google Cloud Partner of the Year
Award-Winning Results
Our work with clients like the Ohio Department of Rehabilitation and Correction, the Colorado Department of Public Health and Environment, and the IRS earned us recognition as 2023 Google Cloud Public Sector Partner of the Year. Learn how we can help your agency make a real difference.
We're proud to help organizations thrive, and we'd love to tell you more.
What We Do
Expertise means little if it isn't thoughtfully applied to building real solutions for the real people who need them.
Every project we're involved in starts with listening. We work closely with teams, leaders, and other stakeholders to deeply understand how we can help. And then we work with each client to develop the right solution—one that solves their problems now and continues to help them thrive as they move toward their goals.
Services
We implement Google solutions for our clients every day with services like these.
Fuel your strategy with solutions from Google and Resultant.
Data Driven Leadership
Data-Driven Future: How Generative AI Can Shape the Public Sector
What if the futuristic world of generative AI is closer to the public sector than you think?
In this episode of Data Driven Leadership, host Jess Carter engages with Chris Hein, director of customer engineering for the SLED team at Google. Together, they illuminate the path of Generative AI as it shapes aspects of public life like education, privacy, and efficiency.
Chris shares his firsthand experience, unveiling the innovations and real-world applications that are transforming how governments leverage data. From tech enthusiasts to public sector professionals, this episode is a must-listen for anyone curious about the cutting-edge intersection of AI and government.
Overall, I was impressed with the services we received throughout the implementation process. The cohesive collaboration between Resultant and Google was evident, and the responsiveness from both parties was appreciated. The experience demonstrated professionalism, technical expertise, and a good understanding of our business process.
David Guo
Director of IT, City of Brighton, Colorado
Work with a team who has achieved Google expertise from every angle. Our 70+ Google Cloud certifications include Cloud Engineer, Cloud DevOps Engineer, Cloud Security Engineer, Cloud Network Engineer, Cloud Developer, and Cloud Architect.
Our certified team of experts have the experience and the know-how to help super-charge your team's compute and data needs. 
Meet your Google solutions team.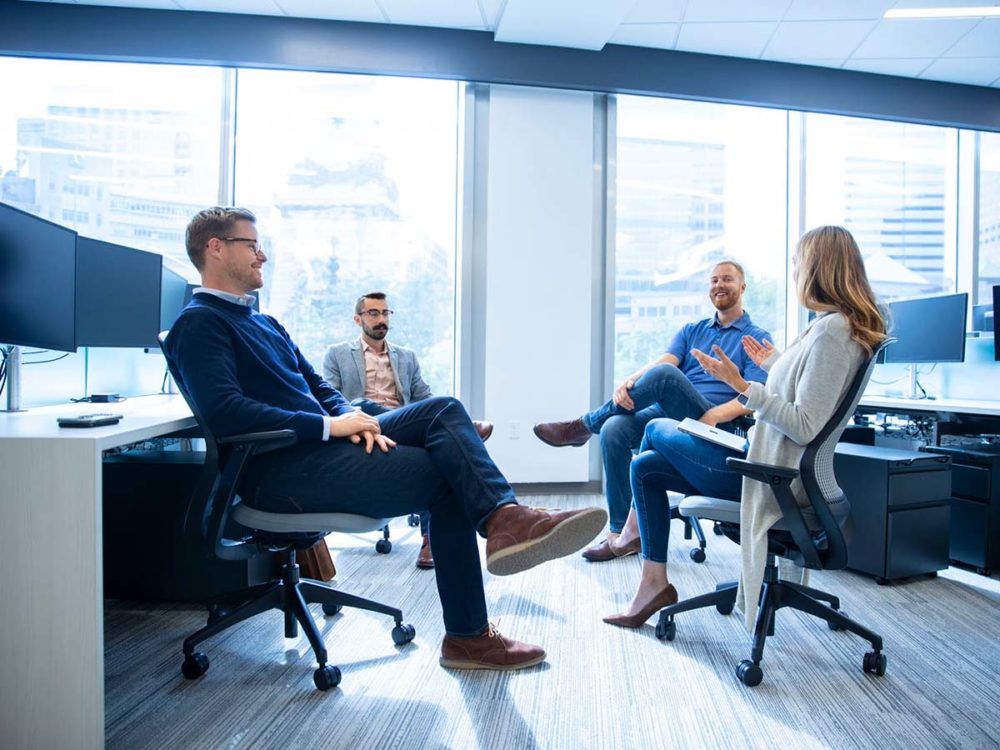 Connect
Find out how Google-enabled services can make a difference in your organization.
GOOGLE Solutions for work-from-wherever.
The world has shifted. Work no longer happens at a certain time and place, and gone are the days when documents and presentations are created individually. Today's workforce demands real-time, secure collaboration and intuitive, tightly integrated sets of tools that enable efficiency and flexibility. That's where a Google Cloud migration can pay big benefits.
There's a lot to consider when you migrate to the cloud. There's also a lot to gain, like improved reliability, greater connectivity, more options for collaboration, and much greater insight from your data. What you gain has a lot to do with the partner who helps get you there.
More than anything, your successful migration depends upon working with a team that's exceptionally well versed in Google Cloud integration. We're a Google Cloud Premier Partner committed to delivering exceptional service alongside just-right solutions.
Google Cloud never stops. This continuously improving platform may hold your most secure, high-performing, and cost-effective future, providing benefits like
Best-in-class security to keep your systems, data, and users protected
Integrated video calling, email, chat, and document collaboration apps that make connection intuitive
Flexibility to migrate, build, and optimize apps with best-in-breed solutions
Smarter decision-making through advanced analytics your whole team can access
We approach every client engagement with empathy, understanding, and a lot of listening. Uncovering solutions to nagging problems doesn't happen overnight. Our teams thoroughly evaluate your needs, technology assets, and goals, then we collaborate with you toward a customized technology strategy and solution recommendations.
See what's possible with the right partner.
Insights delivered to your inbox