Digital Transformation
Maximize data and technology with a people-focused approach.
How we help
Digital transformation is not a destination, and it's not all about technology.
Do you suspect your organization needs better processes? Can you see where old systems fail to provide a top-notch user experience? It's easy to get overwhelmed by what changing all of that might mean.
Digital transformation isn't an all-at-once massive undertaking that disrupts work at astronomical costs. It's a method for ensuring that people, data, processes, and technology come together to help your organization work smarter and increase impact—and it can begin a little at a time, starting from exactly where you are right now.
We're proud to help organizations thrive, and we'd love to tell you more.
What We Do
Start from anywhere in the digital transformation process.
Digital transformation is a cultural shift within your organization that depends upon people-centered solutions. We start with a deep dive into how your people work, the problems they struggle with, and what they need to make your organization thrive. We don't do off-the-rack solutions because one size never fits all. We're focused on tailor-made transformation supported with detailed change management to ensure success.
Featured Services
We've helped numerous clients through successful digital transformations with these and other services.
Podcast
How to Generate Real Value Quickly in Digital Transformations
Digital transformations may seem like the obvious path to the future of IT. However, 28% of executives still see them as a cost center and 29% believe data proving their ROI is hard to find, according to Altimeter. If your organization has yet to take on a digital transformation, how do you get your executives on board?
Caterina Luppi, CIO at D.C. Bar, is here to help and shares insights on her organization's data transformation journey. She not only talks about how she justified needing it, but also how they planned for success and how they overcame obstacles during implementation.
Meet your digital transformation solutions team.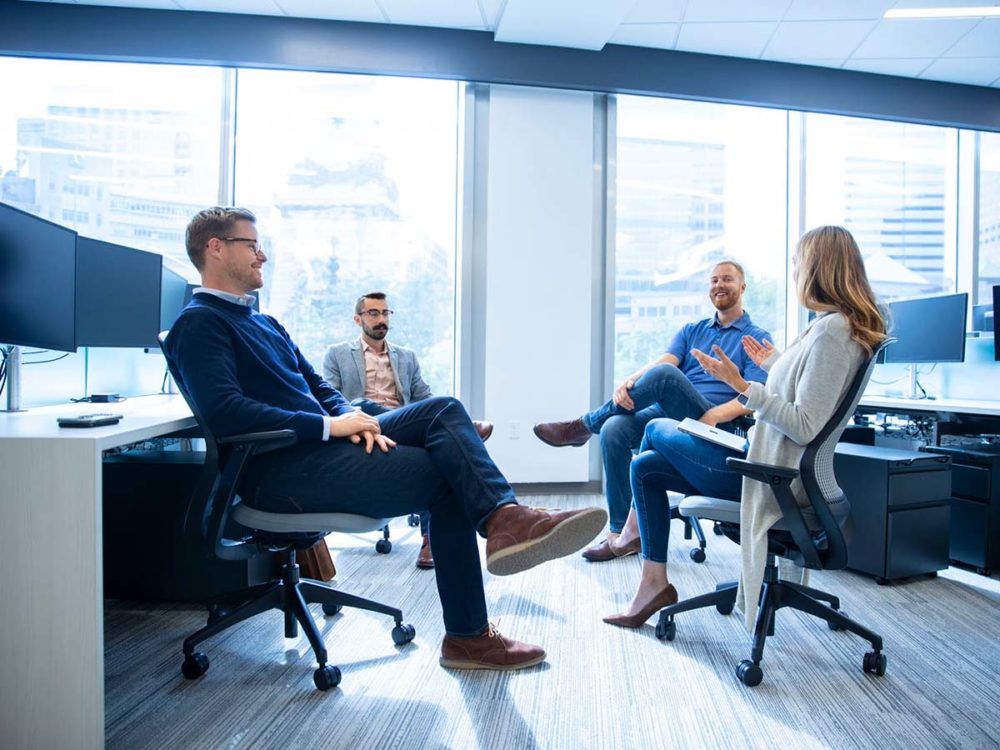 Connect
Find out what a people-centered digital transformation can do for your organization.
Start your digital transformation from where you are right now.
Many people believe that digital transformation means, in effect, reinventing the wheel of your entire organization. Stripping systems down to bare bones, taking away anything familiar, and having to learn a completely new way of working. It's often thought of as extremely disruptive and prohibitively expensive.
And there's a reason for that. Most technology consultancies focus on the digital element of transformation, leaving clients with shiny new upgrades that don't serve their strategy or their people. That's why almost three out of four digital transformation projects fail to reach intended outcomes.
We have a different way of looking at digital transformation. We start with people: asking them questions, listening to their answers, deeply empathizing with them, and courageously solving their problems holistically—but one at a time. We meet our clients where they are right now.
You don't have to do it all at once; in fact, most of our clients don't. Solving a large problem is far less daunting when you first solve a small problem within it. That first small solution gives fuel and clarity for the forward path to solve big-picture issues.
When people get left out, technology becomes a frustration rather than an efficient, effective tool for reaching your goals. Our approach to digital transformation draws on our technical expertise and experience across industries, and it's centered on the people who'll use those solutions.
Our passion is collaborating with clients to make meaningful technology and data solutions—the distinct and extraordinary solutions that will help them thrive.
Insights delivered to your inbox