Federal Government
Innovative problem solving through data and technology where the stakes are highest.
How We Help
For maintaining national security and supporting citizens, reliable technology and secure data solutions are critical.
For federal government clients addressing ever-evolving circumstances, our team of data scientists, engineers, developers, and technical experts helps improve outcomes with fearless innovation.
We're proud to help organizations thrive, and we'd love to tell you more.
Services
Our clients have achieved great things with support from services like these.
AMARO

Where immediate analysis of thousands of structured and unstructured datasets is imperative, as in analyzing supply chain risk, AMARO utilizes automated data ingestion, probabilistic record linkage, multi-level network mapping, and machine learning to identify risk and predict outcomes.

CoRE

Sharing data to collaborate on solutions doesn't have to mean putting it at risk. Our CoRE platform protects data with iron-clad security and keeps you in control of permissions.

COVID-19 Response

Data informs decisions like where to set up testing and vaccination sites, what education measures should be taken where, and where the virus hotspots are in your communities. 

Organizational Change Management

Have you ever completed an upgrade nobody wanted to use? A well-considered plan paired with effective strategies to build trust, create alignment, and address conflicts ensures projects find success and are embraced.
Use Cases
Meeting complex problems with experience and technical excellence
Our expert team devotes meticulous attention to solving problems alongside federal government clients—and managing the change that each engagement entails—for a smoother, more direct path to success.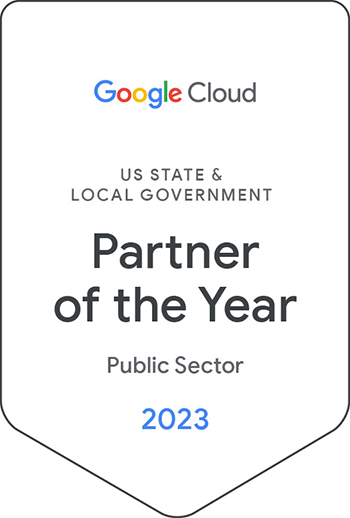 Google Cloud Partner of the Year
Award-Winning Results
Our work with clients like the Ohio Department of Rehabilitation and Correction, the Colorado Department of Public Health and Environment, and the IRS earned us recognition as 2023 Google Cloud Public Sector Partner of the Year. Learn how we can help your agency make a real difference.
Insights delivered to your inbox