Strategic Data Assessment
Our actionable data assessments show how data can do more for your business.
How We Help
Everyone has data, but not everyone is making good use of it.
Discovering gaps in how data is collected and knowing how it supports or fails your desired outcomes requires an objective process of discovery, analysis, and planning.
Our strategic data assessments show, rather than tell, how your data can do more for your business. Resultant's data governance specialists, data engineers, data architects, and business consultants dig into the larger story of your data to understand the full context of your business, strategy, and processes.
The old carpenter's adage measure twice, cut once is just as apt when building scalable data infrastructure. Assessment is measurement. The result is actionable direction and a roadmap for success while providing objective, qualitative, and quantitative justification for the investment.
We're proud to help organizations thrive, and we'd love to tell you more.
What We Do
What Do Data Assessments Tell Us?
By taking the time to understand the details, we develop a holistic picture of where you are today and where you can go tomorrow.
Data Quality
We'll identify available data, determine its completeness, variability, and scope, and uncover areas for improvement in the data collection process. The assessment will leave you with an understanding of data collection inconsistencies between your technology sources, an analysis of data that requires additional cleansing, and a holistic view of the foundation upon which predictive analytics can occur.
Performance Tuning
Our expert data engineers scour every database, table, index, and stored procedure, as well as review query logic to develop a comprehensive report detailing recommendations for remediation to performance challenges. Implementing your recommendations leads to timely reporting and better performance from your existing hardware—eliminating the need to purchase new equipment.
Data Strategy
You'll get a comprehensive data inventory including a review of your data, how it's collected, where it's stored, and more. In addition, our team of expert data analysts works with you through a data discovery process to uncover how you can put your data to use. You'll walk away with a well-defined roadmap of potential data use cases and improved time to value with better end results.
Getting Buy-In Is Critical
Building consensus and buy-in is imperative to successfully launching your data strategy. Focus on these three areas.
Build Credibility

Objective input from subject matter experts outside your organization adds value with depth of knowledge and unique, unbiased viewpoints.

Create the Case

CIO Magazine states, "The strategic roadmap can and should be your most powerful ally in building a case for your initiative." Our strategic data assessment provides that roadmap, plus the rationale and justification to act upon it.

Demonstrate Success

Implementation isn't successful until it has been communicated throughout the organization. Resultant not only helps develop your strategy but can lead all implementation efforts—including demonstrating wins to stakeholders frequently and consistently.
Strategic Data Assessments Meet You Where You're At
New to Data Analytics: Organizations beginning analytics for the first time and those dependent on highly manual processes for reporting.
Updating Data Analytics Systems: Organizations evaluating technology upgrades or those looking for input on selecting technology and analytics infrastructure to achieve their goals.
Barriers to Accessing Data: Organizations that consistently encounter the same data-related barriers.
Moving from Descriptive to Predictive Analytics: Organizations that have a solid analytics foundation, want to make the leap from descriptive to predictive analytics, and need to understand what people, processes, technologies, and associated cost are required.
Experiencing Transformative Growth: Organizations experiencing rapid growth who need their data processes and underlying infrastructure to scale accordingly.
Restructuring or Cost Reduction Initiatives: Organizations undertaking restructuring or cost-reduction initiatives while keeping data analytics a top priority, ensuring fact-based performance improvement initiatives have the best possible quality facts to work from.
Customizable Packages
Strategic data assessments are not "one size fits all." Our team can customize any of these packages to meet your organization's specific needs.
Discovery SDA
Ideal for: Organizations needing a strategic plan to get buy-in for data analytics transformation
Target duration: 3-4 weeks
Target # of stakeholder interviews: Up to 7
Scope:
High level evaluation of five strategic areas
Executive presentation and three SDA checkpoints
Core SDA
Ideal for: Organizations needing a strategic plan to enable and embed data analytics capabilities within their department or organization
Target duration: 5-6 weeks
Target # of stakeholder interviews: Up to 14
Scope:
High level evaluation of five strategic areas
Client selects three of 5 areas for deeper dive
Executive presentation and three SDA checkpoints
Enterprise SDA
Ideal for: Organizations needing a strategic plan to integrate data analytics capabilities throughout their organization
Target duration: 10-12 weeks
Target # of stakeholder interviews: Up to 24
Scope:
Comprehensive evaluation of five strategic areas
Includes deliver of a "Quick Win Project"
Executive presentation and three SDA checkpoints
Related Services
Get more from your data through these and other services.
Related Capabilities
A data assessment is just the first step in developing a sound data strategy.
Podcast
How Preparation Led to a Smashingly Successful Data Transformation
How did Children's Hospital Association achieve a data transformation that saved them $2 million annually? They started with a strategic data assessment and got clear on strategy first. Preparation makes all the difference to smooth execution of such a large initiative.
You'll hear an excerpt from a webinar where Lori Hotzel, CIO of the Children's Hospital Association, explains the importance of sound strategy for data transformation and how it enabled her team to gain executive buy-in, quickly show ROI, and save millions of dollars on their data processing.
Not sure where to start? We outlined everything you need to consider when getting started with your data strategy.
Meet your data assessment team.
Before we can help you make your data work for you, we spend time getting to know your organization.
Our team is not just impressively educated and experienced but empathetic and endlessly curious. They're devoted to uncovering innovative solutions that answer the questions you didn't even know you had—all with an eye toward enabling you to thrive.
We are dedicated to building trust with our clients. You won't be part of an assembly line, but rather a small team who will get to know your vision and your data from the ground up. That starts with a thorough discovery process, so that we can understand your needs and design a data solution you'll love. And that's just the beginning. You get ongoing support as new challenges arise or your business grows—from a partner who's invested in your success.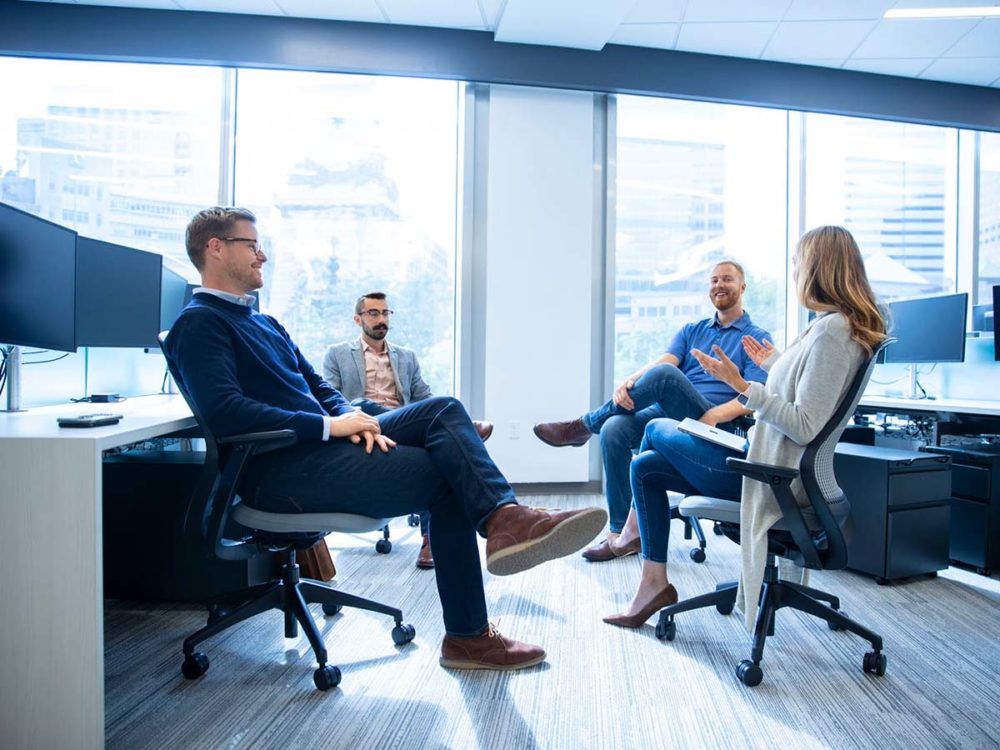 Connect
Find out where your data strategies and solutions stand with a data assessment.
Insights delivered to your inbox