Amazon Web Services
Adaptable, secure cloud infrastructure for real-world solutions.
How We Help
The power of a cloud solution like Amazon Web Services lies in its adaptability.
AWS can be integrated into your enterprise and aligned to your strategic priorities, customized to the way your people work and your vision for future success. But unlocking the greatest benefit from this cloud solution requires working with an experienced team that knows how to unleash its full potential.
We are a registered AWS partner, which means our team has achieved certain benchmarks with Amazon Web Services in order to earn membership in the global community of partners who use AWS to build and develop solutions for their customers.
Automated data analysis supported by AWS facilitated a solution for improved supply-chain analysis.
We're proud to help organizations thrive, and we'd love to tell you more.
Amazon Web Services Capabilities
AWS is a powerful tool, offering a vast range of possibilities for your enterprise. Here are a few of the services we provide to help our clients implement AWS in the most productive way.
Infrastructure solutions
Cloud migrations
Scale-to-demand cloud capacity
Database implementation
App building and development
AWS: Cloud-First Solutions
The flexibility and scalability of AWS products and services can help you achieve these and other tailored business solutions:
Data management
Financial services
Application modernization
Smart analytics
Data migration
Infrastructure modernization
Collaboration and productivity enhancement
Security
AI and machine learning
Data integration and sharing
Business Benefits of Amazon Web Services
A variety of benefits come with migration to Amazon Web Services cloud infrastructure, including:
Cost Savings
When businesses can use the processing power and storage of Amazon Web Services instead of their own, they're saving on computer equipment, hosting servers, utilities, and staff. SMBs find that public cloud solutions such as AWS are around 40% more cost-effective than maintaining on-premises systems.
Flexibility
Too many organizations design and launch projects and then guess how much capacity they'll need. They often end up overpaying for a project because they've guessed wrong. AWS provides the exact amount of cloud computing resources you need, and charges only for what you use.
Security
AWS is committed to protecting your information from leaks or hacks. AWS provides companies with compliance and security assurances and stays on top of legislation from around the world.
Improved Productivity
By utilizing AWS to back your cloud computing, you avoid the dangers and obligations related to running your own IT system. This also means a smaller need for IT staff and spares your company the time and cost in the long run.
Comprehensive Documentation
Transforming from on-location storage to cloud-based storage is not as difficult as you might think. AWS is a cloud powerhouse, and it offers a ton of resources for education and training. In addition, with a strong development and deployment partner like Resultant, your organization will have our experts on call for for any situation, from minor technical difficulties to major strategic decisions.
When the global COVID-19 pandemic struck, the AWS solution Resultant developed allowed Indiana to unlock fast, secure collaboration at a pivotal point in the crisis.
Amazon Web Services Featured Products
With expertise across the entire spectrum of Amazon Web Services tools, our teams have the expertise to help define and deploy a cloud solution that takes care of your organization's computing and data needs.
Amazon EC2
Amazon Elastic Compute Cloud (Amazon EC2) provides you with on-demand computers whose capacity can be adjusted according to your needs. Amazon EC2 is the easiest way to add scalable servers to your web development projects. With just a few clicks in the AWS Management Console, you can launch as many high-performance computing instances as you need. It's like tapping into the power of Amazon Web Services' awesome back-end infrastructure—without having to worry about renting space on expensive, faraway servers.
Amazon S3
Amazon S3 is an object storage service designed to be used to store and retrieve any amount of data from anywhere on the web at any time. With its highly reliable, low-latency, high-throughput data transfer, Amazon S3 makes your data available and secure from the rest of the web. It has a 99.999999999% durability guarantee, which means your data is safe, secure, and easily retrievable.
Amazon Relational Database Service (RDS)
Amazon RDS makes it easy to set up, operate, and scale a relational database in the cloud. This can be very useful, as it lets you easily increase or decrease capacity to fit shifts in demand. This service also automates time-consuming tasks like hardware provisioning, setup, patching, backup, recovery, and monitoring. With a few clicks in the AWS Management Console, you can create and deploy a robust, scalable database infrastructure capable of meeting the application demands of your business—all while never having to worry about backups, patches, updates, or capacity planning.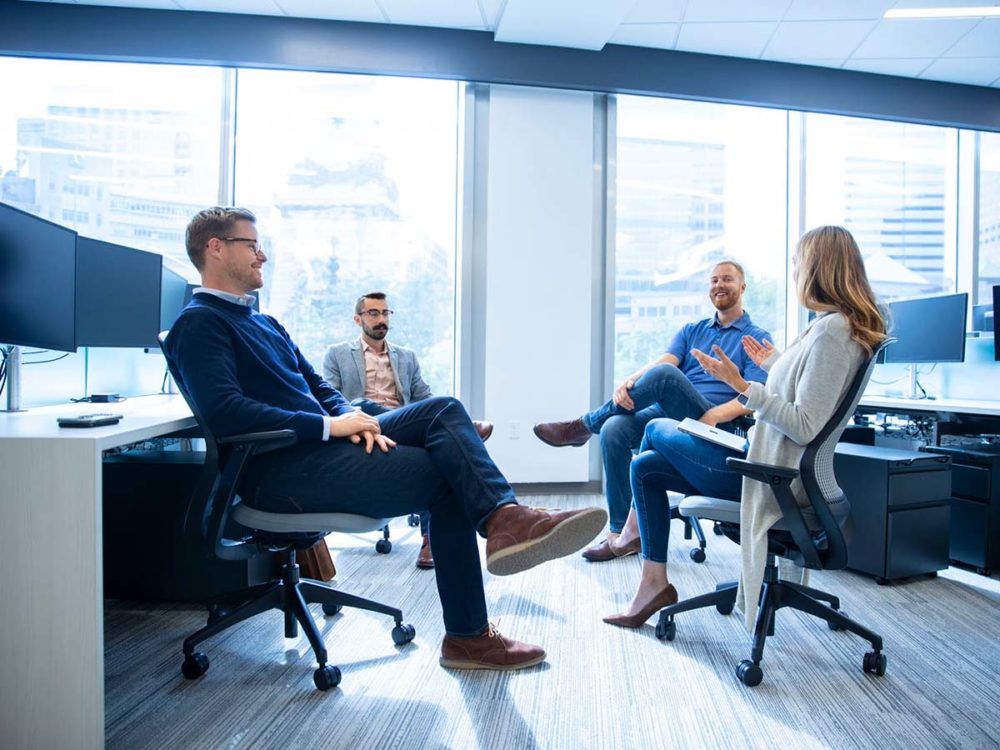 Connect
Find out how our team can help you achieve great outcomes with Amazon Web Services.
Insights delivered to your inbox