Data Governance
Organizations increasingly rely on data, but few get everything they could from it—or even trust what they have.
How We Help
Data governance doesn't have to be difficult.
Your organization has an astonishing amount of data: about customers, employees, vendors, outcomes, and more. Your success depends on whether the people in your organization see the value of this data and use it to make informed decisions. But few leaders report that they trust their data.
Data governance—the formal, standardized policies for how people across your organization interact with data—gets you there. Our Govern by Design approach helps you design and execute a sustainable data governance strategy to break down data silos, increase data trust, build operational efficiencies, bolster security, and turn information into actionable insights that support your goals.
We help you build an organizational culture that embraces data as an asset. When the value of data is integrated into each role, your team utilizes and maintains trusted, reliable data to reach organizational goals more effectively and efficiently—and that's a true digital transformation. 
RevelationMD Enhancements Deliver a 2:1 ROI for Blue Cross Blue Shield of Texas
Enlist an experienced team who works with you to build your data-driven culture.
A Data Governance Charter and Roadmap
A Governance Assessment Toolkit
An Impact Log and Use Case Prioritization Matrix
Policy Recommendations Templates
A Metadata and Data Quality Scorecard
A Roles and Responsibilities Matrix
A Data Literacy Roadmap and Training
Data Use Agreements Process Mapping
Metadata Standards and Templates
Data and Reporting Import and Export Protocols
Data Catalog Requirements and Execution
We're proud to help organizations thrive, and we'd love to tell you more.
Data Governance, Reimagined
Govern by Design
Data governance is a function. A process. An ongoing, evolving, and sustainable methodology.
Too often, it gets treated like a project, and that's when it fails. Treating data governance as merely a project isolates it from the business areas it impacts, shortchanging strategy and resulting in unsustainable choices.
With Govern by Design, we take the time to understand your business needs before we begin. We deliver value quickly while building the right foundation that leaves room for future unknowns. This approach also opens many doors for funding, as data governance impacts every area in an organization—not just IT. The Govern by Design approach is interwoven with
Legal
Risk management
Customer/patient experience
Compliance
Revenue generation
Artificial intelligence (AI) and machine learning (ML) initiatives
Data monetization
Security
Nondisruptive, outcomes-based progress
We utilize Design Thinking to execute changes without disrupting your current processes and bring value and ROI right away—not in months or years. Our agile, iterative approach with change management based in empathy boosts stakeholder buy-in from the start.
Without data governance providing oversight and regulation of sensitive data, the risks of reputational damage and financial penalties are liabilities your business can't afford—and you're leaving money on the table by missing out on accurate, business-changing insights.
The Power of Data Governance
We've helped clients see the difference data governance makes.
Data Silo
Have analytics abilities grown along with your organization? Or are you hampered by governance-lacking data silos collected through M&As? Siloed data prevents gleaning business intelligence insights from advanced analytics. Setting standards for storage and analysis creates an environment of information security so your teams can get more done with your data.
Data-Driven Decisions
Companies that make data-driven decisions are far more successful than those that don't. Data governance clarifies your here and now—and builds trust as you go forward toward better decision-making.
Damage Control
When your IT resources are tied up with damage control, there's no room for your data strategy to do its job. Proper data governance can free you up to focus on what matters instead of constantly putting out fires.
Impactful Data and Investment
How can you be sure you've optimized your data governance solution? If you're still coming up with workarounds, you haven't. Expert data governance sets you up to uncover actionable insights, so you know you're on the right path.
Keynote
Digital Ethics as a Competitive Advantage
Watch Paola Saibene, Principal Consultant and Data Governance Practice Lead at Resultant, give her keynote presentation on digital ethics at CDO Mag's 2022 Women Data Leaders' Global Summit.
Related Capabilities
Ensure your data is supported by a framework strong enough to uphold your organization now and adapt as you grow.
Related Services
No matter your current data infrastructure, our data engineers work to understand your organization and build the solutions that support your strategy.
Find the insight your data holds through critical data services.
Master Data Management

Achieve clarity and get all your information into one place by reconciling disparate datasets and creating links among records. Your entire organization can then rely on one correct, complete master record.

Metadata Management

To provide value, your data must be organized and easy to access. We help you establish and manage your metadata strategy to promote efficient data integration, access, and analysis for better, data-driven decisions.

Data Quality

The more data you collect, the harder it can be to ensure its accuracy and consistency. We check the quality of your data to identify and address the inaccuracies that hold you back. With ongoing data cleanses and monitoring, you can be confident that your data and the decisions that data informs are of the highest quality.

Data Requests and Sharing

Sharing data facilitates collaboration and can lead to exponential outcomes, but many organizations don't share resources for fear of regulatory standards violations or security issues. Our team delivers a secure, easy-to-use data sharing solution that helps your organization thrive.
Podcast
Saving Time, Money, and Headaches with Mature Data Governance
Inaccurate data isn't just a headache, it's a profit killer. Bad data costs companies 12% of their revenue, according to Experian. In this episode, Jon Sakanai, former Business Intelligence Manager at Colorado Housing and Finance Authority, shares his data transformation story. You'll hear how his team went from manual data warehouse releases a couple times a year to automatic releases multiple times a month. He discusses lessons learned as well as results he experienced from this digital transformation.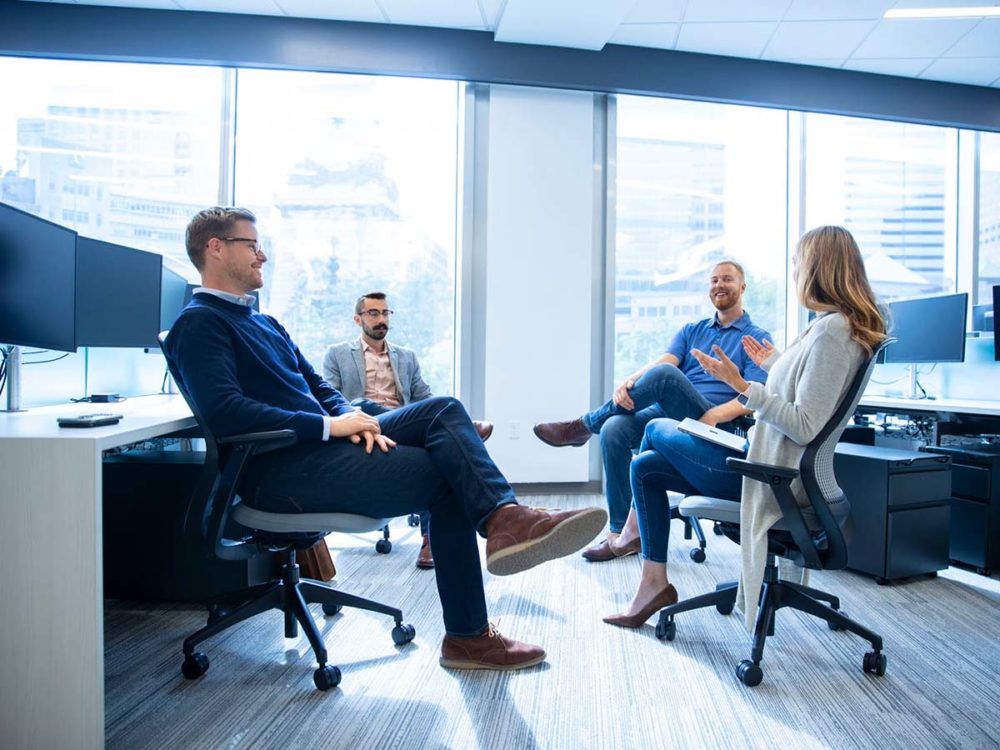 Connect
Create order from uncertainty and build a data-driven culture with the right data governance strategy.
DATA GOVERNANCE IS THE PRIME MOVER TOWARD EXCEPTIONAL OUTCOMES AND A DATA-DRIVEN CULTURE.
The name may not be exciting, but the results from a solid data governance strategy certainly are. When your organization can ensure continuous delivery of data that is accurate, reliable, and accessible, great things are possible—once your culture embraces the importance of data for decision-making wholeheartedly.
Maximize your data potential with a refined data governance framework that provides direction on both strategic and technical data questions. Our specialists and data scientists evaluate your current framework and define data governance policies that lay the ground rules your data needs to be compliant yet adaptable, guiding your people and your processes to achieve better outcomes.
Baseline assessments, procedure analysis and validation, and competency standards tracking are all part of data governance and protection.
Data governance evolves as your organization progresses. We approach data governance as a framework rather than a tool—one that must be sturdy enough to support your organization and adaptable enough to change as you do. Your culture and mission guide the process. It starts by aligning your business and data strategies so that we can define the most appropriate protocols for ensuring resiliency, data quality, security, and accessibility—and then training your team to utilize that data to reach measurable outcomes.
Insights delivered to your inbox