Agency Modernization
Find the technology solutions that serve citizens and ensure meaningful, measurable impact.
How we help
Make a difference for more constituents—and your agents—with modernization solutions that work.
Government agencies do the nearly impossible every day, serving citizens and meeting ever-growing demands amid constantly changing regulations and budget adjustments. The burden can lead to employee burnout and constituent frustration. We help your agency reach more people with greater impact by implementing the right modernization solutions. 
We view every engagement through a citizen-first lens, helping government leadership at the city, state, and federal levels zero in on opportunities to drive real efficiency. Our modernization solutions start with the people who use them every day. Using today's funds to automate and improve services in a focused, scalable way helps you better deliver services right now and optimizes budgets in the future. 
Clients We Serve




We're proud to help organizations thrive, and we'd love to tell you more.
Legacy systems impede service.
Humans are adaptable. But just because your teams have found creative, methodical ways to work around legacy systems doesn't mean citizens receive the best service they could. Giving agents the right tools through modernization empowers them to help more people more effectively.
Citizens struggle.
Citizens today expect every interaction with your agency to be as seamless as making an online purchase. When they can communicate with you through intuitive portals and platforms they're comfortable with, constituent satisfaction increases. And when initial forms and eligibility requirements can be processed automatically, agents are freed to focus on cases that really need their expertise.
Your budget trickles away.
Part of your responsibility to constituents is being a good steward of your budget. Maintaining systems long past their sell-by date is costly, as is the loss in productivity for employees that continually have to find workarounds for limitations. Agency modernization makes the most of today's dollars in a way that lets tomorrow's dollars do more.
With the new technology in place, we can spend less time focusing on the technology and more time serving the citizens of Indiana efficiently and effectively. We have increased insight into regions across the State, giving us the opportunity to provide the support and resources needed to make the State as effective as possible.
Steve Braun
Former Commissioner , State of Indiana Department of Workforce Development
Consistent, actionable data is a critical asset that all businesses need today. Through its data analytics tools, Department of Workforce Development  is providing that data and insight. This is a critical first step in helping effectively align workforce with industry needs.
Paul Perkins
Chairman, State Workforce Innovation Council
Related Capabilities
We've spent over a decade helping make an actual difference in public sector service delivery through these and other services.
Organizational Change Management

Ever completed an upgrade nobody wanted to use? A well-considered plan paired with effective strategies to build trust, create alignment, and address conflicts ensures projects find success and are embraced.

Independent Verification and Validation (IV&V)

Lean on the expertise and objectivity of a team that reliably steers projects to success by providing technical guidance, creating alignment, and ensuring meaningful change through your complex data or technology project.

Cloud Solutions

When your impact is throttled by legacy systems and outmoded processes, our technical experts can help you leverage the cloud with creative solutions that empower your people.

CoRE

Sharing data to collaborate on solutions doesn't have to mean putting it at risk. Our CoRE platform protects data with iron-clad security and keeps you in control of permissions.

Data Interoperability

Leveraging your data to make smart decisions depends on how you work and collaborate across agencies. We craft effective, secure, centralized solutions to help you compile reliable, accessible, accurate data and make the most of technology across the government.
Podcast
De-Risking Data Transformation
You can't avoid risks. You can only plan for them. This is one of Susan Schramm's cornerstone truths when it comes to data transformation. In this episode, you'll hear an excerpt from a webinar where Susan shares why data modernization projects fail and how to de-risk them. She also warns against common mistakes she's seen clients make when leading a data transformation.
Agencies We Serve
For over a decade, we've been serving state agencies across the country.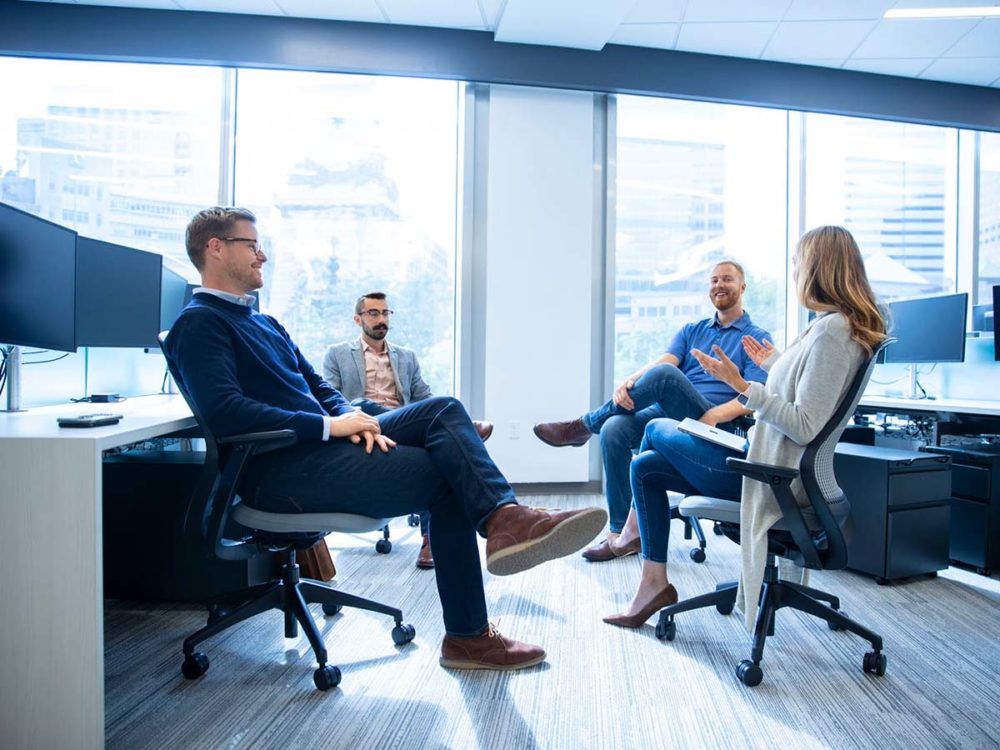 Connect
Learn how agency modernization can not only address right-now concerns but set the foundation for effectively serving citizens for years to come.
What's the big deal about agency modernization? 
Why does it matter if your agency is "modernized"? And what does that even mean? The federal government expects states to be capable of making evidence-based policies, and that requires good data. The ability to securely share data and collaborate toward meaningful solutions is what gives governments the ability to create evidence-based policies. An agency often needs to modernize to be able to start recording and using that data. 
But let's look at what modernization may mean in real life. If your state's contact center can't reach citizens through any platform they're comfortable with, you're missing people. If they have to block off multiple hours to navigate through phone trees and stay on hold for the next available agent, you're missing people. If people still have to go to agency offices in person to collect and return forms, you're missing people. 
Maybe you work in a state where there's a failing system transition in the unemployment space or in the department of revenue. It's been bleeding cash for years. Nobody wants to pull the plug because so much money's been spent already, and all to no avail. We can offer a fresh perspective and provide support to understand what needs to happen to stop the bleeding and get to improved citizen service and responsible spending. 
Maybe you're in a state deeply impacted by the opioid epidemic. By pulling together siloed data from multiple separate projects across different agencies in Indiana, we helped them build a coalition willing to look at the data to find what it was really saying about where they should invest the most time and energy to get real, meaningful change for people.  
How about repeat offenders? Look up your state's budget for the costs associated with the Department of Corrections. Reducing recidivism is likely one of the top three things that could make the biggest difference in most state budgets, period. 
Within technology lies infinite possibility—which sounds nice in theory but gets daunting fast. That's why we don't advocate an all-or-nothing approach. We start by listening deeply, and while we have a big-picture perspective, we know that sometimes the smallest projects make a big difference for the long-term. Technology solutions must address your state's current concerns and be scalable so they lay the foundation for the future. 
Insights delivered to your inbox