Independent Verification and Validation
Ensure clear-eyed technology and data decisions that support your people and help you move toward your goals, through even the most complex projects.
How We Help
Objective insight for effective decision-making. Project oversight that creates alignment and heads off issues.
Everything about a data or technology project is complex, right down to the humans who make it happen. Managing that astonishing number of details, interests, areas of expertise, and goals can lead any project to get out of control fast, blowing past budgets and ending in frustration. Our Independent Verification and Validation (IV&V) experts provide the knowledge and objectivity to reliably steer projects to success—on time and on budget.
For a lot of consultancies, IV&V stops at technical review. Our team brings unmatched technical excellence to every engagement, but our focus is on creating meaningful change for people. Ensuring every decision is right for the individuals who will rely on it. Our Design Thinking, change management, and project management specialists have crafted a unique approach to IV&V that not only brings a customized solution but ensures it's the right solution for the client.
We're proud to help organizations thrive, and we'd love to tell you more.
What We Do
Feedback drives our cyclical IV&V process as our embedded team observes, assesses, and recommends.
Because they work closely at every stage with your teams and vendors, our experts develop a comprehensive understanding of your organization. Every project and every day is different, but most engagements follow some version of these stages.
Alignment Planning
Our team works to identify objectives and develop a requirements matrix that details each need, methods of verification, and a scale of failure and success. Starting with a matrix makes tracking progress simple and clear.
Implementation Assessment and Review
As changes occur, our team monitors and tracks their impact so they can constantly assess progress and head off issues. Validation testing uncovers shortcomings and root causes.
IV&V Documentation and Reporting
All IV&V activities are carefully documented throughout the engagement. At various points, we present results and relevant facts to your team, providing our recommendations for go-forward approaches.
Related Capabilities
We've helped clients align their data and technology to their strategy with these and other services.
Organizational Change Management

Ever completed an upgrade nobody wanted to use? A well-considered plan paired with effective strategies to build trust, create alignment, and address conflicts ensures projects find success and are embraced.

Agency and Department Modernization

Integrate data, technology, people, and process to reach the outcomes your teams and citizens need now as you prepare for tomorrow. Complex modernization projects move swiftly with support of expertise, experience, and meticulous change management.

Strategic Planning

Find the most effective way from policy to impact with a data approach that brings insight into achieving the outcomes you want for the people you need to reach—through well-aligned technology. Gap analysis, needs assessment, peer research, stakeholder surveys, and data analysis inform the roadmap for your desired impact.

Program Efficacy

Rely on objective analysis of efficacy data as you make hard decisions related to program value and impact. Our experts structure datasets that bring greater insight into key performance indicators and ROI—and offer recommendations based on journey mapping, Six Sigma techniques, and other tools utilized relevant to your particular complexities.

Data Interoperability

Leveraging your data to make smart decisions depends on how you work and collaborate across agencies. We craft effective, secure, centralized solutions to help you compile reliable, accessible, accurate data and make the most of technology across the government.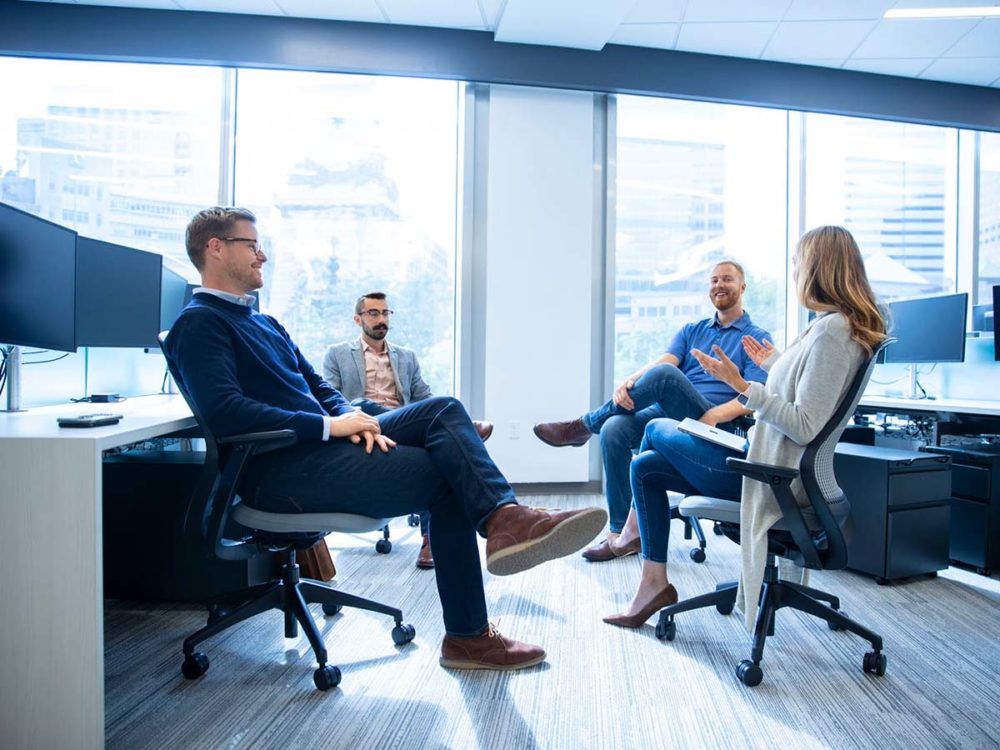 Connect
Find clarity with help from a team dedicated to not just spotting issues but resolving them.
Independent Verification and Validation carves a path to success for complex data and technology projects.
IV&V meets especially complex technology projects with expertise, empathy, and fearless problem solving. Or as we often put it around here, you get an independent and neutral third party who provides verification that the thing is done right and validation that the right thing is done. Our team works for yours as pitfall spotters, tough-conversation facilitators, and engaged helpers who don't stop at finding an issue but work with all invested parties to solve it.
You can probably think of a thousand reasons that kind of thing would be helpful for facilitating your project. Here's a big one: 70% of all change initiatives fail. An IV&V team guides your project to success objectively, through deep subject matter expertise, vendor oversight and support, meaningful reporting, consistent communication, risk mitigation, issue spotting and resolution, and mediation—to name just a few specialties that come in awfully handy for seeing a project through. Not too many people have all those skills at once, which is why working with an IV&V team is so valuable. Not only do we offer a neutral perspective, we have a range of experts on hand. One of them is sure to have encountered your particular project issue before—and solved it. Those experiences make your once-in-a-lifetime project a lot easier to manage. We'd be happy to tell you more.
Insights delivered to your inbox