Data Analytics
Are your data and analytics systems improving your customer experience and keeping up with the competition?
How We Help
Better data, better outcomes
For data-driven decisions and superior outcomes, start with better data and develop the right questions.
Are your current data analytics systems robust enough to scale with you, meet constantly shifting regulations, or handle mergers and acquisitions? Do the right people have access to the right data, whenever and wherever they need it? Do you second-guess the accuracy or security of your data?
Done right, data and analytics bring tremendous value to organizations in every industry. They hold the power to reveal truths that improve decision-making, highlight priorities for improvement, and uncover opportunities for growth.
Whether you need to start at the beginning with a data strategy, want help maturing and integrating your expanding datasets, or seek someone to manage and optimize your capabilities to add value quickly and consistently, we can help. Our team of data and analytics experts not only lives, sleeps, and breathes data, but they're fearless and empathetic problem-solvers.
Clients We Serve




We're proud to help organizations thrive, and we'd love to tell you more.
The power of data analytics
Whether you need a strategy, to implement solutions to add value quickly, or to manage a plan already in motion, our experts meet you where you are.
Expert-Backed Capabilities
Get the most out of your data through these and other capabilities.
We collaborate with hundreds of clients across these and other industries toward better data and better outcomes.
Health Care
Improve patient outreach with data analytics. Outcomes include one source of truth for patient histories to create better customer experiences, better preventative care through monitoring community health trends, and more effective staff and resource allocation to better serve patients.
Private Equity
Utilize data analytics to gain insights into how portfolio companies can build value. Screen current datasets to help focus and qualify new target companies for purchase and discover cross-selling opportunities across your portfolio.
Insurance
Predict claims trends to optimally position staff and resources in advance of needs. Ensure every client profile is accurate and accessible from all departments. More efficiently aggregate, clean, and format data from multiple sources to increase security and reduce mistakes.
State Government
Build a better citizen experience. One accurate repository for all citizen information across agencies keeps private information secure, builds trust, and makes every interaction more seamless. Maintaining clean datasets addresses missing information and inefficiencies to produce a data standard that better informs policy.
Higher Education
Well-implemented data analytics can improve everything from retention rates to student performance to ROI for students and stakeholders—all while protecting student data from first admissions outreach through alumni status. The right analytics solutions also provide a 360-degree view of each student and a clear picture of where your institution stands in this highly competitive market.
Logistics
From improving routes and getting products where they need to go more quickly to having one source of truth for all customer information, data analytics solutions will propel your business forward through better-informed decisions—and show exactly how you measure up to competitors.
Mid-Market Consumer Goods
Identify gaps in your supply chain and opportunities to optimize while creating one point of reference for all consumer data. An accurate benchmark illustrates how you measure up to competitors so you can improve revenue outcomes by making products easier to purchase—and to deliver on time.
Based on insights revealed from the data, we are improving operations and impacting policy in the State of Indiana. We're truly moving the needle with respect to key indicators in Indiana.
David Matusoff
Former Executive Director , Indiana Management Performance Hub
The AMARO tool will allow us to quickly and thoroughly examine the supply chain of commercial microelectronics, as well as identify vulnerabilities and over-reliance in a more strategic manner. This is a capability that will directly lead to improving our supply chain awareness and security.
Adam Houch
Global Deterrence and Defense Department , NSWC Crane
Meet your data analytics experts.
Not sure where to start? We outlined everything you need to consider when getting started with your data strategy.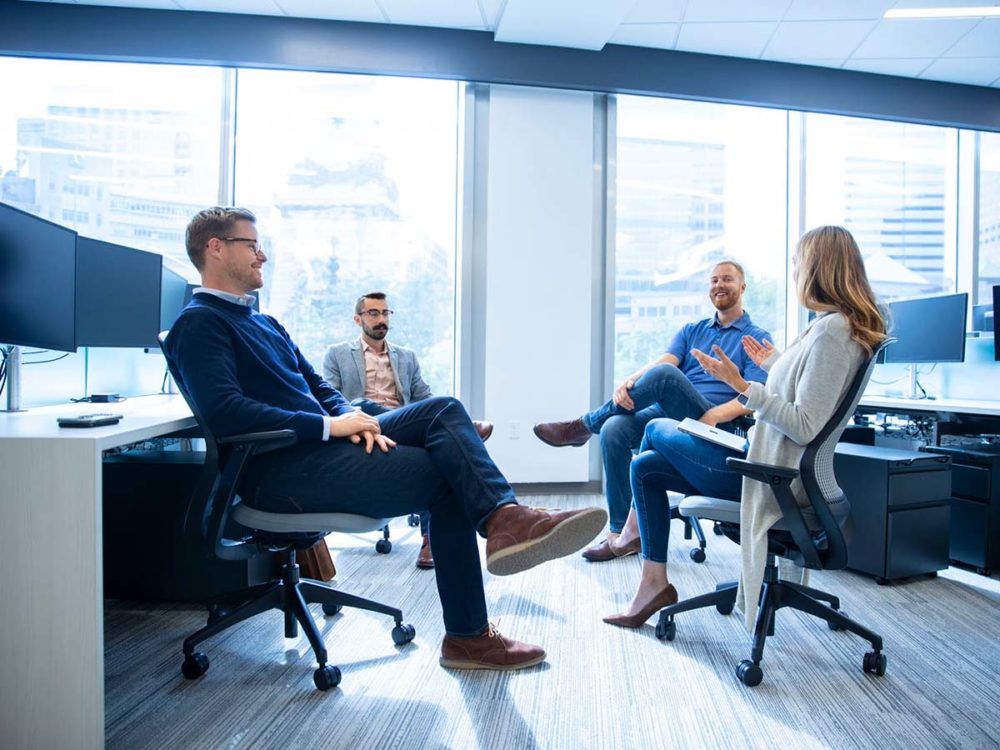 Connect
Clarify your organization's data health and see where you stand against the competition with an actionable assessment.
Data analytics will keep you in the game. The right data analytics will help you win it.
Everybody knows data analytics are mandatory to keep a business running today, but not everybody knows how to optimize their analyses. In fact, many organizations have already been burned by some kind of data analytics or other digital transformation project that failed to deliver what was promised.Your systems can collect data until the end of time but that won't help you make better decisions until you ask the right questions of your datasets. We figure out what those questions are by talking to you first: about your goals, how your teams work, and the challenges you face every day. We have a team of data experts who also have experience and expertise in your specific industry, so we're listening to you with an understanding that opens the door for creative problem solving.
We're an especially good fit with high-transaction volume businesses and those with a data-intensive business model. Clients also come to us after a previous digital transformation project wasn't embraced by their teams or remains otherwise lacking in capabilities. We have significant experience providing data-related storage, reporting, security, and integration issues driven by regulatory requirements or a merger or acquisition.When you know that data-driven IT moves the needle toward where you're taking your organization, we can help. We'd love to hear what you have to say.
Insights delivered to your inbox