Revenue Management and Budget
Managing financial and personnel resources in the face of political and economic shifts outside your agency isn't for the faint of heart. Our team's technical expertise helps tame the chaos.
How We Help
Get the insight you need with tools that work.
Agencies come to us when they need greater clarity in financial reporting and expense management, to improve program outcomes, and for help solving business and operational problems. We bring expertise in a broad range of technology tools that will help get you where you want to be, and we collaborate with you to build your unique, just-right solution.
We're proud to help organizations thrive, and we'd love to tell you more.
Expertise
Revenue management and budgeting becomes easier with the right partner.
Financial Transparency Portal Development
We worked with a state to bring better visibility, openness, and accountability within the government by developing a financial transparency portal. It includes information about agency budgets, state contracts, performance measures, employee salaries, and local government finances. We delivered critical features of the portal, including data quality support and database support for visualization.
Developing Meaningful Agency KPIs and Operational Scorecards
What gets measured matters. We updated KPI metrics for all government agencies in Indiana to align with the outcomes agencies exist to produce (rather than simply the activities they performed) and automated metric generation from agency source systems. Agency and government leadership now can rely on an accurate, dependable, and objective dashboard to quantify current performance and optimize investment for targeted improvement.
Data-Driven Tax Fraud Detection
Advanced data analytics for fraud detection include anomaly detection, machine learning, probabilistic record linkage, natural language processing, and others. A fraud solution that maximizes revenue relies on four elements that become tailored to distinct agency data sources and goals:
Identity verification
Accounting-based rules
Automation of past successes
Continuous adaptation
Services
Your agency's complex problems demand robust, tailored solutions. Learn more about how we can help you manage your resources for greater impact.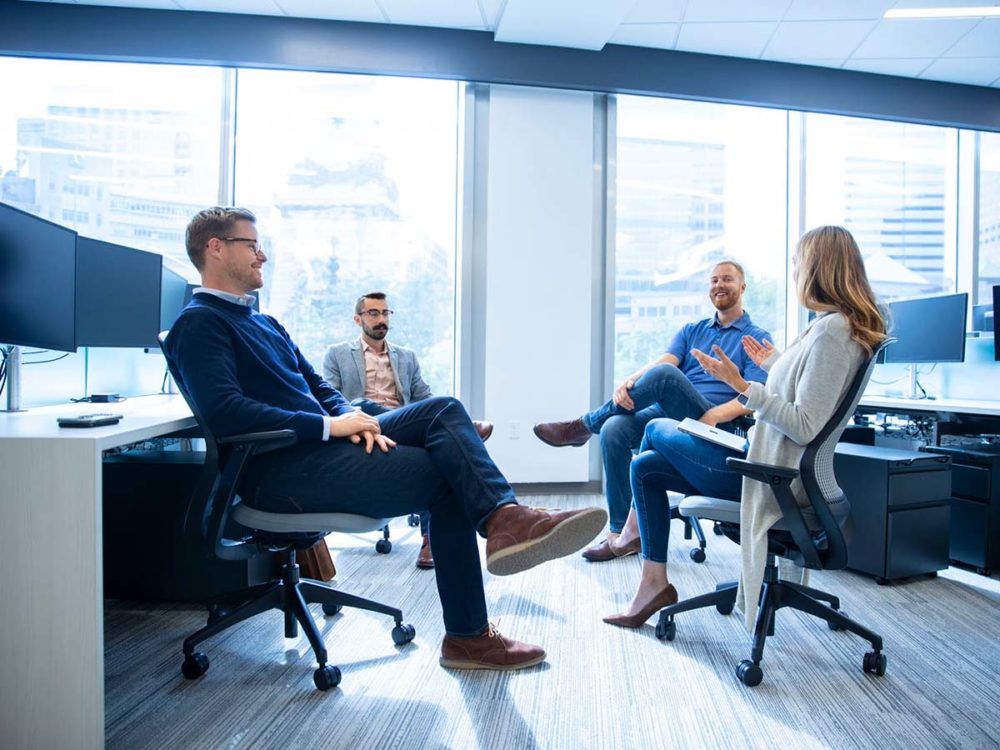 Connect
See how your agency can go further in achieving great outcomes for citizens.
Revenue Management and Budget
Keeping financial and human capital management under control within a complex environment is a challenge on its own. Making it work in the face of political and economic shifts outside your agency can become especially daunting. As an objective partner with long experience in government, our Public Sector Revenue Management and Budget consulting team brings perspective—and the technology, data, and process expertise to help you get the resource views you need to answer difficult questions. 
Agencies come to us when they need transparency in expense management and financial reporting. They come to us when they know they could benefit from an objective evaluation of program efficacy. And they come to us to help solve the complex business and operational problems that can send even the most important mission off course. We apply technical excellence to a collaborative process in an engaged partnership that will achieve positive outcomes for people.
Where other consultants see limitations, we find opportunity. Within every resource constraint, every data-sharing blockade, every entrenched process lies the chance to innovate. We help agencies find every opportunity to realize their intended program outcomes, no matter how complex their problem or environment, and we do it by bringing objective insight and agency experience to collaboration.
Your project team will include experts with education and experience in data, technology, finance, and policy—earnest partners who own your project and deliver your solution.
Insights delivered to your inbox