Microsoft Exchange
Rely on a secure, flexible system from a leader in corporate email management.
How We Help
Resultant doesn't come in with answers but works with each client collaboratively to tailor a solution that's just right for their unique situation.
We're fearless problem-solvers, empathetic collaborators, and devoted lifelong learners. Our radical approach to consulting has helped clients thrive across a range of industries.
For many of our clients, Microsoft Exchange provides the solution to managing email services. Email is central and fundamental to everything your organization does, and it shouldn't be left to chance or faulty software. Time and time again, we've seen that Microsoft Exchange is secure, adaptable, and reliable.
We're proud to help organizations thrive, and we'd love to tell you more.
Microsoft Exchange Use Cases
Businesses constantly adapt to unforeseen circumstances and challenges. But email outages and security breaches can halt productivity, gutting profits, thwarting progress, and potentially bringing your organization to its knees. Microsoft Exchange erases those worries: its secure, adaptable, and reliable approach to email management ensures those problems won't occur.
Through Microsoft Exchange, Resultant can enhance your email management services to provide:
Access from anywhere. Your employees can access Exchange Online from all major browsers and devices with the proper credentials. If they have a connection and device, they can access email, calendar, and contacts from Alaska to Chile.
In-Place Archiving. Users can keep all necessary data and files in one place, increasing productivity and security.
Potential for unlimited email and file storage as well as enhanced email features.
Easy integration with all other Microsoft products and applications.
Why Resultant Leverages Microsoft Exchange
Microsoft Exchange is an easy, secure, and flexible solution that can make a significant impact on your organization's productivity and peace of mind. Several additional benefits come with Microsoft Exchange deployment:
As a cloud-based solution, the product can quickly scale as your business grows.
The software can easily integrate with Skype, Microsoft Teams, SharePoint, and OneDrive, creating the potential for a comprehensive suite of powerful business solutions.
Multi-Geo capabilities allow you to manage your global data per user through data location controls.
The software's Admin Center enables centralized management through a user-friendly, web-based interface.
The Benefits of Microsoft Exchange
With Microsoft Exchange, you can provide safe, secure email services without worry and provide your employees the flexibility they need to work any time and any place. The appeal of Microsoft Exchange includes its multi-layered security and its reliability. No matter where your employees are using it, from whatever device, the protection is cutting edge and reliable, and the server itself is guaranteed to have minimal maintenance time. Using Microsoft Exchange, you'll gain the following benefits:
Advanced security capabilities include anti-malware and anti-spam filtering capabilities that protect all inboxes. Your employees are less likely to receive and fall for phishing scams, the most common cause of email breaches.
Reliability: The software guarantees 99.9% uptime and a financially backed service level agreement
Auto-updates: The software patches automatically, meaning you don't have to put in the effort to maintain your system
Network-level security policies allow you to create a master list of approved mobile devices, enforce PIN locks, and quickly remove confidential information from compromised machines.
Data safeguards that prevent users from inadvertently transmitting sensitive information to unauthorized devices. This system includes globally redundant servers, recovery capability, and 24/7 access to security experts.
We all know the horror stories and know someone who has had their email hacked, compromising private or sensitive data and giving their company a bad name. It's happened to the most prominent companies but doesn't need to happen to you. Providing an email server also comes with the nearly constant concern of crashing or going down for maintenance.
When issues arise, it's challenging for your workers to get anything done, and productivity drops. Microsoft Exchange nearly eliminates these concerns so you can spend less time worrying and more time investing your energy into your organization.
Resultant Harnesses Microsoft Exchange's Capabilities
Emailing has grown to be the most critical foundational IT structure you can build. As something your organization will use hundreds or thousands of times each day, you need to have the best solution possible for managing it. Once Microsoft Exchange is deployed, you can be sure it'll help your business function at peak productivity while ensuring safety and security.
Reliability
Microsoft Exchange has been polishing and refining its offerings for over ten years and is a leader in corporate email management. Because Microsoft addressed early issues and bugs so long ago, it's received the highest rating of reliability possible (Microsoft Exchange Reviews & Ratings 2022 — Trustradius 2022)
Support
In the rare event that something does go wrong, users have dedicated IT and security support 24/7, eliminating the need for your internal IT team to address problems so they're free to devote their time to your strategy.
Security
With multiple levels of security, data encryption, policy control, and device monitoring, you can be sure that emails won't be hacked, leaked, or accidentally shared. Your organization's sensitive information and services are protected.
Flexibility
Microsoft Exchange seamlessly integrates with other Microsoft products and easily scales with the needs of your business.
Related Services
Get the most value from your Microsoft ecosystem through these and other services.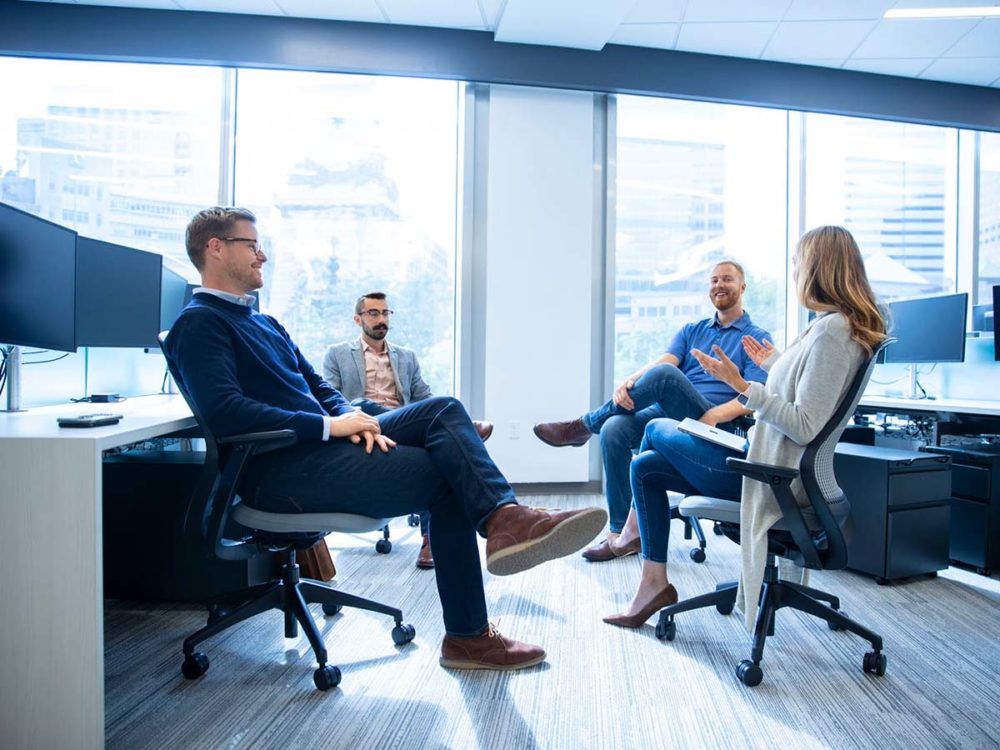 Connect
See how Microsoft Exchange could be the perfect solution for your email server management challenges.
Insights delivered to your inbox