Cloud Managed Services
Steady attention to the resources that help you thrive, through whatever change may come.
How We Help
Optimize your cloud solutions with a team that helps keep your organization efficient, secure, and nimble.
The cloud ecosystem that makes your organization more effective also can trip up processes and weaken security. Managing it all in house gets expensive fast and typically leaves knowledge gaps that keep you from truly optimizing the cloud.
An adept Cloud Managed Services partner gives you the breadth of expertise that ensures you get quick answers when you need them, proactive attention, and a strategy that helps you thrive.
We're proud to help organizations thrive, and we'd love to tell you more.
Key Cloud Partners
Through our partnerships with leading cloud technology providers, your organization gains access to cutting-edge technologies and innovations. You'll collaborate with experts at the forefront of cloud technology advancements. Certified specialists in multiple cloud platforms bring experience across a vast array of technology installations and frameworks. Our cloud solutions experts help you navigate available options and pinpoint technology that works for your specific need and project.
What we do
What are Cloud Managed Services?
Cloud managed services means outsourcing various IT-related tasks and responsibilities to a managed service provider specializing in managing and optimizing cloud infrastructure and services for clients. It relieves businesses and organizations of the operational burden of managing their own cloud environments, allowing them to focus on their core business operations.
Cloud managed services encompass the following areas:
Infrastructure Management: Manage and maintain underlying cloud infrastructure including servers, storage, networking, and virtualization. We ensure infrastructure is properly configured, optimized, and monitored to meet your performance and availability requirements.
Platform Management: Manage multiple cloud platforms and services such as Infrastructure as a Service (IaaS), Platform as a Service (PaaS), and Software as a Service (SaaS). We help clients deploy, configure, and optimize their platforms to ensure they operate efficiently and securely.
Security and Compliance: Protect your cloud environment and data. We implement security controls, manage identity and access, monitor for threats, conduct vulnerability assessments, and ensure compliance with relevant regulations and standards.
Monitoring and Performance Optimization: We monitor your cloud infrastructure and applications to proactively identify and resolve issues bytracking key performance metrics, performing capacity planning, and optimizing resource utilization, ensuring optimal performance and cost efficiency.
Data Backup and Disaster Recovery: Protect your data against loss, system failure, or natural disaster with data backup and disaster recovery services.We establish backup schedules, manage data replication, and test recovery processes to ensure you can continue regular business operations if disaster strikes.
Benefits of Cloud Managed Services
Cloud services help your organization stay competitive in the digital landscape by providing the needed:
Agility
Scalability
Cost savings
Accessibility
Security
Ready to Make the Move? Resultant Specializes in Cloud Migration and Optimization
Let us help you make the digital move. We'll guide your business through a seamless and secure move, preparing your team to utilize their new capabilities so you get the fastest, most robust return on your investment. From initial assessment and planning, to migration and configuration, through ongoing training and support, we're here for you from end to end. This includes:
Cloud Readiness Assessment
Get where you want to be with cloud solutions. We evaluate where you stand now, taking an in-depth look at your processes, technology, how your team works, and your organization's existing strategyto facilitate a successful cloud migration or optimization.
Cloud Optimization
Are you keeping up with the ever-evolving landscape of technology and its security? We proactively monitor your cloud environment, maintaining security and functionality to best serve your strategy.
Optimization means customization. We work with your team to deliver exactly what you need from the cloud. As your team, resources, and strategy evolve, our team monitors your cloud environment, keeping your operations efficient while delivering cloud solutions that make sense for your organization.
Our performance and optimization monitoring helps identify and remove unused or wasted resources to optimize your cloud spend and bring greater flexibility and efficiency to your organization.
Migration Architecture and Design
Our team of experts analyze dependencies, performance requirements, and compliance needs to design the cloud architecture that best aligns with your organization's goals and requirements. We define the right services, deployment models, and integration patterns to ensure optimal performance, scalability, and cost efficiency.
Data and Application Migration
This involves migrating data, applications, and workloads into the cloud environment. Our team of seasoned and certified experts ensure data integrity, perform compatibility testing, and minimize downtime during the migration process.
Configuration and Testing
We provision and configure the cloud infrastructure your applications and services require, ensuring smooth setup optimized for your workload. We also conduct tests including load, failover, and security to verify functionality, performance, and stability of your migrated system.
Optimization and Cost Management
Our job doesn't end once initial migration is complete. We fine tune configurations, implement monitoring and optimization tools, and provide recommendations for cost management and resource utilization. We assist in rightsizing resources, optimizing storage and networking costs.
Training and Support
Our goal is to minimize downtime during migration and get your teams up and running in the new environment as quickly as possible. We prepare your teams, familiarizing them with the new cloud environment, providing guidance on cloud management best practices, and giving ongoing support to address post-migration challenges.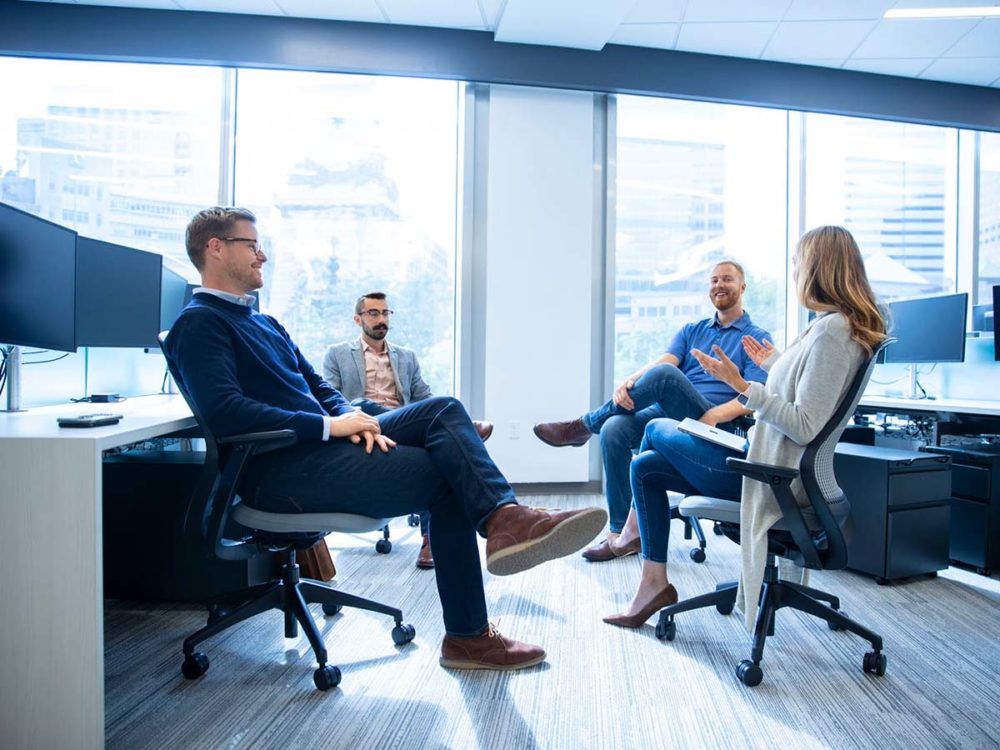 Connect
Get the most from your cloud ecosystem. Learn more about proactive management.
YOUR ORGANIZATION THRIVES WITH The power of an experienced CLOUD MANAGED SERVICES team.
Technology today doesn't rely on computers, networks, and servers but on applications and data being served through SaaS, PaaS, and other cloud tools. So who's taking care of those platforms? Who's integrating your data, managing business intelligence reporting, keeping an eye on DevOps and database management, and ensuring you're on top of all the many other activities that an organization needs to keep its cloud ecosystem healthy and secure?
Just because you've moved your email to the cloud doesn't mean you don't have to manage your email platform. And your platform services may not play nice together without strong API. The list goes on. Yes, the cloud makes life and work easier, but it's not a "set it and forget it" operation. Our Cloud Managed Services team proactively manages your ecosystem and enables real-time monitoring to maintain and optimize your cloud experience. We partner with standout providers like Amazon Web Services, Google, and Microsoft, and we bring insight into the particular strengths of each.
And because technology is too complex for any one provider to oversee entirely, we streamline oversight for you by coordinating with your vendors. We help you manage those relationships and ensure that your full ecosystem is functioning in the most efficient way to support your teams and your mission.
We're not just providers, we're partners, working with you to develop a detailed, prioritized cloud roadmap that meets your most effective outcomes. More than that, we work with you toward these goals—strategically tying our success to yours, ensuring the best service possible for your organization's needs.
Insights delivered to your inbox