Microsoft 365
Microsoft 365 provides powerful productivity tools, enterprise-grade security, and real-time collaboration apps to empower your organization to work your way.
How We Help
Resultant looks for the most valuable, transformative, and meaningful solutions to the problems our clients face.
We're always looking for the most innovative ways to meet our clients' diverse needs while consistently striving for the highest levels of client satisfaction.
With a long history of success (and well known as Microsoft Office and Office 365 before its latest iteration), Microsoft 365 has fueled productivity, communication, and collaboration for organizations of all sizes. Microsoft 365 is the complete package, combining the entire Microsoft suite into one robust licensing subscription that removes the guesswork from staying up to date on the organizational applications that support the modern workplace.
We're proud to help organizations thrive, and we'd love to tell you more.
Understanding Microsoft 365
Microsoft 365 brings a range of options that enable superior customization and continuous improvement of the product suite to meet business needs and ensure the most up-to-date product. It's a leap forward from Office 2021, which does not offer the same advantages.
Licensing
Microsoft 365 has an impressive range of license options, including personal, family, business, and education. This enables users to choose a plan that's right for their specific needs with a wide-ranging suite of products and services. By comparison, Office 2021 has fewer purchase options and does not come with the full suite of products included in most Microsoft 365 subscriptions, such as Teams, Exchange, and SharePoint.
Cost
Microsoft 365 licenses include the cost of updates to the latest versions of all included software applications, eliminating the need for additional subscriptions or purchases. Single-purchase versions (e.g., Office 2021) do not include updates to the latest software versions without purchasing an Microsoft 365 subscription or the latest single-purchase product.
Security
Microsoft 365 is engineered with crucial security features that detect cyberthreats and protect precious data.
Compatibility
The full range of products and single-purchase product features can be used on installed devices without an internet connection. Office 2021 contains the same offline versions of core products (Word, Excel, PowerPoint); however, most additional applications are severely limited or unusable while offline.
Why Resultant Leverages Microsoft 365
When the tools you rely on aren't aligned with how your teams work, not only do you lose time, you risk losing sensitive data. And a distributed workforce requires unique solutions for intuitive, functional communication and collaboration.
Microsoft 365 helps make teams more productive and safeguards your data. Bringing together an entire suite of the applications that help your teams accomplish more, Microsoft 365 helps organizations stay connected and efficient through pace-setting products like Excel, Outlook, PowerPoint, Teams, and OneDrive. Teams can access and utilize files from anywhere to collaborate in real time without putting information or devices at risk.
The Benefits of Microsoft 365
Microsoft 365's appeal lies in its convenience for users across applications that address productivity, analytics, editing, and communication all on one screen. Interconnectedness and compatibility with Microsoft Azure and Intune allow for a seamless workspace equipped with single sign-on and various other advanced security options. Additional benefits include:
Mobile applications that users can install on several types of devices for mobility and ease of access
Real-time editing for transparent collaboration within teams
Powerful automation for saving email attachments, exporting data from spreadsheets, and creating tasks for members of a team
Conversion of documents into various other formats to enhance distribution processes
IT Services to maintain systems and troubleshoot where necessary
Finally, cyberattacks and data breaches are looming threats for businesses of all sizes in today's world. With Microsoft 365, data is protected throughout the applications in the suite, minimizing the need for additional security programs. Office 365 applications operate under 128-bit SSL/TSL encryption, among the most comprehensive and robust encryption methods used today.
Resultant Harnesses Microsoft 365 Capabilities
Microsoft 365 brings many benefits to our clients through tools that go above and beyond to meet business needs.
Word
The Draw feature of Word provides tools to combine basic word processing features with handwritten notes and drawings, converts handwriting to shapes and equations for the creation of customizable graphics and symbols, and provides a "canvas" that can integrate these features into text documents. Reference tools can track and insert citations, bibliographies, and tables of contents in various styles to create professional and academic sourced documents with ease.
PowerPoint
3D models can be created or inserted into PowerPoint and animated in multiple dimensions to create engaging presentations, dynamically display data, and demonstrate product features. Simple 3D models like cubes and cylinders can be made with custom text, data, and pictures using Microsoft's 3D Builder and inserted into a PowerPoint file. A stock gallery of integrated 3D models within PowerPoint, as well as compatible file types from a local device, can also be inserted and used.
Excel
Unique to Excel, Power Pivot is a powerful data analysis and modeling tool that can import millions of rows of data, process millions of calculations, create hierarchies and key performance indicators (KPIs), and store data in an analytical database within Excel.
Related Services
Get the most value from your Microsoft ecosystem through these and other services.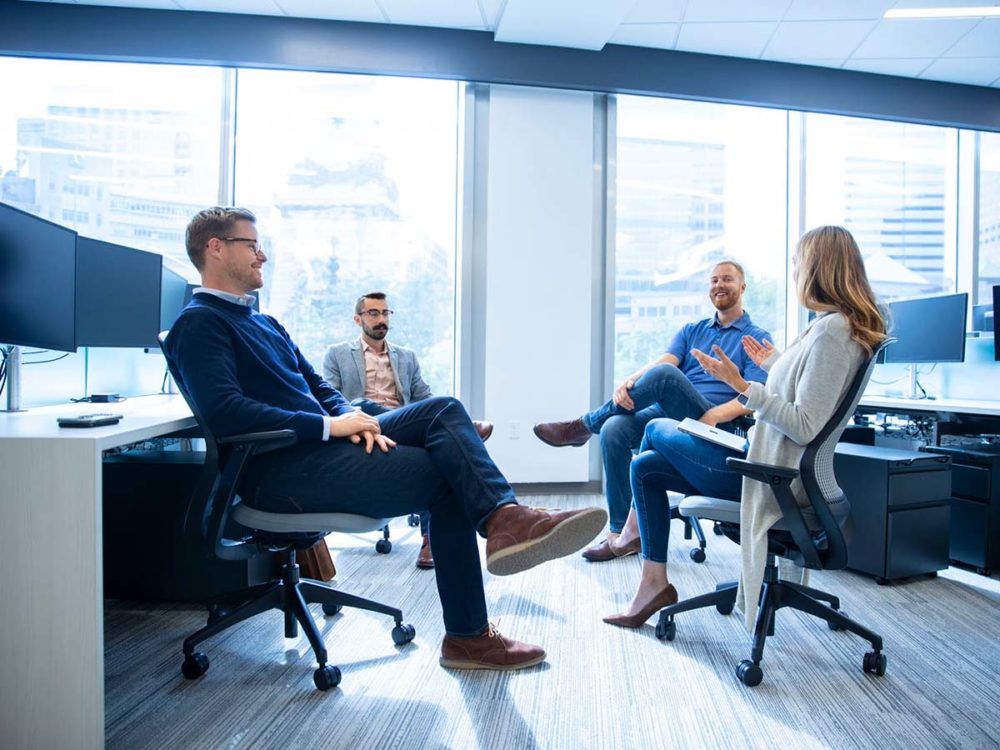 Connect
Contact us today to find out what Microsoft 365 can do for your organization.
Insights delivered to your inbox