IT Managed Services for Nonprofits
Your passion drives you to overcome challenges along the path to helping people. Our passion is making your job easier.
How We Help
Unlock new levels of mission-driven achievement with IT managed services for nonprofits. 
Your organization works hard to help people while navigating a world where fundraising, grant writing, volunteer management, reporting, and board management create their own kinds of difficulties. Providing IT managed services to nonprofit organizations requires specialized knowledge beyond how to keep the technology running smoothly. 
How do we know? We've been working closely with nonprofit organizations ever since we began. 
Clients We Serve


We're proud to help organizations thrive, and we'd love to tell you more.
Problems don't end.
It's great to have an IT team you can rely on. It's even better to work with experts who are proven issue-spotters—a team who makes it their mission to head off potential problems before they erupt. One with the experience and know-how to ensure your IT keeps humming along.
Your teams struggle.
Without the right tools, doing great work is impossible. But those tools are different for every organization. A provider who has partnerships with all the heavy hitters and truly listens to develop the right mix propels you toward your goals.
Your strategy suffers.
Most IT MSPs focus only on your systems. That's like expecting to finish an Ironman because you bought the gear. Success depends on close integration with your plan, your current reality, and the future you want for your organization.
What We Do
We ensure any technology change you make is meaningful, scalable, and sustainable for years to come.
By thoroughly assessing your current technology state, we meet you where you are right now and can implement impactful solutions step by step to fit into budgets and increase performance without disrupting service delivery. Combining our technology expertise with our nonprofit clients' dedication leads to solutions even where problems are thorniest. We stay in tune with developing needs and potential issues to provide proactive support.
Want to know more about what IT managed services really is? Get your questions answered here
One thing I've always appreciated about the Resultant team is their patience and willingness to create different strategic solutions—to find the one that will work the best for us. And quite frankly, sometimes I think the Resultant team knows our business a little bit better than we do.
Gordon Flick
Controller, Fathers and Families Center
Resultant has allowed us to function as a full-fledged milk bank and not have to worry about how the technology is going to work.
Janice O'Rourke
Former Executive Director, The Milk Bank
Related Services
Get the most value from your IT ecosystem through these and other services.
IT Assessment

A regular technology assessment makes sure your organization, teams, and technology work together to be most effective. Learn where your technology works well and where it falls short so you can move forward swiftly.

Cloud Solutions

When your impact is throttled by legacy systems and outmoded processes, our technical experts can help you leverage the cloud with creative solutions that empower your people.

Collaboration and Productivity

When document management, resource sharing, virtual meetings and email systems don't align with how your teams work, you lose time—and risk losing sensitive data. Find greater efficiencies no matter your starting point with unique solutions for intuitive, functional communication and collaboration.

Cybersecurity and Disaster Recovery

Security threats constantly grow and evolve—and cost organizations dearly, in terms of financial and reputational damage. Comprehensive cyberthreat mitigation strategies keep breaches from derailing your progress and ensure regulatory compliance.

Cloud Managed Services

Optimize your cloud solutions with a strategy and a team that help keep your organization efficient, secure, and nimble.

Network and Infrastructure

If your foundation isn't rock-solid, you can't set yourself up for success. Optimize what you already have and make it scalable to meet your future needs.
Data Driven Leadership
Leveraging Data to Maximize Nonprofits' Impact
In this episode, Jess talks with seasoned consultants Amy Pipher and Michael Schmierer about the critical role data plays in driving impact and ensuring long-term sustainability for nonprofits.
Together, Amy and Michael shed light on the importance of truly understanding the mission and values of an organization. By aligning data analysis with these fundamental principles, nonprofits can identify gaps and business problems that hinder their progress.
Meet your IT MSP solutions team.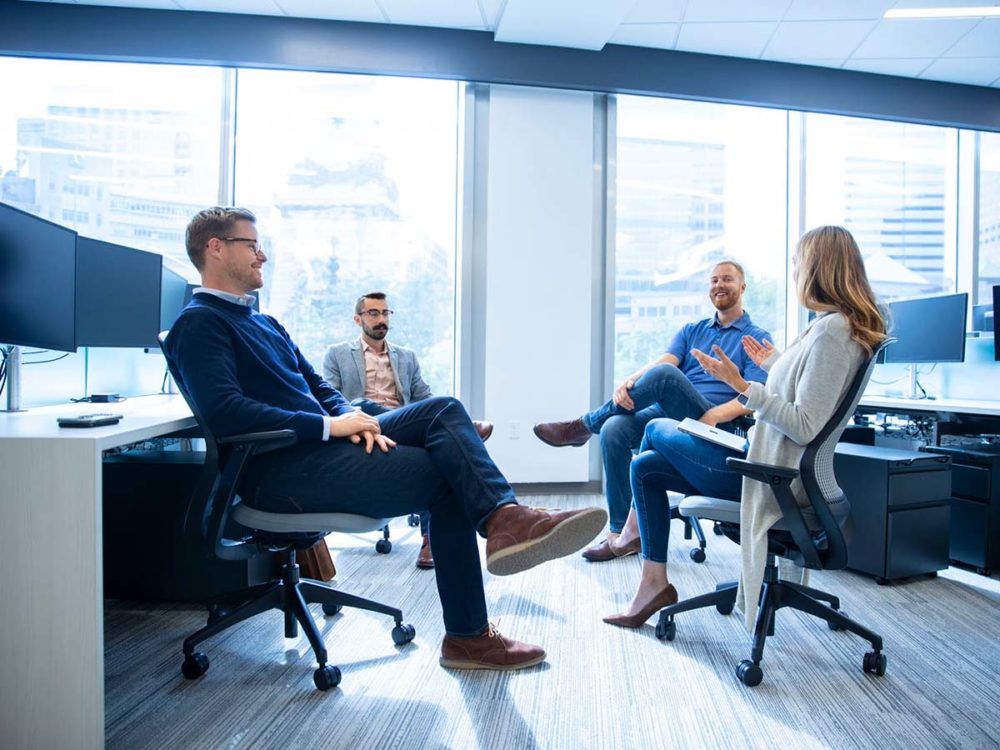 Connect
Learn how the right IT managed services provider can impact your ability to make a real difference in people's lives.
IT MSP for nonprofit organizations isn't just a good idea. It can change everything.
 Do you have limited IT personnel available to help you with unlimited technology problems? Many nonprofits do. After all, organizations like yours don't start off with a goal of having a robust internal IT department—and why should they?
Your organization is expert at helping people. Ours is expert at helping people through technology. We take the technology burden off you so you can focus on your true mission.
Technology needs are relatively similar no matter whether you're selling yoga classes, building complex machinery, or ensuring survivors of domestic violence get emotional support and legal assistance. Nonprofit organizations need to carefully manage IT as much as any for-profit business—both types of organizations must leverage technology in order to achieve their stated vision, mission, goals, and objectives.
Outsourcing technology management to an IT managed services provider with experience serving non-profits can be the key required to unlock new levels of mission-driven achievement. With Resultant, you'll also get day-to-day operational help in the form of an IT helpdesk so you can stay mission-focused without being waylaid by technology problems. And you'll receive proactive big-picture technology management guidance on IT strategy to meet future needs.
Resultant has a rich history helping nonprofit organizations navigate all kinds of difficult challenges. From being an IT managed services provider for non-profits to managing some of the largest and most important state and federal-level data consulting and integration projects, we understand our clients' organizations at a deep and fundamental level.
We've always been passionate about technology because when managed strategically and thoughtfully, aligned with organizational goals, it is a powerful catalyst for achieving a nonprofit organization's mission and vision for its stakeholders.
Insights delivered to your inbox