Microsoft SharePoint
Ensure secure collaboration and intuitive document management throughout your organization.
How We Help
The ever-changing landscape of technology can feel overwhelming at times.
We work collaboratively, through an empathetic process that meets clients where they are and helps them find the best solution for their needs.
In many cases, Microsoft SharePoint is the right answer for organizing information securely and enabling real-time collaboration across an organization. SharePoint manages files and documents, keeping them secure, organized, and efficient so our clients can focus on their strategy.
We're proud to help organizations thrive, and we'd love to tell you more.
Microsoft SharePoint Use Cases
The best technology products are the ones that free up valuable time and energy for teams to focus on company goals. Microsoft SharePoint is a cloud-based service that helps by managing data in an intuitive, easy-to-use, and customizable format.
SharePoint offers numerous benefits, including:
Enhanced security features
Automated workflows
Effortless file sharing with colleagues and customers
SharePoint does the heavy lifting of document management, saving time, effort, and frustration for many of our clients. With a user-friendly interface and accessibility across desktop and mobile devices, SharePoint is an excellent option for a company's organizational needs.
Why Resultant Leverages SharePoint
SharePoint offers countless benefits to improve how our clients create, organize, and share files. Resultant helps maximize those benefits to keep information efficient, accessible, and secure.
Streamlined Sharing
SharePoint provides a streamlined sharing and development experience across desktop and mobile devices, making it effortless for users to access anywhere, anytime.
User-Friendly Customization
SharePoint expands opportunities for customization through its integration with Power Platform and Power BI. With a friendly user interface, point-and-click design, and access to an ever-expanding library of customization options, organizations can express their creativity and generate reports and data visuals unique to their needs.
Powerful Intregrations
SharePoint links with Microsoft 365 file sharing, integrates with PowerApps, and has OneDrive sync. This desktop program allows users to sync documents from a team site or OneDrive for offline use.
The Benefits of SharePoint
Maintaining and organizing files and information is essential to any company's success. SharePoint integrates seamlessly into existing workflows.
SharePoint Online makes it easy to share documents with collaborators inside and outside the organization.
SharePoint Server can be managed onsite or with a Microsoft 365 Enterprise subscription, offering additional capabilities such as modernized site pages, web parts, authoring, lists and libraries, and search.
SharePoint Designer allows users to build workflow-enabled solutions and edit external content for an effective external data solution based on Business Connectivity Services.
Data management does not have to be a headache for organizations, and SharePoint offers enhanced security that ensures the safety of company information. For example, SharePoint requires approval on documents before they are made visible, reviews documents for changes, and sends a notification when documents are uploaded or edited.
SharePoint also saves valuable time and effort by automating processes. The program allows workflows to automate actions, such as recording information and moving or emailing documents, by using conditional (if/then) logic. Users may configure SharePoint to require information about data such as custom tags, modified time, author, and more. Team members get a better understanding of the document's contents and purpose to quickly and easily know whether it pertains to their job functions.
SharePoint also allows users to create custom basic and advanced databases integrated into workflows and business practices. It gives users access to standards and others obtained from the library or user community, including extra libraries to store and share documents, calendar plug-ins, and workflow apps such as Nintex.
Recently, SharePoint was updated with enhanced features in response to user feedback, demonstrating Microsoft's commitment to its users. These features include:
Support for file sizes up to 15 GB
Allowance of special characters such as "#" and "%" in file names
Increase of URL limits to 400
A PDF viewer
A recycle bin, which allows users to restore files that may have been inadvertently deleted
Resultant Harnesses SharePoint's Capabilities
Microsoft SharePoint is user-friendly and straightforward to understand, allowing our clients to focus on all of SharePoint's benefits. Users can easily:
Choose which of SharePoint's subscription services is best for them
Customize SharePoint's security and workflows to meet their unique needs
Integrate SharePoint with other programs they already use, such as Microsoft 365, PowerApps, and OneDrive
Related Services
Get the most value from your Microsoft ecosystem through these and other services.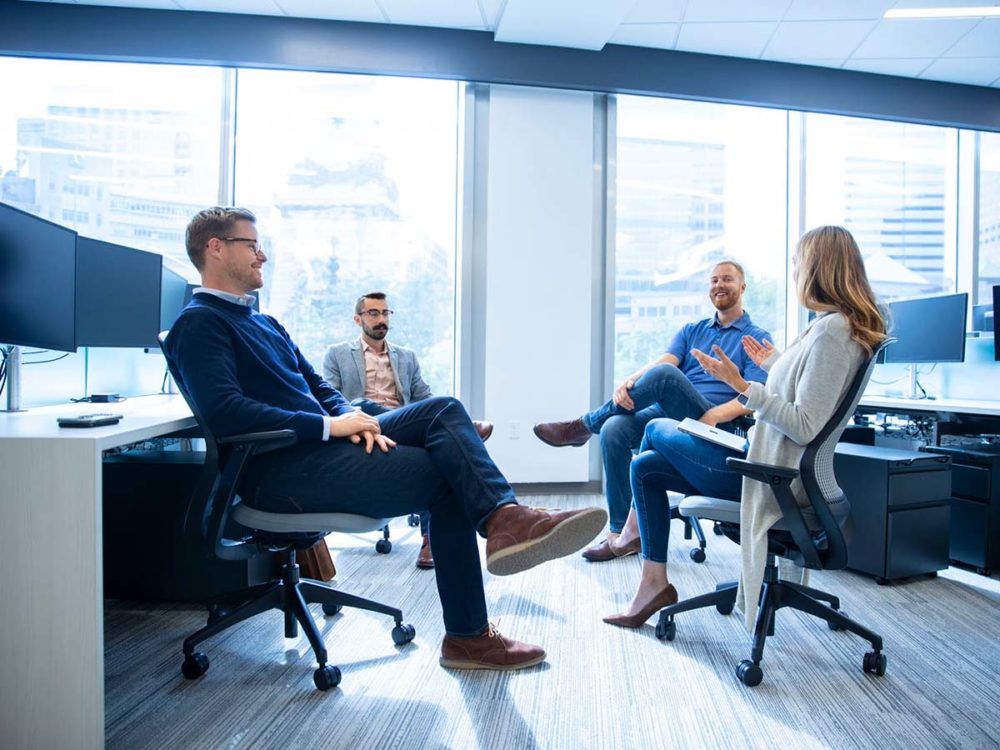 Connect
Contact us today to learn more about what Microsoft SharePoint can do for you.
Insights delivered to your inbox