Certifiably Google
With over 70 certifications (and counting), our teams have the expertise and experience to design, develop, and deploy a solution that is right for your specific challenge.
Solutions
Google Cloud Solutions from Resultant
Resultant is a GCP Premier Partner, and Google Cloud Premier Partner with experienced and certified cloud platform architects, developers, data security analysts, and cloud engineers. We help our clients innovate and transform their organizations by enabling productivity applications like Google Workspace, streamlining the migration of their legacy systems to Google Cloud Platform, and developing custom solutions on top of this robust infrastructure.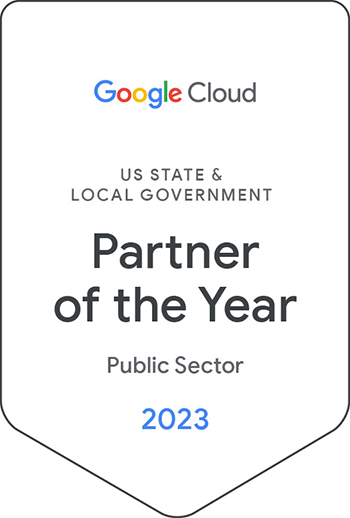 Google Cloud Partner of the Year
Award-Winning Results
Our work with clients like the Ohio Department of Rehabilitation and Correction, the Colorado Department of Public Health and Environment, and the IRS earned us recognition as 2023 Google Cloud Public Sector Partner of the Year. Learn how we can help your agency make a real difference.
Certifications
Google Cloud Premier Partner
We help businesses across the country grow, expand, and thrive through digital transformation. Recognized by Google for expertise and excellence, Resultant offers clients more: deeper insights into their businesses, a thorough understanding of how to cut costs without cutting corners, and certified client service teams with dedicated resources available anytime.
Work with a team who has achieved Google expertise from every angle. Our 70+ Google Cloud certifications include Cloud Engineer, Cloud DevOps Engineer, Cloud Security Engineer, Cloud Network Engineer, Cloud Developer, and Cloud Architect.
These certifications are a big part of why we're a Google Premier Partner and a Google Cloud Platform Partner. We've proven our expertise to Google, and to the clients we've helped achieve great things through Google innovation.
Associate Cloud Engineer
An Associate Cloud Engineer deploys applications, monitors operations, and manages enterprise solutions. This award is given to individuals skilled in using Google Cloud Console and the command-line interface to perform platform-based tasks for one or more deployed solutions that leverage services in the Google Cloud.
Professional Cloud Security Engineer
A Professional Cloud Security Engineer enables organizations to design and implement a secure infrastructure on the Google Cloud Platform. Through an understanding of security best practices and industry security requirements, this individual designs, develops, and manages a secure infrastructure leveraging Google security technologies. A Cloud Security Professional is proficient in all aspects of Cloud Security, including managing identity and access management, defining organizational structure and policies, using Google technologies to provide data protection, configuring network security defenses, collecting and analyzing Google Cloud Platform logs, managing incident responses, and an understanding of regulatory concerns.
Professional Cloud Network Engineer
A Professional Cloud Network Engineer implements and manages network architectures in the Google Cloud Platform. This individual has at least one year of hands-on experience working with Google Cloud Platform and may work on networking or cloud teams with architects who design the infrastructure. By leveraging experience implementing VPCs, hybrid connectivity, network services, and security for established network architectures, this individual ensures successful cloud implementations using the command line interface or the Google Cloud Platform Console.
Professional Cloud Developer
A Professional Cloud Developer builds scalable and highly available applications using Google-recommended practices and tools that leverage fully managed services. This individual has experience with cloud-native applications, runtime environments, developer tools, and next-generation databases. A Professional Cloud Developer also has proficiency with at least one general-purpose programming language and is skilled at producing meaningful metrics and logs to debug and trace code.
Professional Cloud DevOps Engineer
A Professional Cloud DevOps Engineer is responsible for efficient development operations that balance service reliability and delivery speed. They are skilled at using Google Cloud Platform to build software delivery pipelines, deploy and monitor services, and manage and learn from incidents.
Professional Cloud Architect
A Professional Cloud Architect enables organizations to leverage Google Cloud technologies. With a thorough understanding of cloud architecture and Google Cloud Platform, this individual can design, develop, and manage robust, secure, scalable, highly available, and dynamic solutions to drive business objectives.
Professional Collaboration Engineer
A Professional Collaboration Engineer transforms business objectives into tangible configurations, policies, and security practices as they relate to users, content, and integrations. Collaboration Engineers leverage their understanding of their organization's mail routing and identity management infrastructure to enable efficient and secure communication and data access. Operating with an engineering and solutions mindset, they use tools, programming languages, and APIs to automate workflows. They look for opportunities to educate end-users and increase operational efficiency while advocating for G Suite and the Google toolset.
Meet your partners in progress.
Insights delivered to your inbox