Microsoft Intune
Microsoft Intune, part of Microsoft Endpoint Manager, offers cloud-based management for mobile devices and unified endpoint management of corporate and BYOD equipment that protects an organization's data and devices while minimizing IT overhead.
How We Help
Resultant's radically different approach to consulting starts with close collaboration and doesn't end until we deliver the exact right solution.
Our technical experts are fearless problem-solvers who view your problems as their own and work tirelessly with you to deliver the solutions that help your organization thrive.
We offer Microsoft Intune as a solution to managing your organization's mobile devices. Many businesses restrict or prohibit the use of mobile devices for fear of security breaches, but Microsoft Intune manages your employees' work and permits personal devices in a safe, secure, and efficient way so your teams can work from anywhere.
We're proud to help organizations thrive, and we'd love to tell you more.
Exploring Intune Use Cases
Business growth and progress are predicated on adapting to unforeseen circumstances and challenges. In today's world, that often means using mobile devices to work flexibly and efficiently when you're away from your computer. Microsoft Intune is a secure place to access and manage mobile devices so you're not putting your employees, clients, and data at risk.
Through Microsoft Intune, organizations can enhance their mobile devices with the following services:
Data protection at the application level, including custom apps
Protection of organization-owned devices and opted-in personal devices
A corporate-branded authentication process with pre-configured security policies
A centralized corporate portal and credential-specific access to applications to keep shareable devices secure
Why Resultant Leverages Microsoft Intune
Microsoft Intune is one of the best solutions to the mobile device problem because it provides security, flexibility, and ease of use. The Resultant team leverages Microsoft Intune wherever it can provide the best use of resources and the most significant impact on safety and accessibility. Several additional benefits come with Microsoft Intune deployment:
Configure apps to run with specific settings rather than allowing the phone's user to decide
Perform a mass update of existing apps already on devices
Keep personal data and organizational data separate by prompting different sign-ins; IT maintains control of organizational data and security without infringing on the privacy of employees
Maintain device tracking in one central, quickly accessible location
Allow access to organizational data only on devices that are compliant with the organization's security policy
Seamlessly integrate Microsoft Intune with all Microsoft applications, including Outlook and Sharepoint
The Benefits to Our Clients
Device security, integration, storage, and efficient usage are all potential headaches for employers, and most businesses are never presented with adequate solutions to conquer these issues. We understand these hurdles and know that Microsoft Intune eliminates these problems and offers solutions to challenges you didn't even know you had.
The primary appeal of Microsoft Intune is its state-of-the-art security and protection features across unlimited devices. Whether the phone is employee-owned or provided by your organization, you'll be able to protect data, monitor usage, and incorporate your organization's larger infrastructure.
You'll gain the following benefits, as well:
Add and assign mobile apps to user groups and devices
Track app usage and customize reports to evaluate app usage across the organization
Remotely perform data wipes to remove select data (all, some, or organization-specific) from existing devices
Secure personal devices by restricting actions such as copy/paste, save, and accessible viewing
Enforce data encryption through Intune or other MDM service
Through Microsoft Intune, you can sleep soundly at night without worrying whether a bad actor will access your data or an employee will accidentally leave their device vulnerable. Through easy-to-manage multiple layers of protection and security, Intune lets you focus on the things that matter: growing your business, impressing your customers, and creating a safe work culture. Microsoft Intune is a great option for employee, organizational, and customer security.
Resultant Helps Harness Intune's Capabilities
With the increasing capabilities of mobile devices, deploying phones to your employees is becoming one of the most common challenges of workforce management. With Microsoft Intune, deploying, managing, monitoring, and securing employees' mobile devices has never been easier. Once the software is deployed, you can be sure that multiple levels of security and accountability are protecting your devices, your employees, and your organizational data. Microsoft Intune is the number one all-encompassing app for mobile device management because it offers so many solutions in a single application.
Seamless Integration
Intune easily integrates with all of Microsoft's Enterprise Mobility and Security apps, including Azure AD, Endpoint Configuration Manager, Azure Information Protection, Cloud App Security, Advanced Threat Analytics, Defender or Identity, and Secure Score.
Manage Employee Usage
Keep tabs on how your employees use their devices, what data they're accessing, how much they're using the apps, and where they're working from, all from one centralized location.
Multiple Operating System Capabilities
It doesn't matter whether some of your employees have Apple devices and some have Android devices. Intune works across multiple operating systems without sacrificing security or accessibility.
Universal Compatibility
You don't have to worry about compatibility issues of various applications on various devices. No matter the operating system, no matter the app, run what matters without issue.
Related Services
Get the most value from your Microsoft ecosystem through these and other services.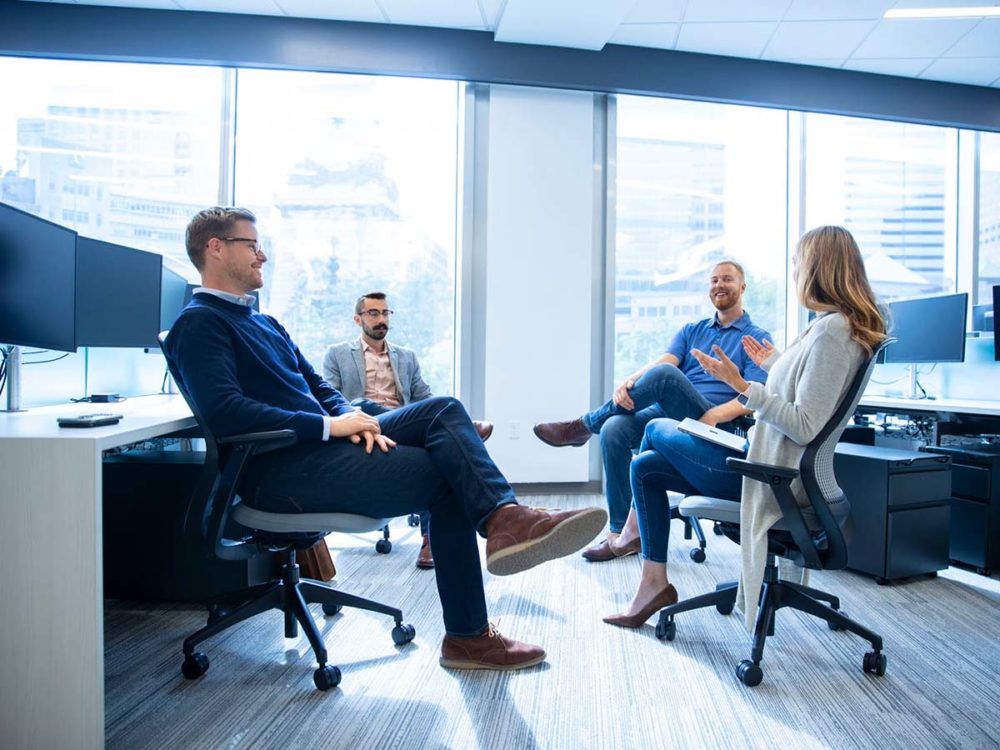 Connect
Contact us today to see how Intune can solve your mobile device deployment challenge.
Insights delivered to your inbox