Google Workspace for Education
Transformative digital education partners.
How We Help
Google's tailored tools help teachers and students get more from each school day.
The challenges of engaging students and managing limited time—especially through remote learning—become more manageable with tools that securely facilitate collaboration and connection, boost productivity, and support student learning.
We're an authorized 2021 Google Workspace for Education Partner who can help you transition to the platform that helps make your school community's desired outcomes a reality.
We're proud to help organizations thrive, and we'd love to tell you more.
Undertaking a complex migration project such as adopting Google Workspace for Education requires careful attention to detail within a highly collaborative framework. Resultant establishes a partnership with each client based on mutual respect, understanding, and trust. When we apply our expertise to solve problems, we do so creatively and collaboratively to achieve extraordinary outcomes.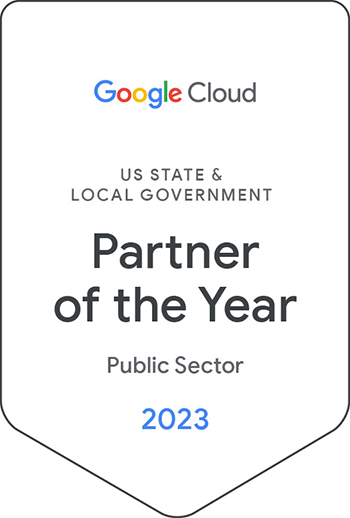 Google Cloud Partner of the Year
Award-Winning Results
Our work with clients like the Ohio Department of Rehabilitation and Correction, the Colorado Department of Public Health and Environment, and the IRS earned us recognition as 2023 Google Cloud Public Sector Partner of the Year. Learn how we can help your agency make a real difference.
Benefits of a cloud-based collaboration and productivity solution for education
Virtual education has become a necessity. Google Workspace for Education and Google Classroom enable virtual learning for every teacher and student, benefitting school communities in the following ways:
Collaboration
Co-edit documents, spreadsheets, and presentations in real time with Docs, Slides, Sheets, Drive, and Jamboard.
Management
Schedule meetings, make to-do lists, and set up task reminders in Keep and Calendar.
Communication
Make connections via email, chat, and video conference using Gmail, Chat, and Meet.
Teaching
Easily create classes, send out assignments, give quizzes, and provide feedback via Classroom, Assignments, and Forms.
Administration
Configure security and settings, manage devices, and add/remove students using Google Workspace's Admin tool.
Cost-Effectiveness
Get the lowest cost of ownership by using Google Workspace for Education and Google Classroom, free to schools and supported 24/7 by Google.
Education-enhancing options with greater security
For more than 15 years, Google has built tools for educators—and evolved alongside the instructors, leaders, and students who utilize them. Just like Resultant, Google looks past one-size-fits-all toward solutions that empower the people who use them in the ways they prefer to work. Google Workspace for Education solutions are:
Simple. Engage your school community with easy-to-use tools that ensure individuals can access everything they need in one place.
Helpful. Real-time collaboration, genuine connection, and efficient productivity help your school community stay focused on teaching and learning.
Flexible. Leverage tools that evolve with the unique needs of your institution.
Secure. Trust in multi-layer, built-in security that meets rigorous privacy and compliance education standards.
Google Workspace for Education in K-12 schools
The best way to make the most of Google Workspace for Education in K-12 schools, whether public or private, is by combining it with Google Chromebooks—fast, shareable devices that come in a range of options that make life easy for students and administrators. For administrators, there is no easier way to quickly deploy and manage hundreds or even thousands of devices with the capability to set more than 200 policies and commands.
Beyond the deployment benefits, Google Chromebooks offer the highest security possible on devices with the following: background updating of the latest security features every six weeks; "sandboxing" of learner identities, user profiles, and the operating system (OS) itself that stops malware and data theft in its tracks; and multiple layers of data encryption and verified security checks every time the device is booted up.
Google Workspace for Education in colleges and universities
In the higher education setting, Google Workspace for Education is about powerful computing for research, collaboration among students and faculty across disciplines and campuses, and more efficient, effective workflows for college and university staff.
An important addition in the higher education setting is Google Cloud, which opens up a whole new level of power computing needed in colleges and universities. It offers storage, analytics, big data, machine learning, and application development. Google also provides inroads into important research platforms through its partnerships with GÉANT (Europe's leading research and education infrastructure platform), the NSF (National Science Foundation), and NIH (National Institutes of Health).
The full range of Google Workspace for Education solutions
Migration to Google Workspace for Education
Schools face various issues and challenges when they migrate to a cloud-based solution such as Google Workspace for Education. As the migration is planned and implemented, there are many stages and decision points along the way. Resultant guides a client school through all of these decision points and provides the information and expertise you need to make wise decisions. Below is a general outline of what's involved in migrating to Google Workspace for Education:
Domain Set-Up and Registration. The optimal scenario is one domain and one instance of Google Workspace for Education.
Organizational Structure. This is critical for controlling access and settings by groups within an organization's structure. 
Email Architecture. There are several technical considerations here, such as changing a school's MX records to point to Google and how email from the legacy server will be handled.
Provisioning. This refers to how the initial base of users will be created in Google Workspace, which could be manual, by CVS file upload, synchronizing Google Workspace with legacy user data systems (LDAP server and an app such as Microsoft Active Directory), or using the Provisioning API to program an interface for provisioning.
Google Classroom Setup. Teachers can create their classrooms manually, developers can use the Classroom API to automate the setup and population of classes, or a school can work with a third-party consultant to create classrooms.
Authentication. This can happen directly into Google, but you may want to integrate the login with other services offered by your school or higher learning institution.
Data Migration. A critical decision point here is whether or not to migrate any or some data from the legacy system into Google Workspace for Education. A determination must also be made if migration of the desired data is even possible from the legacy server.
Work with a team who has achieved Google expertise from every angle. Our 70+ Google Cloud certifications include Cloud Engineer, Cloud DevOps Engineer, Cloud Security Engineer, Cloud Network Engineer, Cloud Developer, and Cloud Architect.
Our certified team of experts has the experience and the know-how to help supercharge your team's compute and data needs.
Insights delivered to your inbox