Microsoft Dynamics 365
The right tools for teams to deliver engaging customer experiences.
How We Help
At Resultant, we take on your problem as our own, and we don't quit until we find the exact right solution.
Our technical experts are fearless problem-solvers and empathetic collaborators. Their experience and breadth of knowledge has supported clients across industries, helping a range of organizations thrive.
When it comes to customer relations, Microsoft Dynamics 365 is often part of the solution. Customer acquisition and satisfaction are essential elements of your business, and we know all the challenges that come with them. Whether it's sales and marketing, customer service, field services, or retention, as a cloud-based enterprise software computing platform, Microsoft Dynamics 365's centralized suite of applications  helps your business thrive.
We're proud to help organizations thrive, and we'd love to tell you more.
Microsoft Dynamics 365 Use Cases
Developing and serving your customer base is critical—and challenging—for any organization, so you can't leave anything to chance. What makes customer relations even more complex is the holistic mix of back-end and front-end processes that must work together for a complete customer experience. Whether it's marketing and customer acquisition, personalizing their experience, providing customer service, or scheduling interactions like delivery or maintenance, you can't afford an unsatisfactory experience. Dynamics 365 provides all-in-one services ranging from acquisition to analysis to retention, so you never have to worry about driving customers away.
Dynamics 365 CRM offers the data-driven software to improve interactions and how you do business with your customers. CRM solutions can increase profitability by streamlining administrative operations in marketing, sales, and service divisions.
Through Microsoft Dynamic Solutions 365, your team can enhance customer management in the following ways:
Intelligent sales and marketing. Use world-class AI and analytics to develop targeted marketing through audience and engagement insights.
Personalized customer experiences. Agents can see a customer's profile and previous interactions in a single UI-friendly glance and enable customers to engage with support through their method of choice: Facebook Messenger, WhatsApp, Twitter, and more.
Predict demand using AI to prevent customers from waiting for fulfillment while eliminating stockouts or overstocking
Why Resultant Leverages Microsoft Dynamics 365
Our experience shows that Dynamics 365 is one of the best solutions for managing customer relationships—in part because of how thorough the entire process is. It meticulously manages every step while remaining accessible and easy to use. An all-encompassing solution, it can help you oversee human resource concerns, manage the supply chain, and organize field services. Dynamics 365 provides several additional benefits:
Easy-to-use HR tools allow employees and HR administrators to establish their profiles, simplify leave of absences, streamline payroll and benefits, and self-train for better job performance and satisfaction while spending less time and fewer resources.
Whether it's your customer base or the number of employees growing, the software is quickly and easily scaled to meet your ever-changing needs.
Automate your finances and make better decisions through business health analytics, task automation, analysis of evolving business models, financial planning, simplified regulatory reporting, and electronic invoicing.
The Benefits of Dynamics 365
A customer's experience can go wrong in innumerable ways. Whether it's poor marketing, supply chain issues, lousy service, quality control problems, or a hundred other possibilities, maximizing customer acquisition and retention takes a bold solution. Dynamics 365 provides an answer to every possible customer challenge and minimizes customer dissatisfaction while maximizing your employees' efficiency in addressing customer concerns.
Microsoft Dynamics 365's most significant appeal is that it can connect every facet of your business's customer relationships so you can spend more time connecting with the customer and reduce the risk of negative customer experiences. The solution software also offers enterprise resource planning (ERP), which works to connect your business's front end and back end. This business process management software integrates and manages your financials, operations, supply chain, reporting, commerce, manufacturing, and human resources.
Whether it's optimizing marketing, managing supply chain issues, or perfecting the customer experience, this software is with you every step of the way. Microsoft Dynamics 365 provides the following benefits:
Streamline sales by using customer insights and AI to follow next best actions focused on the greatest chance of closing with each specific customer.
Weather revenue fluctuations with the software's ability to predict their timing, enabling you to source and plan accordingly and adjust your sales funnel from top to bottom
Empower proactive customer service solutions by detecting and correcting problems before customers notice anything is wrong. When a problem does arise, use AI-driven analytics that empower agents with the right tools and information for each situation.
State-of-the-art workflow and work-order scheduling and organization ensures your products and service workers are prepared and show up exactly when scheduled.
Advanced fraud protection against bot attacks, fake account creation, account takeover, and fraudulent account access keeps you and your customers secure.
With Dynamic Solutions 365, you can offer the customer a safe, enjoyable, and customized experience that starts with acquisition and continues for years as they stay loyal to your organization. You also empower your customer service representatives, making them happier, healthier, and more productive.
Resultant Harnesses Microsoft Dynamics 365
The customer relations process is foundational to your organization and, with all its complexity, has the most significant potential to go awry and cause problems. Because it reaches every level of your operation, you need the best, most holistic solution available. Microsoft Dynamics 365 is reliable, customer-focused, and complete.
Customer Oriented
The software integrates AI and analytics in every step of the customer relations process, creating a highly personalized, engaging, and satisfying experience for the customer that ensures retention and loyalty.
Employee Empowering
Microsoft Dynamics 365 empowers employees to find quick solutions, solve problems, and meet customer needs, increasing their job satisfaction and productivity while upholding their value as essential team members.
Bold and Intelligent
At the heart of the software lies its cutting-edge analytics and AI, which enable new and innovative solutions without putting company resources or reputation at risk. This intelligent approach permeates every level of the software and process.
Related Services
Get the most value from your Microsoft ecosystem through these and other services.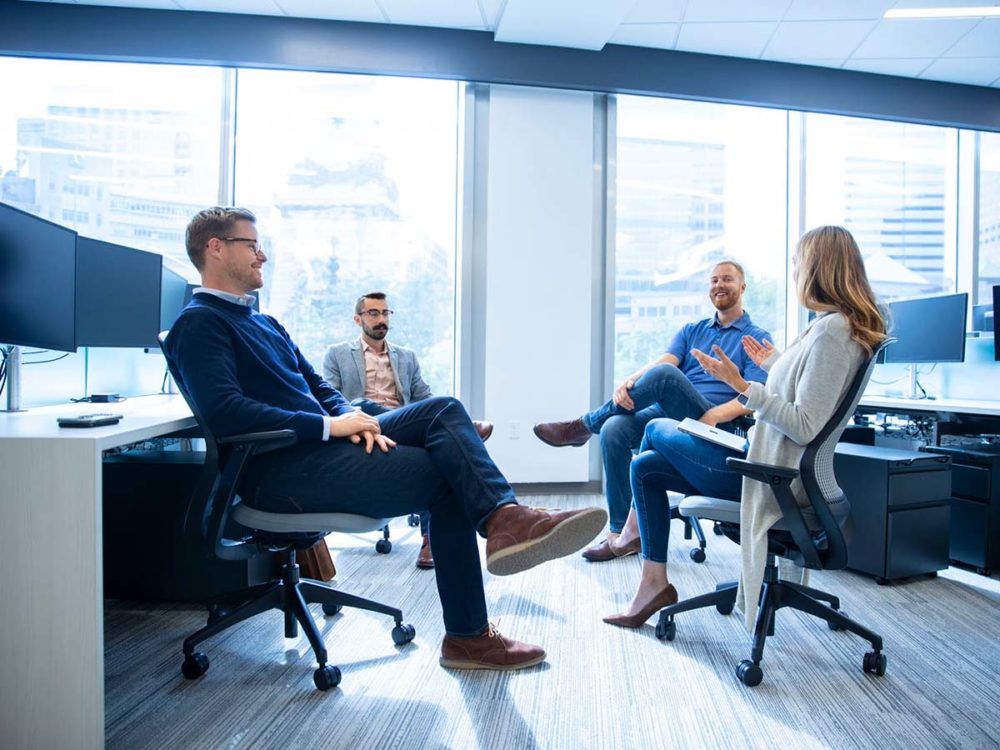 Connect
Contact us today to see how Microsoft Dynamics 365 can solve your customer-experience challenges.
Insights delivered to your inbox