Enhance Collaboration with Google Workspace
Collaboration and productivity to the power of Google.
How We Help
Google Workspace makes it easy for teams to connect, create, and collaborate from anywhere.
The world has shifted. Work no longer happens at a certain time and place, and gone are the days when documents and presentations are created individually. Today's workforce demands real-time, secure collaboration and intuitive, tightly-integrated sets of tools which allow them to be efficient and flexible.
As certified Google Workspace implementation and migration experts, we help organizations large and small make the move to a more efficient way of work.
We're proud to help organizations thrive, and we'd love to tell you more.
The Resultant and Google Workspace Difference
When it comes to migration, there is no one-size-fits-all approach; every client has different priorities and needs. We adapt to each organization's unique DNA with the right team of experts, technology integrations, and end-user training to ensure successful implementations and long-lasting efficiencies. Our certified Google technicians and developers can help your teams take advantage of Google's unique tools and seamlessly migrate your current infrastructure to a Google-first platform. Whatever the need, we have the right solution for you.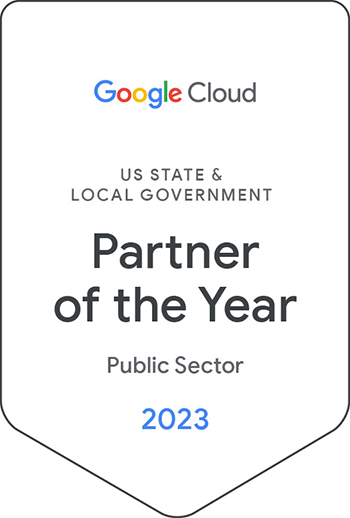 Google Cloud Partner of the Year
Award-Winning Results
Our work with clients like the Ohio Department of Rehabilitation and Correction, the Colorado Department of Public Health and Environment, and the IRS earned us recognition as 2023 Google Cloud Public Sector Partner of the Year. Learn how we can help your agency make a real difference.
Industry Solution
Google Workspace for Education
Learn how Google Workspace for Education is revolutionizing classroom learning with tools, products, and applications tailored for academic environments. 
We're an authorized 2021 Google Workspace for Education Partner who can help you transition to the platform that helps make your school community's desired outcomes a reality.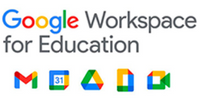 Work with a team who has achieved Google expertise from every angle. Our 70+ Google Cloud certifications include Cloud Engineer, Cloud DevOps Engineer, Cloud Security Engineer, Cloud Network Engineer, Cloud Developer, and Cloud Architect.
Our certified team of experts have the experience and the know-how to help supercharge your team's compute and data needs.
Google Workspace Collaboration and Productivity Solutions
Collaboration and productivity done right: Google Workspace. With cloud-based tools that work wherever—or however—you and your organization do; Workspace was built from the ground up for connecting and getting work done.
Gmail
Easily integrate Gmail with your existing business web address or domain and gain loads of new functionality.
Chat
Communicate with coworkers remotely using messaging with Google Chat or click-to-call to conduct a virtual meeting.
Meet
Enterprise-grade video conferencing from Google. Google Meet enables cross-device instant video and voice connectivity inside and outside your organization.
Drive
Secure and consistent access to all your files with editing functionality built in. Google Drive stores, manages access, and enables remote productivity—all in the cloud.
Docs
Collaborate with your colleagues with real-time updates to documents. Write, edit, and comment simultaneously and see changes happening in real time on your shared documents.
Slides
Work with a group to create presentations that are picture perfect. Unlimited revision history and compatibility across all devices.
Sheets
Spreadsheeting done right. Google Sheets combines the power of traditional spreadsheet tools with the cloud-based collaboration features of Google. Work on data in real time with colleagues and effortlessly query data from anywhere online. Sheets are always up-to-the-second current and accessible from anywhere.
Calendar
With Google Calendar, you're always synced and always on time. Cloud-based individual and team calendars integrate with the rest of Google Workspace to keep you and your team where you need to be, when you need to be there.
Forms
Easily creatable and endlessly customizable, Forms can easily be shared in an email or embedded in a website for rapid data collection. Built for cloud-first productivity, Google Forms work just like Docs.
Currents
A modern productivity application to share, react, and connect across your organization in real-time. Track feeds that are important to you, your team, or your department and keep your employees in sync.
Sites
Collaboratively create high-quality sites for your team, project, or event. Websites created with Google Sites can be created without programming or design skills and look great on any screen or device.
Google Keep
Your cloud-based second brain, Google Keep collects, organizes, and indexes just about anything digital you can throw at it—to-do lists, photos, video clips, links, maps, and more.
Jamboard
Jamboard is a versatile tool that provides whiteboard-style sketching with the ability to share content, images, and notes across devices. With access to the internet and team collaboration, you can drop an idea on your interactive canvas, take it to your mobile device, or save it directly in your web browser. Brainstorming done Google-style.
Cloud Search
The power and speed of Google Search for your organization. Seamlessly search across Gmail, Calendar, Docs, Sheets, and more.
Apps Script
Apps Script is the only low-code platform that makes it quick and easy to build business solutions on top of Google Workspace.
Insights delivered to your inbox