Embedded Analytics
Boost efficiency and outcomes when you can easily access data insights right where you need them.
How We Help
Make actionable insights accessible and intuitive.
The easier data is to consume, the more data consumers—employees, clients, and stakeholders—will use it to make better decisions. Embedded analytics (sometimes called integrated apps) lets you deliver data right where your teams are working. Rather than having cumbersome access impeded by separate portals, data becomes part of how people work every day.
Businesses can elevate production and logistics transparency at every point of contact with customers and investors to enhance user experience.
Patient care staff can view readmission prediction data directly in a patient's chart during a visit.
Loan officers can see default risk data right in the application review workflow.
Educators can easily connect student attendance and home life factors to grades.
With a proliferation of BI and visualization tools and a growing onslaught of information, data consumers need insights packaged and delivered as cleanly as possible. Embedded analytics puts these insights right where those consumers are already working, improving the customer experience while reducing costs and driving revenue growth, giving you an undeniable competitive edge.
Engaging a company like Resultant and leveraging their strategic data assessment process made a big impact on getting buy-in across the CHA organization.
Lori Hotzel
CIO, Children's Hospital Association
We're proud to help organizations thrive, and we'd love to tell you more.
The Power of Embedded Analytics
Embedded analytics simplifies data access without upending your current workflow.
Data Silos

Data often gets lost in the shuffle of organizational growth, and customers gained through M&As disappear with faulty data access. Integrating data solutions and apps ensures customers and teams can overcome data silos to access the information they need without wading through an overwhelming number of new tools.

ROI from Impactful Data

If you're still coming up with technology workarounds, you haven't optimized your data and IT solutions. When apps and solutions are integrated for easy access and usability, you'll turn first-time buyers into returning customers and empower your team to uncover actionable insights that keep everyone on the right path.

Data-Driven Decisions

Companies that make data-driven decisions are far more successful than those that don't. Data solutions with embedded analytics build better user experiences, clarifying data consumers' here and now—and their paths forward.
Related Services
Our experts work to understand your organization and build the solutions that support your organization.
Related Capabilities
We meet you where you are in your data journey to help implement and optimize the right solutions for you.
Our clients get more from their data through these and other services.
Data Infrastructure

With smart data infrastructure, your organization becomes more efficient, collaboration improves, and productivity booms. Our team works with you to implement data infrastructure that reduces your operational costs and serves as a strong foundation for your data environment.

Advanced Data Analytics

Turn your difficult questions into discovery and go deeper into your data. Our advanced data analytics experts create true, customized solutions to help you sort through the intricacies of your most complex challenges—and the data surrounding them—so you can spot patterns and predict outcomes that serve your mission.

Data Modeling

How can you use your data to meet your business needs if you don't know what data you have? Our team will design a well-structured, flexible data model that represents your data accurately and reliably even as it evolves, allowing you to choose the best approach to achieve your goals.

Data Architecture

Strong data architecture ensures you see all sides of your data and can answer the most complex questions to meet your organization's challenges. Our data architecture designs align with your needs and goals—solutions which grow along with you. 

Data Governance

Data holds no value until it's securely accessible, accurate, and consistent. Data governance enables you to understand, manage, and leverage the power of your data to solve problems. We partner with our clients to design and execute a sustainable data governance strategy to break down data silos and turn data into actionable insights that support your goals.

Data Storage and Operations

Your particular needs determine how your data can most effectively be stored, shared, and kept secure. Smart solutions ensure your data is accessible—and recoverable after a crash. Our team helps tailor the scalable solution that meets your needs cost effectively.

Data Engineering

Gain a system that utilizes data as your biggest asset. Our data engineers deliver reliable pipelines and infrastructure to prepare your data for analysis so you can make better decisions for your customers, your organization, and your future.  
Supporting Software Platforms
We empower you with self-service analytics and leveraged automation so you achieve better data, better insights, and better results—faster. Because we have experts in all platforms and technologies, we recommend the solutions that fit your specific needs; we don't try to pigeonhole you into what's best for us. Here are just some of our trusted partners.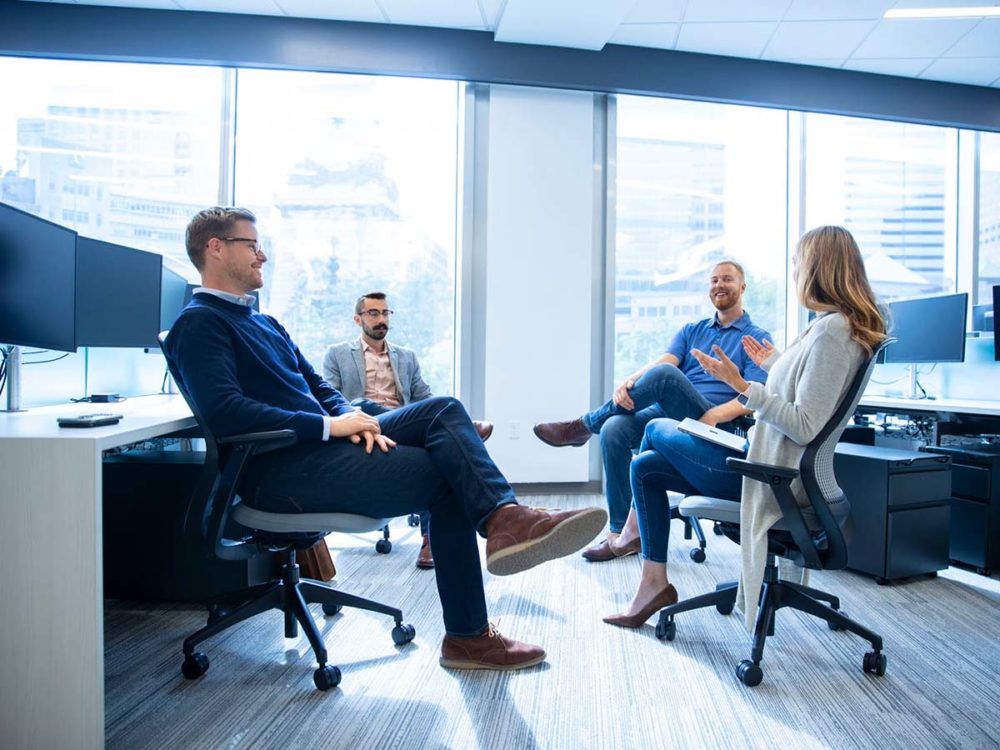 Connect
Find your best outcomes when embedded analytics puts data access and insights within reach.
Fast data insights. Simple access. No drama.
Targeted, specific applications have massively changed the way business operates. Yet even while apps can help your teams gain insights and get the job done, sometimes the sheer number of tools and the way they're accessed can be overwhelming. And overwhelm is the opposite of that flow state that makes operations simple, efficient, and effective.
Take, for example, an insurance employee evaluating whether a potential client is a good one: not overly likely to make claims or miss paying their premiums. The team member receives an application through their main workflow portal. They may need to run actuarial calculations, credit reports, and other evaluations. What if each of these operations has its own separate login portal with two-factor authentication? What if any of these apps are further hidden within an entirely difference workspace, and the results have to be imported into the original one, requiring yet another separate app?
All these apps get the job done, but is it an efficient process? In the time it takes your company to evaluate this application, it's highly possible your potential client has found a different company whose processes are streamlined and gave a quicker approval.
How many more applications might your employees be able to evaluate if the apps they depend on were right there, integrated into the original portal and software they're using to begin with?
Embedded analytics streamline processes and workflows, improve efficiency, and make everyone's lives easier. If you're wondering whether there's a way to improve your current process and technology workarounds, the answer is yes.
Insights delivered to your inbox