Microsoft Power Automate
Automated workflows. Data collection and routing. Synchronized information. With Microsoft Power Automate, streamlined tasks and improved efficiencies are just a click away.
How We Help
We help you find the best solution for project management and workflow challenges.
Organizations want a personalized solution to meet their specific, situational needs when they have a problem. We're partners and teammates in finding those solutions, which means we won't suggest the fastest, easiest, or most common fix but work toward the one best solution.
Microsoft Power Automate is a fantastic answer to project management and workflow challenges. Keeping teams on task and organized is the key to organizational growth and productivity.
We're proud to help organizations thrive, and we'd love to tell you more.
Whether an organization is just one person or teams of thousands, workflow and project management are at the center of all goals, strategies, and plans. Every part of that can seem overwhelming: the sheer number of tasks a workflow program has to account for, the time it takes to update, the different types of software available to run workflow, and any of the dozens of other decisions at play.
Microsoft Power Automate helps our clients' businesses and organizations run efficiently and smoothly without using a ton of time updating, typing in goals and process steps, or checking in on employees' progress.
Through Microsoft Power Automate, organizations can enhance workflow and project management in the following ways:
Automating the entire process. From setting goals to checking progress to assessing productivity and efficacy, the process takes less time and manual input, freeing teams for more strategic and vital work.
API Integration allows anyone in the organization to build their own cloud flows—logic-based processes that automatically check off tasks when conditions are met, submit required elements to supervisors, and send necessary emails and correspondence to other members, supervisors, or customers.
Trainable AI means that the system adapts to an organization's specific needs without requiring a single line of code or technological knowledge. Everyone in the organization can help input needs and requirements, creating a unique AI system for the workforce.
Why Resultant Leverages Power Automate
We're confident Power Automate is a best-in-class solution for managing workflow and project management because of its ability to adapt to and learn specific needs. Several additional benefits come with Microsoft Power Automate:
Process advisor lets teams record their business processes, identify bottlenecks, and find ways to optimize. Complete with recording capabilities and paired with in-depth analytics, this system can help overcome weak points.
Power Automate is a centralized hub for all things within an organization: flows, data analytics, scheduling, messaging, and more.
The flexibility of Automate allows it to connect to and work well with other Microsoft applications like SharePoint, Outlook, Dropbox, and more.
The mobile app allows employees or team members to connect anywhere. It efficiently scales automation across the entire organization, no matter the time and place.
The Benefits of Power Automate
Whether it's someone forgetting to mark a task complete, a supervisor missing the notification to sign off on something, network outages, unclear communication about goals, or several other user and software errors, there are many ways a project can fall off the rails. Microsoft Power Automate addresses these challenges at every step through intelligent automation, ease of use, and redundant processes that ensure everyone knows how to complete their tasks.
Power Automate's greatest asset is that it can intelligently automate the entire process, with a specific focus on those areas where communication and workflow tend to break down. The software is unparalleled in power and potential and can learn and adapt to an organization's specific needs and processes. Using Microsoft Power Automate, our clients gain the following benefits:
The ability to record and log desktop activity to transfer to designers, supervisors, and coworkers. There is no need to explain a process; showing the activity prevents miscommunication and misunderstandings.
Flexible processes allow anyone to choose when to automate, schedule, or manually trigger a workflow step, granting situational adaptability and multiple levels of redundancy to prevent missed or forgotten steps.
Document automation frees teams from repetitive, menial, and error-prone tasks. The tool can largely automate tasks such as document signing or accounts payable to help save time and resources.
With Microsoft Power Automate, organizations have a safe, easy-to-use, and stress-free workflow process, leaving them time to do tasks they enjoy and excel at. Fewer mistakes and more engaging work make for satisfied and loyal team members.
Resultant Harnesses Power Automate's Capabilities
Workflow and project management are among the most intricate and necessary elements in an organization and can break down in many different places. Power Automate is one of the best answers to workflow issues. It's intelligent, adaptable, and efficient.
Intelligent
Power Automate is programmable and learns as it interacts with your organization, meaning teams never have to settle for something that's not tailored to how they work. This is an owned solution, and through revolutions in AI, this software learns and grows as it is used.
Efficient
Power Automate's ability to automatically perform countless tasks frees organizations to do more meaningful and less error-prone tasks.
Adaptable
Multiple levels of workflow options, situational redundancies, and programmable processes mean that Power Automate can adapt to needs quickly and long term. If a business grows, changes its structure, or pivots its goals, Power Automate remains reliable.
Related Services
Get the most value from your Microsoft ecosystem through these and other services.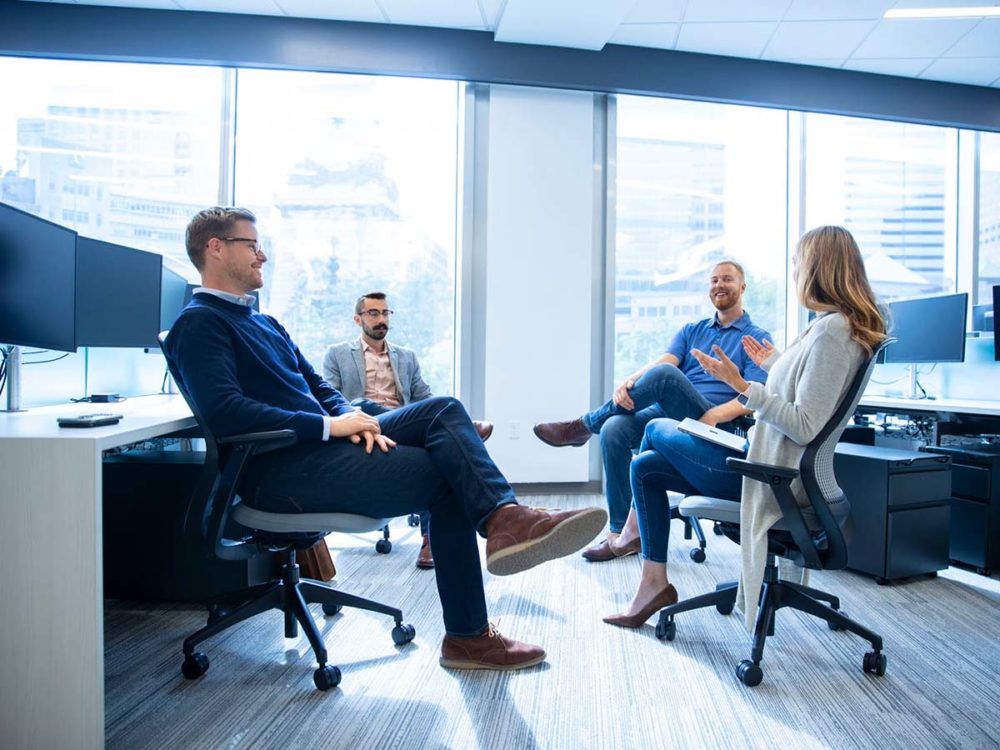 Connect
Contact us today to see how Microsoft Power Automate improves workflow management.
Insights delivered to your inbox