Microsoft OneDrive
With personal and team cloud storage for the files that matter most, Microsoft OneDrive ensures your organization's data stays safe, secure, and accessible whenever or wherever you need it.
How We Help
Resultant's team of technical experts solves problems fearlessly, collaborates closely with clients, and focuses on outcomes.
Our radically different approach to consulting means your organization doesn't just get a solution but the solution that helps you thrive.
For many of our clients, those solutions include Microsoft OneDrive, which makes it easy to store, organize, and share files. These days, more and more employees are working remotely, making collaborative work difficult. OneDrive provides a platform for teams to work together on projects no matter where they are.
We're proud to help organizations thrive, and we'd love to tell you more.
Why Resultant Leverages OneDrive
OneDrive is a cloud-based storage service from Microsoft where anyone can store and access files from anywhere and from any device: Android, iPhone, iPad, Windows, Mac, and so on.
We leverage OneDrive as a solution to our clients' needs regarding file storage, organization, and sharing, because it integrates with the rest of the Microsoft products they use; there's no separate service to hold an organization's files.
OneDrive makes it easy to collaborate and work together on documents. Teams don't have to worry about setting up a meeting when everyone's together and trying to share a device. It's easy to upload a document and set permissions for others to view and edit.
The essential benefit of using Microsoft OneDrive is a secure and private cloud-based folder storing all files, accessible from any device. Document owners can set permissions for sharing and editing at the document level or folder level, allowing collaboration among colleagues inside and outside the organization. Teams can stop attaching documents to emails and work on files shared to the cloud.
Some of the other benefits of Microsoft OneDrive include:
Unlimited access to files anytime, from anywhere
File organization that helps anyone find what they need when they need it
Freed-up device storage
Content easily shared across teams, no matter what size
Customized sync experience for admins
Multimedia files supported
Integration with other Microsoft products
With File On-Demand, people inside the organization can view, search, and interact with files stored in OneDrive, even if they haven't downloaded them locally.
The File Restore feature allows a file to be restored to any point within the past 30 days. Teams can view file activity and restore to a specified point, rolling back any changes made.
The Personal Vault on OneDrive offers additional security for files by requiring a second authentication method to access specific files.
Finally, by saving files to OneDrive, teams and businesses save space on the devices themselves and don't have to wait until they're back in the office at the computer to access a file. They can get it when they need it, no matter where they are in the world.
Resultant Harnesses the Power of OneDrive
With so many employees working remotely, collaborating on projects is more challenging than ever. With OneDrive, staying connected becomes so much easier. When a team is working together, anyone can access a document, do what they need to, and then save it in the appropriate folder.
Access isn't unlimited, however. An owner can set permissions for access to certain documents or folders and provide or deny the power to edit particular files. A document owner can set up an additional authentication that requires users to have a passkey to access certain files.
OneDrive makes collaboration among teams and departments so much easier, even with so many employees working remotely.
Related Services
Get the most value from your Microsoft ecosystem through these and other services.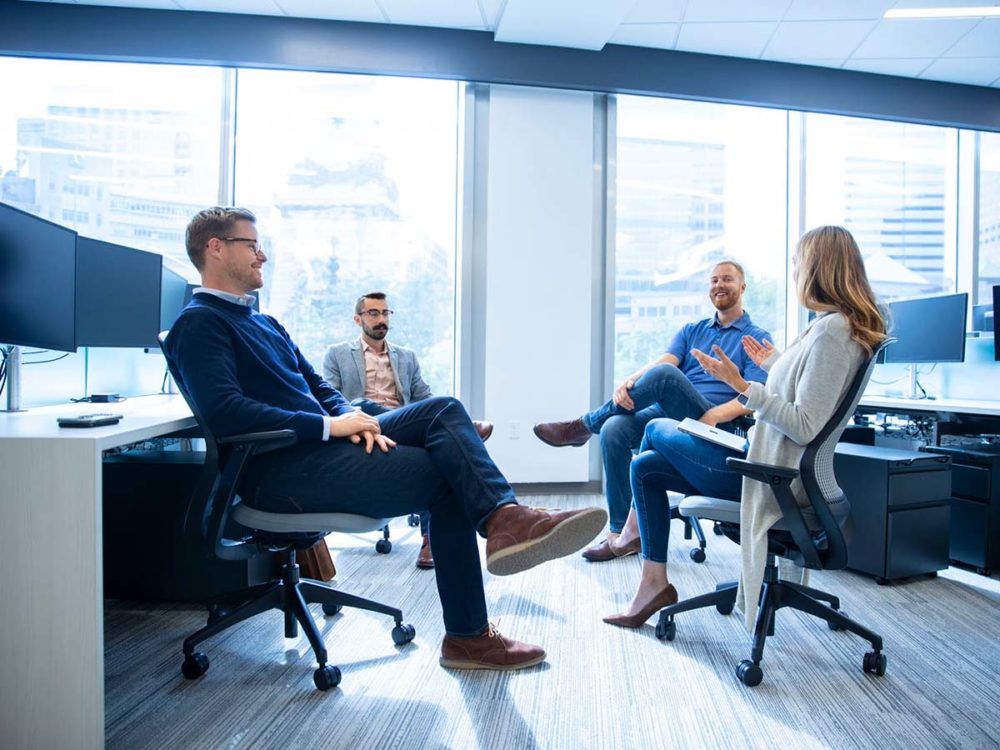 Connect
Contact Resultant today to discover how OneDrive can solve your file storage, organization, and sharing challenges.
Insights delivered to your inbox