Google Chrome Enterprise
Configure your most secure, fast, and reliable computing experience with the help of a Google Cloud Premier Partner and authorized Google Chrome reseller.
How We Help
Our team has deep experience in delivering support, strategy, and the solution that helps you best utilize all that Chrome offers businesses.
Google Chrome Enterprise is more than a web browser, it's a whole operating system (OS) that unlocks the ability to work safely and effectively in the cloud. Resultant can guide your business in adopting, implementing, and making the most of Google Chrome Enterprise.
Resultant is a Google Cloud Premier Partner and an authorized Google Chrome Reseller.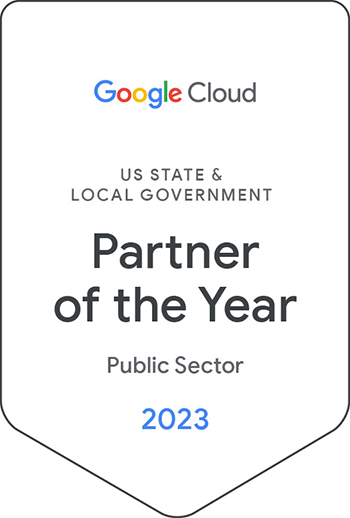 Google Cloud Partner of the Year
Award-Winning Results
Our work with clients like the Ohio Department of Rehabilitation and Correction, the Colorado Department of Public Health and Environment, and the IRS earned us recognition as 2023 Google Cloud Public Sector Partner of the Year. Learn how we can help your agency make a real difference.
We're proud to help organizations thrive, and we'd love to tell you more.
Our team of Google Certified Chrome Specialists can support you through:
Chromebook hardware provider (Acer, Lenovo, HP, etc.)
Chrome OS software provider (CMCs and CFMs)
Chromebook deployments
Chrome Management Console (CMC) best practices
Asset tagging and white glove rollout services
User and device management
Public session kiosk mode
Connect the functions your teams need.
Google Chrome Enterprise unlocks the business capabilities of Chrome OS, Chrome Browser, and Chrome devices, freeing your internal IT resources and lowering your cost of ownership.
Chrome OS
This versatile, mobile, cloud-native operating system is secure, easy to use and manage, and provides fast access to cloud apps, regardless of Chrome device or location, and accommodates Microsoft Office.
Chrome Browser
A trusted, consistent browsing experience across devices, with built-in protection, centralized management, and enterprise-wide controls for IT admins.
Chromebook Enterprise
Chromebooks' end-user benefits combine with Chrome OS's business capabilities, empowering your teams to work securely and effectively from anywhere.
The Business Benefits of Adopting Google Chrome Enterprise
An increasing number of businesses are planning for a deeper digital transformation to be more aligned with digital trends in the twenty-first century. But they want to do so in ways that will not only enhance productivity but also keep data safe and secure. Cloud-based solutions are readily available today from any number of developers, but only one is backed by the global leader in all things digital—Google. Below are the many benefits a business can realize by adopting Google Chrome Enterprise.
Security: The Heart of Google Chrome Enterprise
One of the biggest concerns many businesses have about digital transformation and shifting more of their productivity into the cloud is security. Google Chrome is the most secure web browser in the world. It includes both built-in and added safeguards to protect your company from cyberthreats. This is important because the web browser has become the frontline defense for cybersecurity. Chrome includes the following security features:
Sandboxing: This feature prevents malware from infecting devices and stops malicious web pages from stealing data.
Updating: Gone are the days of installing patches to update security against the latest threats and vulnerabilities. Google handles updates for you. 
Isolation: This feature goes a step further than sandboxing to ensure malicious code cannot spread between processes on the same tab.
Alerts: If a corporate password is reused, users will be alerted in order to protect accounts.
Extension security: Chrome allows users to benefit from extensions while allowing admins to control extensions based on permissions and sites.
Centralized Management Made Easy
In our digital age, the way work gets done is changing on a seemingly constant basis. Employees need real-time collaboration across distant geographies, as well as instant access to a wide array of both internal and external information and data storehouses. Below are the ways Google Chrome Enterprise becomes your competitive advantage by facilitating a smart, cloud-based work methodology:
Browser as Gateway
When companies begin their digital transformation, the web browser becomes the primary portal through which work happens. Working through the Chrome browser is the most basic first step of digital transformation.
Browser Management
Cloud management of browsers allows for easy policy set-up and enforcement, along with automatic updates. Chrome Enterprise can also work with Microsoft Active Directory and hundreds of Windows policies.
Cloud-First Devices
Chrome Enterprise OS devices are extremely powerful and fast, and also come in a wide variety of shapes and sizes from recognizable brands such as Dell, Lenovo, Asus, Hewlett-Packard (HP), Acer, and Samsung.
Enabling Remote Work Flexibility
Any employee can work remotely while maintaining security and with IT managing devices remotely.
Affordability and ROI
Google Chrome Enterprise lowers costs in a variety of ways, including fewer security breaches, streamlined operations, and recovery of lost productivity. An average figure is around $480 per device per year (using Chromebooks) in IT savings, a return on investment (ROI) of 295% and 3 hours per device per week of saved time.
Google Support
An Enterprise Support plan provides 24/7 support, best practices, and troubleshooting guides to minimize user downtime.
Work with a team who has achieved Google expertise from every angle. Our 70+ Google Cloud certifications include Cloud Engineer, Cloud DevOps Engineer, Cloud Security Engineer, Cloud Network Engineer, Cloud Developer, and Cloud Architect.
Our certified team of experts have the experience and the know-how to help super-charge your team's compute and data needs. 
Resultant: Expert Consultation for Google Chrome Enterprise Adoption
Resultant has developed deep expertise in helping public and private sector organizations face and overcome their most complex challenges through collaborative problem solving with expert technical guidance. As an Authorized Google Chrome Reseller, Google Cloud Premier Partner, and with team members who are Google Certified Chrome and Cloud Specialists, Resultant provides the following types of support and services to businesses whose digital transformation includes adopting, implementing, and deploying Google Chrome Enterprise:
Chromebook Hardware Provider: Chrome Enterprise OS devices cover a wide range of options from brand-name manufacturers such as Acer, Lenovo, HP, Dell, Samsung, and Asus.
Cloud-Based Readiness: Is your company's workforce cloud-ready? How can you assess workforce cloud readiness? Which employees would make good early adopters? What will the roadblocks be to widespread adoption?
Chrome OS Software Provider: Including CMCs and CFMs.
Chromebook Deployments: We can help you rapidly deploy Chromebooks to employees through coordinated, zero-touch drop-shipping deployment. When the user starts the device, it will be automatically enrolled into the corporate domain. When the employee user logs in, their cloud profile and apps, settings, and policies download automatically.
Chrome Management Console (CMC) Best Practices: As Chrome specialists, we've gained useful insights into how to best leverage Chrome Enterprise for business success.
Asset Tagging and Rollout Services: We'll help ensure all your devices are properly tagged and logged into your corporate database, as well as assist with developing and implementing a rollout plan that includes change management principles and considerations.
Public Session Kiosk Mode: Understand the what, why, and how of these different modes of operation and when they might be useful.
Insights delivered to your inbox