Google Cloud Platform
A secure, high-performing cloud platform.
How We Help
There's a lot to consider when you migrate to the cloud—or when you're ready to maximize cloud performance.
There's also a lot to gain, like improved reliability, greater connectivity, more options for collaboration, and much greater insight from your data. What you gain has a lot to do with the partner who helps get you there.
We're a certified Google Cloud Platform partner and a GCP Premiere Partner with a team full of Certified Google Cloud data engineers, cloud architects, deployment specialists, and administrators who work closely with you to assess your needs and goals to help build your best solution.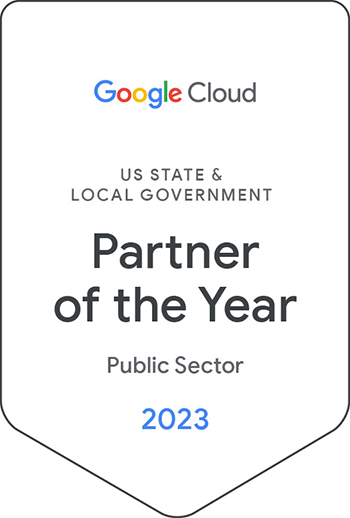 Google Cloud Partner of the Year
Award-Winning Results
Our work with clients like the Ohio Department of Rehabilitation and Correction, the Colorado Department of Public Health and Environment, and the IRS earned us recognition as 2023 Google Cloud Public Sector Partner of the Year. Learn how we can help your agency make a real difference.
We're proud to help organizations thrive, and we'd love to tell you more.
What We Do
Leveraging Technology into Business Success with Resultant
We're passionate about helping companies and organizations make the most of whatever technology is best suited to achieving their goals, meaning we're "technology agnostic." Technology for technology's sake is never an option in our way of thinking. We always first look at how companies can make optimal use of the technologies they already have. If those current technologies aren't enough for the company to thrive, then we'll start looking at what else is needed. The computing services available on GCP or other platforms may become appropriate options to explore at that point.
Adopting and Implementing Cloud Solutions with Resultant
Using Google Cloud Platform doesn't mean you have to use all of the computing services it offers. GCP is set up with a transparent pricing structure based on pay-as-you-go and only paying for the services you use. New customers of GCP can create an account for free and receive $300 in credit to test-drive the platform to see how it works and what it can do. There are also at least 20 services that can be used for free with monthly usage limitations. In addition, a number of free tools are available for tracking and limiting how much is spent on GCP.
The Power of Google Cloud Platform
Move forward faster.
Google Cloud never stops. This continuously improving platform may hold your most secure, high-performing, and cost-effective future, providing benefits like these:
Best-in-class security to keep your systems, data, and users protected
Integrated video calling, email, chat, and document collaboration apps that make connection intuitive
Flexibility to migrate, build, and optimize apps with first-class solutions
Smarter decision-making through advanced analytics your whole team can access
Access and visibility control that keeps your resources secure
Scalable, resilient, high-performance storage and databases
Customizable solutions
Google Cloud can help you achieve these and other tailored business solutions:
Infrastructure modernization
Application modernization
Smart analytics
Security
AI and machine learning
Financial services
Data management
Work with a team who has achieved Google expertise from every angle. Our 70+ Google Cloud certifications include Cloud Engineer, Cloud DevOps Engineer, Cloud Security Engineer, Cloud Network Engineer, Cloud Developer, and Cloud Architect.
Our certified team of experts have the experience and the know-how to help supercharge your team's compute and data needs.
Business Benefits of Google Cloud Platform
Embracing cloud computing through GCP includes the following benefits and attributes:
Highly secure, globally available, high performance, cost effective, and always improving
As much object and data storage and as many databases as most will ever need—all scalable, resilient, and high performance
Backed by state-of-the-art networking products via Google's private fiber network
Virtual machines (VMs) in Google's data centers offer price and performance advantages within a fully managed app development environment
Excellent for developing and deploying modern mobile applications with available developer tools
A cross-cloud API platform for unlocking data's value
Visibility of and controlled, secure access to resources
Cost-effective solutions: Users note that GCP helps them increase operational efficiency, optimize their IT spend, and save significant amounts of money by reducing platform management time and migrating applications from on-premises to run on the cloud.
BigQuery
Google BigQuery is a powerful cloud-based enterprise data warehouse that solves the problem of managing and processing large datasets by leveraging Google's infrastructure. BigQuery enables businesses to generate quick, accurate insights from complex and massive datasets, freeing them from the costs and operational hassles of traditional data warehousing solutions.
Compute Engine
Google Compute Engine (GCE) is an Infrastructure as a Service (IaaS) offering that allows clients to run workloads on Google's physical hardware. A GCE account lets users deploy virtual machines, an entry point for running applications and storing data. Users can access virtual machines from any location.
Our clients have achieved great things with Google Cloud Platform.
Enhancing Communication and Collaboration for the State of Colorado
Where state agencies operated as distinct entities, overwhelming complexity hampered day-to-day functioning and kept information siloed. A cloud-based solution brought significant cost savings and enhanced connectivity that improved communication, facilitated secure access, and optimized legacy systems—all with careful change management that kept disruption to a minimum.
Improving Technology Services and Productivity for the State of Iowa
The State of Iowa was operating two disparate on-premise email systems: a Microsoft Exchange system with multiple versions of Outlook and a GroupWise email system. This presented unique challenges from support, user experience, and interoperability perspectives. Iowa's state agencies were working as distinct entities in separate email systems, versions, authentication systems, active directories, and corporate address books that prevented them from seamlessly communicating.
Creating a Unified Cloud Productivity Environment for Brighton, CO
The city commissioned a study to evaluate Office 365 and Google Workspace (formally G Suite) as potential unified, cloud-based email solutions with the goal of enhancing communication and collaboration across all of its government services and also provide cost savings and a long-term positive return on investment (ROI).
Meet your Google Cloud Platform team.
Insights delivered to your inbox