Google Cloud Industry Solution Partner of the Year
We're proud to be recognized for our innovative thinking, outstanding customer service, and best-in-class use of Google Cloud products and services in the public sector.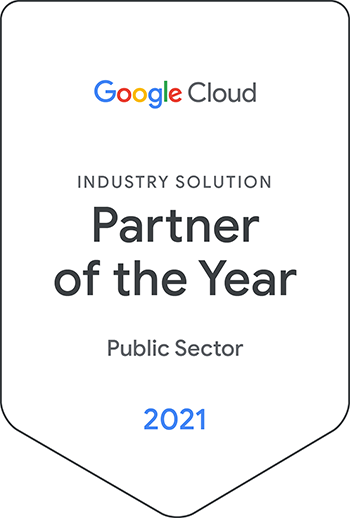 People. Partnership. Progress.
Since our earliest days, we've been helping people in the public sector solve their most intricate problems. Our subject matter experts don't just know data and technology; they know your landscape and how to navigate it. They're skilled at discerning the most critical aspects of your project, customizing today's solutions with future scalability in mind, and leveraging those solutions to help your agency achieve the greatest impact.
It's incredible what can happen when your technology supports your goals instead of impeding them. Our work with public sector clients across the country helps agencies build stronger communities and positively impact constituents.
Clients We Serve
When technology is supportive, your agency is, too.
Enhancing Communication and Collaboration for the State of Colorado
Where state agencies operated as distinct entities, overwhelming complexity hampered day-to-day functioning and kept information siloed. A cloud-based solution brought significant cost savings and enhanced connectivity that improved communication, facilitated secure access, and optimized legacy systems—all with careful change management that kept disruption to a minimum.
Federal Organizations Step into the Future with Google Cloud Solutions.
The Federal Cloud Computing Initiative has recognized the value that cloud computing solutions bring to government at all levels—giving agencies access to the latest technology more rapidly, at lower costs, with the ability to scale their service on demand and control the level of data security as required.
Resultant has extensive experience supporting cloud transitions for local, state, and federal agencies across the country. Each engagement is unique, and we always search for the right solution for each specific client while putting the focus on data security, process improvements, cost savings, and operational efficiencies.
What will your story be?
Book a meeting with our public sector experts and find out what's possible.