ERP Implementation
Reporting and decision-making shouldn't frustrate your progress. An enterprise resource planning (ERP) system customized to your organization builds a foundation for growth.
How We Help
Ensure you have the right ERP to get ahead, from a team with a track record of implementation success.
When you centralize and automate all major business functions—from human resources to manufacturing, supply chain to sales and marketing—you bring greater clarity to the decision-making process. We help clients make the leap from separate systems and chaotic reporting to clear, accurate, efficient processes with the ERP that best supports their organizations.
Our team starts with a thorough discovery process to identify your challenges, evaluate your existing business software solutions, and understand your organization's strategy. We work with your teams to find their frustrations, see their strengths, and learn how they work. Only then do we design a solution and implementation plan that works in lockstep with your business and helps your organization thrive.
Rather than just a software solution, you get a holistic program that encompasses IT solutions, legacy software migration, business process improvements, and training materials to ensure your new ERP platform's success. Because we partner with first-rate providers, we can work with you toward the solution that fits your business now and scales with you as you grow.
We're proud to help organizations thrive, and we'd love to tell you more.
Keep doing what you do best. Our implementation plans are designed to match your strategy. 
See the difference in 100 days.
Selecting and implementing an ERP system that makes a real difference doesn't have to be a time sink. Our experts walk you through the process swiftly.
Integrate without disruption.
Inefficient processes and inaccurate data cost businesses dearly, but a major implementation sounds worse to many financial leaders. We bring expert project management to ensure the implementation process is smooth.
Upgrade on your terms.
Are you getting by on legacy software? Taking action now to make the switch means you don't let system failures make the decision for you. We can help you through a thoughtful, tailored approach.
Related Capabilities
Ensure your organization has all the tools it needs to support financial performance.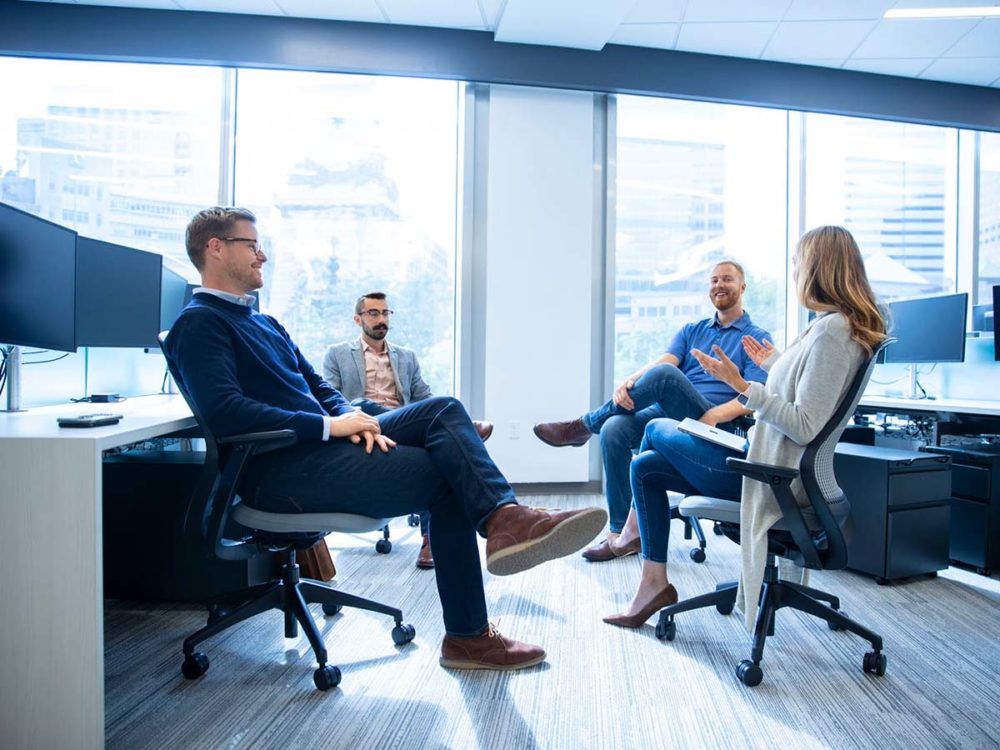 Connect
Talk to our team about how a properly configured ERP can improve decision-making, cut waste, and boost organizational productivity.
You don't have to founder around, bridging systems or coping with legacy software for financial reporting.
If reporting is a bear and your data is scattered and siloed, rest assured there's a better way. An enterprise resource planning (ERP) system can help you consolidate all your disparate information into a single, reliable source of truth. You become more efficient, and your decision-making grows a lot more informed. And, yes, reporting moves from onerous undertaking to soft ocean breeze.
What's the catch? There really isn't one, unless you don't enjoy working with whip-smart, curious, empathetic humans who delve into your problem, take it on as their own, and then build your solution. Our team gets to know your challenges and your strategy before configuring your ERP system to address your needs and help you grow. It's a downright painless process, and you'll see the benefits right away.
If your current reality is data stored across multiple systems, you're coping with a lack of control that introduces errors, undermines security, and affects your ability to make effective strategic decisions. Put accurate information at your fingertips instead. We'll take the time to understand your operations before developing a plan that addresses all the facets that make your ERP implementation successful, including legacy software migration, business process improvements, and training materials.
Insights delivered to your inbox