Data Maturity Assessment
Our actionable data assessments show how data can do more for your business.
How We Help
Everyone has data, but not everyone is making good use of it.
Discovering gaps in how data is collected and how it supports or fails your desired outcomes requires an objective process of discovery, analysis, and planning.
Our actionable data assessments show, rather than tell, how your data can do more for your business. Resultant's data governance specialists, data engineers, data architects, and business consultants dig into the larger story of your data to understand the full context of your business, strategy, and processes. The result is a detailed plan for cohesive, effective data utilization that addresses your assets and challenges to help get you where you're going.
We're proud to help organizations thrive, and we'd love to tell you more.
What You Get
Data Assessment Deliverables
With expert members of our Data Analytics team on your side, we start by understanding the nature of your data processes, collection methods, and transformations. By taking the time to understand the details, we develop a holistic picture of where you are today, and, more importantly, where you can go tomorrow.
Data Quality Assessment
Before data can help your organization, it has to be in order. Through good, clean data, you can create accurate reports, make strategic data-driven decisions, extract heightened performance from your technology assets, and open up the possibility of predictive analytics.
A Resultant Data Quality Assessment identifies available data, determines its completeness, variability, and scope, and uncovers areas for improvement in the data collection process. The assessment will leave you with an understanding of data collection inconsistencies between your technology sources, an analysis of data that requires additional cleansing, and a holistic view of the foundation upon which predictive analytics can occur.
Performance Tuning Assessment
Whether you are facing performance issues related to queries taking too long to run, a mad dash during the end-of-the-month report generation, or delayed data, a Resultant Performance Tuning Assessment can help.
During a Resultant Performance Tuning Assessment, our expert data engineers scour every database, table, index, and stored procedure, as well as review query logic to develop a comprehensive report detailing recommendations for remediation to performance challenges. Once your recommendations have been implemented, you'll experience timely reporting and better performance from your existing hardware—eliminating the need to purchase new equipment.
Data Strategy Assessment
A Resultant Data Strategy Assessment is the first step to gaining a complete picture of your data and how it relates to your business. A data-driven business doesn't exist without an understanding of what data exists, how it can be used, and what the return on investment is for using it.
A Data Strategy Assessment offers a comprehensive data inventory including a review of your data, how it's collected, where it's stored, and more. In addition, our team of expert data analysts works with you through a data discovery process to uncover how you can put your data to use. You'll walk away with a well-defined roadmap of potential data use cases and the associated return on investment of each of them.
Meet your data assessment team.
Before we can help you make your data work for you, we spend time getting to know your organization.
Our team is not just impressively educated and experienced but empathetic and endlessly curious. They're devoted to uncovering innovative solutions that answer the questions you didn't even know you had—all with an eye toward enabling you to thrive.
We are dedicated to building trust with our clients. You won't be part of an assembly line, but rather a small team who will get to know your vision and your data from the ground up. That starts with a thorough discovery process, so that we can understand your needs and design a data solution you'll love. And that's just the beginning. You get ongoing support as new challenges arise or your business grows—from a partner who's invested in your success.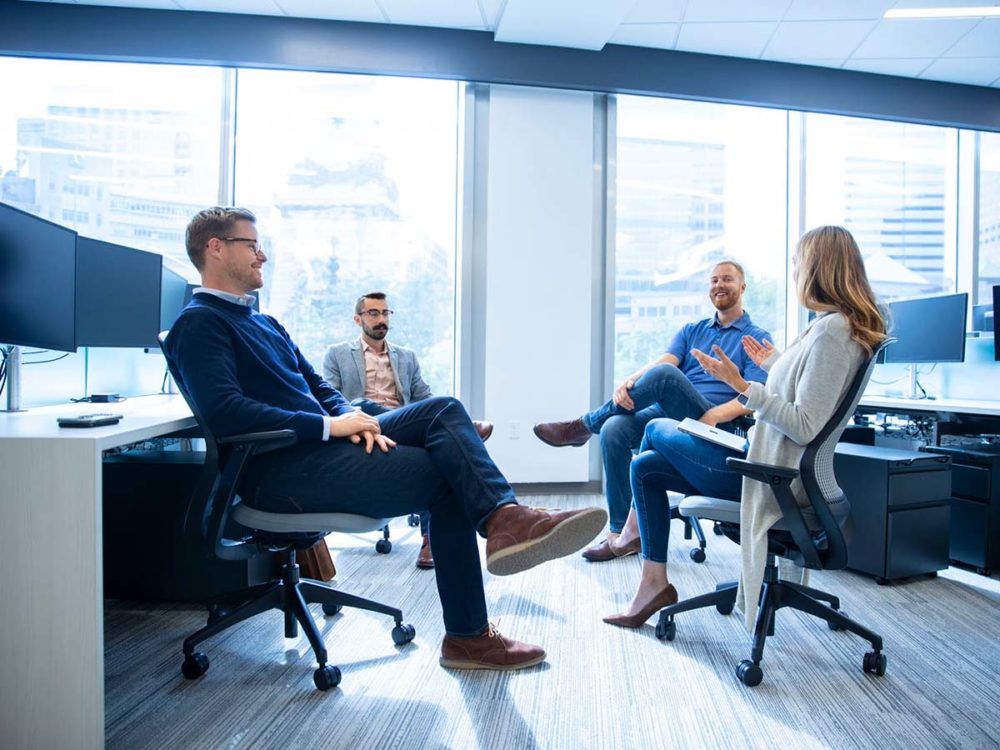 Connect
Find out where your data strategies and solutions stand with a data assessment.
Insights delivered to your inbox